By: John J. Critchley, Jr.
Facebook (NASDAQ:FB) is set to report earnings after the close on Thursday.
This is the company's first report since going public and after the earnings debacles of the last two days with Apple (NASDAQ:AAPL) and Netflix (NASDAQ:NFLX), tech investors are hoping that Zuckerberg & Co. can deliver the goods.
Facebook will be under the microscope and there is no question that the social media giant would love to put the disastrous initial public offering in the rear view mirror. There is an enormous amount that Facebook has riding on its earnings report. Shares have declined more than 27.5% since it was (mis) priced at $38 during it's IPO in May. The miserable earnings report out of Zynga (NASDAQ:ZNGA) and it subsequent plunge (-37%) has added unwanted downward pressure on Facebook (-5.5%) right before the release. This certainly must make even the most stridently bullish Facebook investors a touch nervous.
Street analysts are expecting Facebook to post earnings of 12 cents per share on revenue of $1.16 billion, according to a poll by FactSet. ( Source: Click here)
Will the negative sentiment continue after the earnings are announced or will Facebook throw investors some good news? Can they possibly disappoint? A miss would be cataclysmic for the social networking company. Should be interesting…
Options Play
Let's see if we can express our views on what might happen tonight through the use of an option play. What makes playing Facebook earnings quite difficult is that the company has no past history of earnings releases. Confused on what to do with the earnings? Long or short? How about playing both ways? We present an option plays for those inclined to believe that the stock will have an outsized move, but aren't sure which way it will go.
This is not a specific trade recommendation, but a trade analysis.
Trade idea -A Long Options Premium Play
To find a pure earnings option play, one could go out to the July 27 2012 weekly options, which present some interesting short term value.
The play:
Buy July'27 2012 weekly 25 put/ 30 call strangle for $1.40 The implied volatility of this straddle is seemingly astonishingly high at approximately 220.4% IV (Implied Volatility). This is, however misleading because the value of an option as it gets closer to expiration is the premium only, not the actual IV% reading. The premium over parity number of this trade is $1.40 This is what traders focus on, not the mathematical implied volatility calculation.
The rationale:
You are buying the 25 put/30 call strangle for $1.40. The breakevens for this strangle in the underlying is $23.60 and $31.40 respectively. These breakeven points represent an approximate 13.3% move in the underlying. This percentage move does not appear to be unreasonable when consideration is given to the fact that you are buying "earnings premium" plus the elevated volatility of the marketplace as whole.
Net debit: $1.40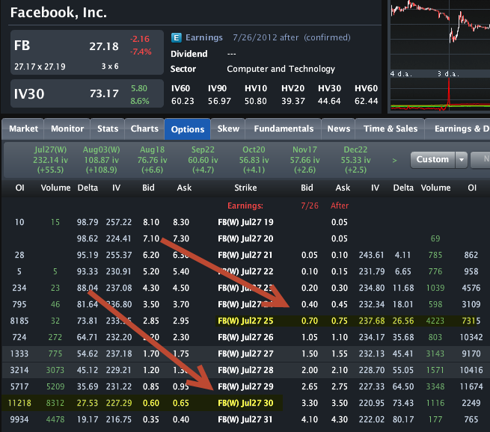 Source: Livevol(NYSE:R) Pro (www.livevol.com)
Why a strangle?
Why are the July 27 2012 weekly 25 puts and 30 calls chosen for this strangle instead of an At-the-Money (ATM) straddle?
The At-the-Money (ATM) straddle is trading for $3.30. The breakevens for this straddle in the underlying is $23.70 and $30.3 respectively. These breakeven points represent a 12.3% move in the underlying.
Comparatively, the July 27 2012 weekly 25 put/ 30 call strangle is trading for $1.40.
The breakevens for this strangle in the underlying are $23.60 and $31.40 respectively. These breakeven points represent a 12.3% downward move in the underlying and 14.1% upside move in the underlying.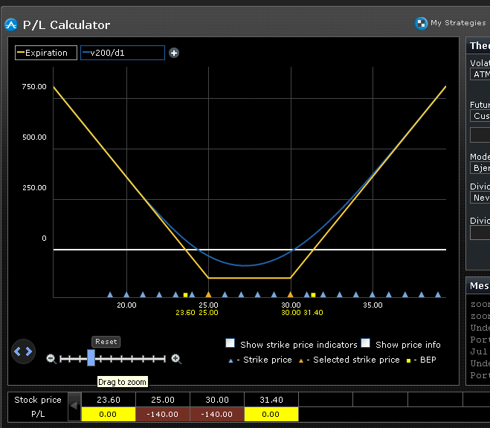 Source: http://sogotrade.com
Key point: In essence, you are paying significantly less premium ($1.40 versus $3.30) and receiving nearly the downside potential. On the upside, your breakeven is $1.00 higher, but remember the underlying has been beaten down so significantly since the IPO that any upside surprise in earnings may really catapult the stock higher. We will sacrifice the $1.00 in upside profits in return for saving $1.90 in premium.
Risk: The earnings report does not cause the expected movement in the underlying. Be forewarned. You may lose the entire premium. This play is for speculative monies only.
Stay tuned………
Note: Prices are quoted at time of submission and do not reflect current market prices.
Disclaimer: We are not liable for any trading decisions made by any reader. NO advice is given or implied. The information offered in this article is for demonstration purposes ONLY and should not be either construed as an offer or considered to be a recommendation to buy or sell any options.
Your use of this information is entirely at your own risk. It is your sole responsibility to evaluate the accuracy, completeness and usefulness of the information. You must assess the risk of any trade with a professional broker, or financial planner, and make your own independent decisions regarding any trades mentioned herein. This is not a solicitation to buy or sell any options, or to purchase or sell any credit spreads. Trading options only carries a high degree of risk, is not suitable for all traders/investors, and you may lose all of your premium money invested in the options. If you have never traded options before, we strongly recommend that you read a little background information made available by the government. Only you can determine what level of risk is appropriate for you. Also, prior to buying or selling an option, a person must receive a copy of Characteristics and Risks of Standardized Options.
Past performances DO NOT guarantee future results. Please consult with your own independent tax, business and financial advisors with respect to any trade. We will NOT be responsible for the consequences of anyone acting on this purely demonstration material.
Important Note: Options involve risk and are not suitable for all investors. For more information, please read the Characteristics and Risks of Standardized Options.
Disclosure: I have no positions in any stocks mentioned, and no plans to initiate any positions within the next 72 hours.