As many investors that follow Warren Buffett of Berkshire Hathaway (BRK.A, BRK.B) already know, he caused a bit of a stir in the investment community earlier this year with his comments regarding gold that appeared in his annual letter to shareholders. Below I have summarized few key points from the Berkshire Hathaway annual letter to shareholders written by Warren Buffett.
Gold is an unproductive asset that is bought with the hope that someone else knowing it is unproductive will pay more in the future.
Gold requires an ever expanding pool of buyers that believes the pool of buyers will continue to increase.
The two primary shortcomings of gold is that it is "neither of much use nor procreative".
At the time Mr.

Buffett wrote his letter he estimated all of the world's gold stock would be worth $9.6 trillion and called it pile A.

Mr. Buffett then used the same $9.6 trillion to create pile B with all of the cropland in the U.S., plus 16 Exxon Mobils (NYSE:XOM) and $1 trillion in cash.
His final point was that in 100 years the cropland would produce staggering amounts of crops and Exxon Mobil will probably have delivered trillions in dividends and the gold will be unchanged in incapable of producing anything.
I do agree with the overall premise that gold does not produce and I would pick pile B in this case without hesitation. However, I believe the comparison is a little unfair as he chooses farmland and oil as his counter to gold. Both of these commodities could also be considered a store of value similar to the reason investors rush to gold. Gold is just easier to for most investors to touch and feel. If, on the other hand, Mr. Buffett would have compared a pile of gold to say a pile of his insurance companies, it would take me longer to make my decision if financial turmoil was one of my concerns.
In this article I have decided to not look at pile A as just a cube of gold, but rather a collection of dividend paying gold related stocks. I am not suggesting that gold stocks are a replacement for physical gold or a better alternative to oil and farmland, but as a possible addition to one's gold portfolio. I have chosen four investment ideas that cover various investment strategies and risk. However, an investment in any of the following should be in conjunction with a deeper understanding of the risks associated with each stock. In this article, I do not make an assessment as to the quality of the companies gold properties or investments held.
Nearly all gold stocks have struggled through the first half of 2012. One of the few dividend paying gold stocks that had actually moved higher through the first half of the year was Gold Resource Corp. (GORO). That is until GORO announced last week that its second quarter production came in lower than expected at approximately 14,500 ounces of gold equivalent and revised its 2012 total production down 15% to an annual production range of 100,000 to 120,000 ounces of gold equivalent. The upcoming quarterly report should clarify the financial impact of this reduction in production.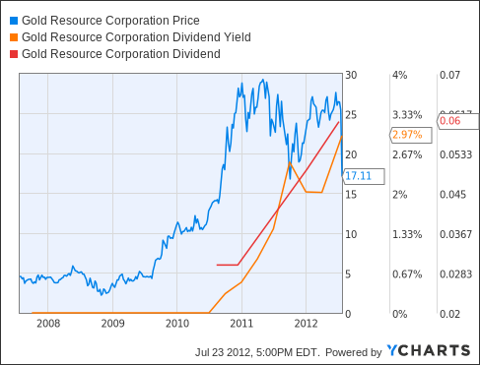 Click to enlarge
(Click to enlarge)
GORO data by YCharts
GORO holds a 100% interest in six properties located in Oaxzca, Mexico. One property has reached commercial production and another property is currently under development. The other four properties are considered to be in the exploration stage.
GORO has an unusual dividend policy in which it gives its shareholders the option receive their monthly dividend payment in physical gold or silver in addition to cash. GORO just recently declared a $0.06 dividend per common share in June which is to be paid on July 23, 2012 giving the stock an annual yield of 4.21%. GORO has paid consecutive monthly dividends since July of 2010; however the recent production issues may negatively impact upcoming payouts. The current risk associated with GORO may make it an inappropriate investment for many accounts and I would not be making any quick moves into this stock until the impact of the production issues are better known.
GORO is a relatively small company with geographic focused properties and a limited production history which may not fit with more conservative portfolios. However, Newmont Mining Corporation (NEM) is a $22 billion company with projects across the globe that has been around since 1921. The operating history and geographic diversity of NEM may be attractive to more conservative gold stock investors.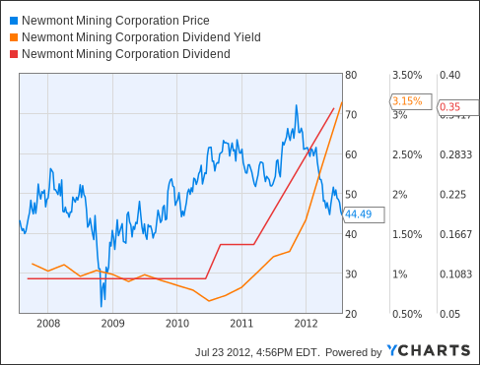 Click to enlarge
(Click to enlarge)
NEM data by YCharts
NEM is headquartered in Denver, Colorado and has assets and mining operations across the globe including the United States, Australia, Peru, Indonesia, Ghana, Canada, New Zealand and Mexico. According to the company, NEM had proven and probable gold reserves of 98.8 million attributable ounces and an aggregate land position of approximately 31,571 square miles as of December 31, 2011.
NEM paid a second quarter dividend of $0.35 on June 28, 2012. Annualizing this most recent dividend gives NEM a current yield of 3.15%.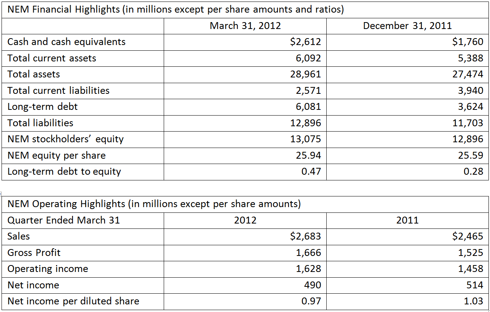 Click to enlarge
(Click to enlarge)
Another way to get into gold through equities and get paid a dividend is via precious metal streaming and royalty companies like Franco-Nevada Corporation (FNV). Unlike many gold mining investments, FNV is not an operator of mines, but instead either buys existing royalties and steams or invests to bring mines into production creating new royalties and streams for the company. This strategy allows FNV to operate very efficiently and not take on the added operational risk while still giving the investor exposure to gold.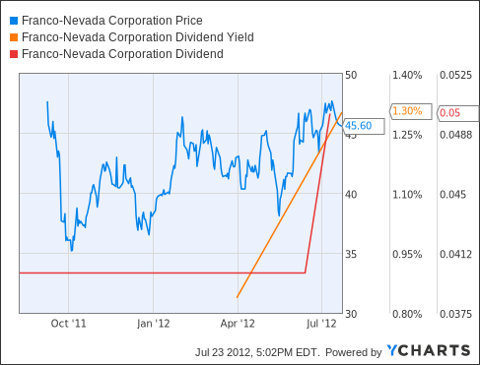 Click to enlarge
(Click to enlarge)
FNV data by YCharts
FNV generates a majority of its revenues from properties in the United States adding to the company's stability. In addition to its producing properties in the U.S., FNV also produces strong revenues from Canada and Mexico. The revenues of FNV are primarily generated from gold, but the company also has interests in the platinum group of metals as well as oil and gas.
Due to the added stability of the royalty and stream model, the price of FNV tends to be less volatile than the miners and has not been beaten down like many of the mining stocks so far this year. While many of the gold miners are trading near their 52-week lows, FNV is trading only $3 off of its 52-week high. FNV recently increased its dividend to $0.05 per month giving the stock an implied yield of 1.3%. However, it is important for U.S. investors to keep in mind that FNV is a Canadian company and the dividend will be subject to a 15% foreign withholding tax unless the shares are held in a tax deferred account such as an IRA.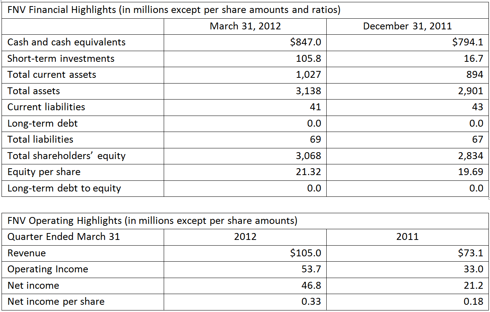 Click to enlarge
(Click to enlarge)
A more diversified alternative to a direct investment into a mining company might be GAMCO Global Gold, Natural Resources & Income Trust (GGN). GGN is a closed-end investment trust managed by Mario Gabelli's GAMCO Investors, Inc. The objective of the trust is to invest 80% of its assets in the equity securities of companies engaged in the gold and natural resources industries. The trust also writes covered call options on the underlying equity securities.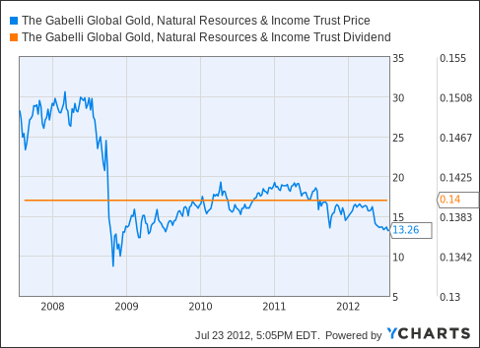 Click to enlarge
(Click to enlarge)
GGN data by YCharts
The trust has just over $1 billion in net assets and currently trades at a premium to its net asset value. GGN is weighted more to gold with top holdings like Barrick Gold Corp. (NYSE:ABX), Goldcorp, Inc. (NYSE:GG) and Newmont Mining Corp. However, the fund also holds large positions in energy companies such as Schlumberger Ltd. (NYSE:SLB) and Total SA (NYSE:TOT). Therefore, this investment is far from a pure play on gold and has a significant tie to energy stocks.
The current distribution rate for GGN is currently $0.14 per share giving the security an impressive yield of 12.67%. While the trust has consistently paid the current monthly distribution for some time, there is always a risk it could be cut if the trust is unable to generate the necessary cash from its covered call strategy.
For those interested in learning more details about GGN you may be interested in the factsheet, the manager commentary and the financial statements and portfolio holdings. All are posted on the GAMCO website and are as of March 31, 2012. The June 30, 2012 updates should be posted before long.
Disclosure: I have no positions in any stocks mentioned, and no plans to initiate any positions within the next 72 hours.