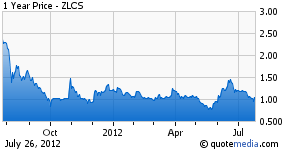 Zalicus (ZLCS) amazes me over and over again! It's like the gift that keeps on giving. If you look at the graph over the last 10 months you will see that Zalicus has traced from the $1.00 range to the 1.30+ range 5 TIMES since October of 2011. Every time I have profited from it, and this time is no exception.
The best part about it; Zalicus has made HUGE advancements since 10 months ago and we are still fortunate to be able to buy at this level. Not once have they not followed through with a commitment that they have made. With the recent updates through their conferences it shows us that we will be moving higher soon and I think I might know when.
About a year ago MPM bioventures, which is Zalicus' largest private shareholder with over 11 million shares, liquidated roughly 10% of their holdings to fund another research advancement in their many investments. For a number of days the stock price was artificially held down at the 1.00 dollar range so the shares could be quickly sold. When the announcement was made that the selling was done, the stock price within that same day shot up over 20% and continued a nice run over the next few days. With the stock price now at the same PPS level and the current Wedbush offering to raise cash for pipeline advancements, it's almost like deja vu.
Personally I welcome the fact that Zalicus is raising cash. I see this as confidence in their pipeline. The management team of seasoned executives knows there drugs are worth 100's of millions and want to make sure they are able to advance them to the right stages to get top dollar when they are ready to partner. If Zalicus did not have the cash that it does, it would most certainly have partnered already with a big pharma company and more than likely gotten the short end of the stick.
I confirmed with the CFO Just Rentz a few days ago that there will be an update on the Wedbush offering no later than August 9th along with their 2nd Quarter results. If history shows us correctly, it will be on Friday August 3rd like the year before.
I'm viewing this as a strategic play here that will roll into the run-up for the top line data for Synavive. This is all part of the master plan that Zalicus' executives have put in to motion months ago.
The other big opportunity that people have forgotten about is Sanofi (NYSE:SNY) with Prednisporin. They, too, will be announcing 2nd quarter results on the 26th of this month. We hope there will be an update with the Phase III initiation for FOV1101. This will trigger a 3 million dollar milestone payment as well as another 38 million dollars in advancement royalties to market.
Covidien (COV) has been tight lipped about the 32 mg Exalgo filing that should be announced in the 2nd half of this year to continue to take the lion's share of the market and keep Watson Pharmaceuticals (WPI) from cutting into the Exalgo market area.
All in all I see this as a lay-up gain. I've have been accumulating at the 1.00 range and am looking for a big run over the next month starting any day.
Disclosure: I am long ZLCS.