Excerpts from Gilford Securities analyst Ashish R. Thadhani's recent note to clients on Syntel, Inc. (NASDAQ:SYNT):
• • •
Valuation, Client Concentration and Management Represent Concerns
Investment Conclusion. Driven by BPO revenue and a lower near- term tax-rate, we are raising our estimates as follows: 2008 pro-forma EPS to $1.70 on revenue of $425 million (26% YoY growth) from $1.65 on revenue of $422 million; and 2009 pro-forma EPS to $1.90 on revenue of $512 million (20% YoY growth) from $1.85 on revenue of $508 million. Our Hold rating remains in effect due to valuation, fundamental and management reservations summarized below. SYNT shares are selling at 19x forward EPS vs. 14-15% compound EPS growth in 2007-09E – or an unwarranted PEG of 1.3x vs. 0.9-1.1x at Tier-I players CTSH and SAY that offer superior growth, positioning and execution.
Recent results have reinforced our apprehension: 1Q08 pro-forma EPS benefited from lower-than-projected taxation (+$0.02 impact); Applications Outsourcing revenue was propped up by a convenient revenue reclassification; operating margin plummeted 250 bps YoY; excluding well-penetrated clients American Express and State Street Bank (35% of revenue), Syntel posted only 11% compound growth in 2005-07 (table on page 2); and it remains vulnerable to the Financial Services segment (73% of revenue). That SYNT is selling at a 7% premium (forward P/E) to SAY and on par with INFY is entirely inappropriate, in our view.
Our long-standing concerns include rapid loss of market share in the largest segment, doubtful sustainability of recent BPO momentum and profitability (fueled by a single client), depletion of cash by way of special dividends (CEO Bharat Desai has been the primary beneficiary) despite the knowledge that clients place significant faith on balance sheet strength, senior management turnover and an inability to attract seasoned talent, as well as various instances of poor judgment. Also, 2007 proxy material bares embarrassing CEO club membership expenses approved by a lightweight board. Contrary to management claims, we believe that Syntel possesses neither the scale nor domain depth to withstand future currency and competitive pressures.
Takeaways. Pro-forma EPS of $0.42 vs. $0.37 a year ago on revenue of $98.5 million (31% YoY and 4.8% QoQ growth) beat our $0.40 estimate on revenue of $97.9 million. Excluding lower-than-projected taxation, EPS would have matched our estimate. Management noted the following: Financial Services clients have responded to the challenging environment by focusing on cost reduction initiatives and are prioritizing their IT spend accordingly; non-discretionary activities comprise two-thirds of total revenue; Syntel has neither suffered major project cancellations, nor pricing pressure; annual salary increases (effective April) averaged 14-15% for offshore staff vs. 15% in recent years; and potentially harmful vendor consolidation should be countered by overall responsiveness and high switching costs.
Revenue reflected 25% YoY and 7.3% QoQ growth in the Applications Outsourcing segment – driven by maintenance work – and slow e-Business activity (up 5% YoY and 4.0% QoQ). Operating income of $19.2 million (19.5% margin) exceeded our $18.2 million estimate (18.6% margin). Profitability on a QoQ basis was aided by a weak rupee, offshore-mix and the absence of seasonal marketing expenses. Syntel will continue its investments in infrastructure, service offerings, training and branding.
BPO revenue jumped 120% YoY and 14.5% QoQ to 20% of the total. Syntel is focusing on trade settlement and insurance processing work for Financial Services and Healthcare clients.
By industry, Financial Services ranked largest (73% of revenue), followed by Healthcare (12%), Automotive (7%) and Others (8%). Top-10 clients accounted for 73% of total revenue, down from 75% in the December quarter. Syntel added 11 new clients compared with four in the immediately prior period. The offshore utilization rate stood at 66% vs. 68% a year ago. Offshore work represented 80% of total effort vs. 79% in the December quarter. Higher-margin offshore revenue contributed 50% of the total vs. 51% in the December quarter. Annualized quarterly turnover improved to 14.3% vs. 14.5% a year ago. Total head-count rose 3.3% QoQ and 39% YoY to 12,093 in March. BPO head-count reached 4,028 or 33% of the total. Hiring plans still call for exiting the year with 2,800-3,500 additional employees vs. December 2007, implying 24-30% YoY expansion.
Syntel generated weak CFFO of $3.6 million (or $0.09 per share) in the quarter. Major outflows comprised capital expenditures ($8.0 million), budgeted to climb from $32.4 million in 2007 to $50-60 million in 2008. Infrastructure initiatives encompass seat expansion plus construction of new facilities in Chennai (SEZ-approved 29-acre campus) and Pune (SEZ-approved 37-acre campus). Syntel exited the quarter with net cash of $108.9 million, down from $116.2 million on December 31. Accounts and unbilled receivables slipped to 66 DSOs from 57 in December.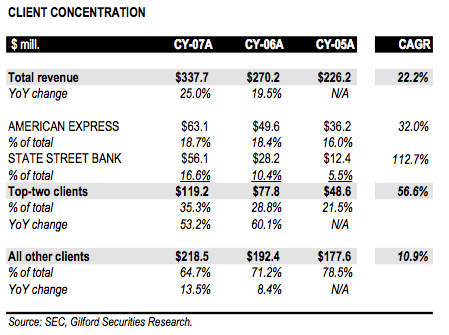 SYNT shares are suitable for aggressive investors. In our opinion, principal risks include the following: U.S. slowdown; rising offshore salaries; appreciation of the Indian currency, which would translate into higher expenses; correction in the Bombay Stock Exchange and/or U.S. markets; political opposition in the U.S.; and geopolitical uncertainty in the Indian subcontinent.
Analyst Certification I, Ashish Thadhani, certify that all the views expressed in this research report accurately reflect my personal views of the subject companies. I certify that I have not and will not receive compensation with respect to the issuance of this report.