The past 3 months have been terrible for most stocks in the S&P500 as more and more dismal economic indicators in the US and equally depressing news from Europe and China/emerging markets kept coming out. However, for Sprint Nextel (S), things have been different.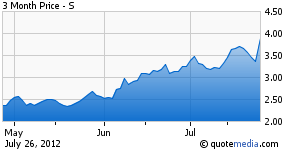 As of July 26 2012, Sprint has redeemed itself with a 60% gain in past 3 months. Positive press of innovation and execution has been published as well, and most recently improved performance has been announced - Sprint has today released an overall positive second quarter earnings.
The Thing About Sprint
On June 22, when Sprint was hovering around $3.00, downside talks were still aplenty but the charts started providing hints of bullishness, with two possible break out points at 3.22 and 3.57.
Here are some excerpts from our previous article on this date:
Sprint's technical charts show that the action has just started, and the momentum may take the stock to as high as $4.

Based on the 2012 guidance, a modest price target for Sprint should be around $4, at least for now, as we tread into the choppy summer waters. Once and if it touches $4, Sprint will be worth revisiting again.

Source: The Thing About Sprint (June 22, 2012)
Earning Highlights - Lot of positives
On July 26 2012, Sprint announced Q2 EPS of $-0.46, with revenues totaling $8.8 Billion versus the estimated $8.73 billion.
Let's start with the most important highlight. Sprint's Average Revenue Per User or ARPU INCREASED for the PostPaid segment from $56.67 a year ago to $60.88. This is Sprint's biggest increase in its entire earnings history. Also Prepaid ARPU was $25.49, and Prepaid Churn was 3.53%.

Growth in ARPU shows organic profitability per customer for a telecommunications company. Sprints Q2 ARPU performance is impressive.

Another important thing for Sprint is the company's iPhone sales. What I loved about today's earnings is that the company was able to beat on operating income in spite of better than estimated iPhone sales. It shows that increased iPhone sales will not cripple Sprint financially, and is a great relief for many skeptical investors (like me, because when they announced the iPhone deal, my eyes had bulged and my head nodded).
Loss widened but revenues were up. The increased loss was due to costs related to the Nextel shutdown. Revenue rose 6.4% to $8.84 billion.
Network Vision Deployment continues on track, which is something we want to keep hearing for the next few quarters. Sprint reiterated its expectation of 12,000 Sites On Air By 2012 end.
60 % Of Postpaid subscribers that left Nextel Platform were recaptured on Sprint platform - this should be a big relief for Sprint as it sunsets the Nextel business.
2Q adjusted Operating Income Before Depreciation and Amortization (OIBDA) was $1.45 billion, compared to $1 billion street estimate.
Guidance Improved - Highlights
Sprint raised 2012 adjusted OIBDA view to $4.5 billion -$4.6 billion, better than the street's estimate of $4.0B.
Sprint expects 2012 Net Service revenue growth in the 4% to 6% range.
2012 capital spending is still about $6B - I consider this as "improved guidance" because in spite of spending pressures like the Nextel shutdown and Network Vision plans, the company has been able to maintain that estimate level for two quarters now. We don't want Sprint to spend more because its capital spending is a key to the company's fundamental strength in the stock's turnaround.
Bullish Option Activity
Recently, someone bought 58,000 calls of $4.00 strike price expiring in August. The large block trade indicates bullish expectations in the near term.
Investors should keep monitoring options activity to find hints about market expectations, although remember that one should not only look at Call or Put volume, but also monitor Open Interest changes along with it.
Next Stop: $5.00
I am a believer in Sprint's turnaround story and its Network Vision project. This project should bring additional savings and growth for the company, and improve its balance sheet.
For Telecom companies, ARPU growth is very important and Sprint is showing a lot of promise with its Q2 performance.
In my earlier articles, I had discussed revisiting Sprint at $4. Now I am raising the bar for the remainder of the year.
My next stop (not a price target though) is around $5.00, and I will revisit the charts and performance hopefully sooner than later in the future.
Risks
S&P 500 is trading in a range such the market pulls back once it enters into the 1360-1420. If Sprint acquires the same volatility and movement trends, and if bad news from Europe and "Spitaly" keep rocking the boat, Sprint won't be spared. Usually in severe market sell offs, gap downs cause the stock to trade in reduced range. This could happen to any other stock though, not just Sprint. Investors should not get emotional in such situations and "behave" themselves.
Getting market share from Verizon and AT&T in PostPaid segment will remain a challenge as both these companies have strong marketing budgets and Sprint has its own constraints in the budget area.
Any increase in capital spending will remain a big risk for Sprint for a while. With Q2's guidance regarding their capital expenditure numbers for 2012, Sprint is still in the safe zone.
Sprint expects additional sales from the new iPhone in Q4 but dependency on Apple is not always good, especially when the entire stock market expects a lot from Apple. Should Apple see speed bumps, any names associated with it could face volatile price movements and investors will have to be ready for it.
Sprint's growth strongly depends on growth in the Prepaid market, and even though there aren't any warning bells for this market yet, any revised outlook of Prepaid growth in the industry will weigh heavily on Sprint's outperformance in the stock market.