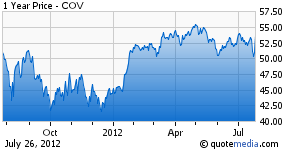 An inevitable consequence of writing about many companies is that you can't own everything you like and you're going to see a few great ideas slip away over the years. While I wouldn't say that Covidien (COV) has slipped away yet, the stock is up nicely from the late 2011 lows on very strong operating performance. While businesses like endomechanical devices, oximetry, and energy may not be the most scintillating in the med-tech world, I continue to believe that Covidien is not only a good company, but one whose growth prospects are meaningfully underrated by investors.
Fiscal Third Quarter Results Stay Strong
While it may seem counterintuitve to call a company a 3% revenue growth rate a "leading growth story", the fact is that Covidien's nearly 6% organic revenue growth rate puts it up well up the scale of larger med-tech growth stories. Where companies like Johnson & Johnson (JNJ), Stryker (SYK), St. Jude Medical (STJ), Boston Scientific (BSX), and Bard (BCR) struggle to show growth in surgery, vascular, and soft tissue repair, Covidien continues to do so.
All in all, the device business grew 8% this quarter, with pharmaceuticals and supplies both up about 2%. Within devices, vascular continues to grow especially well (up 15%), while endomechanical (up 6%) and energy (up 13%) are also doing well. While the growth in oximetry and airway is not as strong, the company seems to have at least stabilized relative to Philips (PHG), Drager, and Masimo (MASI).
Margins continue to strengthen, despite ongoing R&D spending increases in excess of sales growth. Gross margin improved almost a full point on an adjusted basis, while operating income rose about 4%.
Turn Up The Energy
While investors have always grudgingly admired Covidien's approximately 40% share in energy (devices that use energy to cut or seal tissues), this may be on the cusp of being a bigger growth driver.
First, there is the new wireless energy device called the Sonicision - an ultrasonic dissection (cutting) device that will allow Covidien to challenge a $800 million market largely dominated by J&J.
Then there is Maya Medical. Covidien quietly bought this small company for $60 million upfront and up to $170 million in milestones. Maya brings a balloon-based RF delivery device that puts Covidien squarely into the potentially multi-billion dollar renal denervation market. While Medtronic (MDT) will likely be first to market with its Ardian, the helical abalation pattern of Maya's device may be a competitive differentiator (Medtronic's is linear). This is also a serious potential threat to presumed #2 company St. Jude Medical to say nothing of Boston Scientific .
But It's Not Just About Energy
Energy isn't the only place where Covidien has a lot going on. The company's iDrive tools could be a real threat to J&J and Stryker in the endomechanical space, while the LigaSure products continue to perform well in soft tissue and may just help stem some of the share losses to J&J and Bard. Elsewhere, while Stryker has been quite strong in neurovascular lately on the back of a strong coil launch, Coviden's overall vascular business remains in very solid shape despite what is an overall unimpressive trend in procedure counts.
The Bottom Line
The transition that Covidien has made from "basically okay, but boring" also-ran med-tech company to a growth leader is simply impressive. This business will never generate the sort of buzz that Intuitive Surgical (ISRG) or Edwards (EW) does, but that's alright - succeeding with reasonably multiples is hardly a bad outcome.
I do believe that Covidien has more work to do on margins, and that new product launches will help the company grow and better leverage its operating expense structure. Accordingly, I'm looking for a fairly aggressive 7-8% free cash flow growth rate that will be fueled almost equally by revenue growth and free cash flow conversion improvement. With an industry-average discount rate, that works out to a fair value of nearly $70 and a stock that still seems worth owning today.
Disclosure: I have no positions in any stocks mentioned, and no plans to initiate any positions within the next 72 hours.