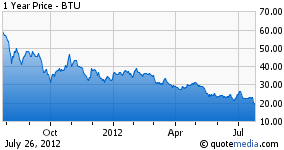 Peabody Energy (BTU) is a U.S.-listed coal company that engages in the mining, preparation and selling of coal (thermal and metallurgical) to electric utilities and industrial customers with operations focused on the U.S. and Australia. Peabody competes with Arch Coal (ACI), Alpha Natural Resources (ANR), Consol Energy (CNX) and BHP Billiton (BHP). The company presently has a market capitalization of only $6.17 billion.
Why I like Peabody Energy
1. The company simply is dirt cheap from an earnings perspective: The stock trades at only 6.8x times forward earnings giving investors an outstanding earnings yield of almost 15%.
2. Peabody is highly profitable with a return on equity of 19% and an operating margin of 20%.
3. EPS growth forecasts are very attractive: Peabody is expected to increase EPS by a whopping 29% over the next year. Furthermore, BTU is expected to increase earnings by 8.8% annually over the next 5 years.
4. Peabody has a PEG ratio of only 0.4 indicating the markets' massive present undervaluation of those extraordinary growth prospects.
5. The leverage ratio is quite low with 1.16x indicating a strong balance sheet with a cash position of about $1 billion.
6. Peabody has a geographically diversified asset base and production footprint that allows for cash flow and currency hedging.
Valuation
Analysts estimate a 2013 EPS of $3.22 on average (according to Yahoo). Applying a moderate multiple of 15 yields an intrinsic value of $48.3 representing about 114% upside potential which is not surprising given the depressed earnings multiple.
Investors should be aware that a worsening economic outlook or unfavorable regulation might adversely affect the share price. Stop loss limits help mitigating those risks.
Chart pattern
Technically, Peabody trades consistently in an eight month-long downward sloping trend canal. Currently, BTU trades in the middle of its trend canal: Resistance at the lower bound trend canal at around $20 would be a big positive and give the stock immediate upside potential to $25. An increase above the $25 mark would define a new bullish chart pattern.
Disclosure: I have no positions in any stocks mentioned, and no plans to initiate any positions within the next 72 hours.