The European Central Bank President, Mario Draghi, emerged today, leading cheers for the future of the euro. Draghi said: "Within our mandate, the ECB is ready to do whatever it takes to preserve the euro. And believe me, it will be enough," Draghi said at a London meeting today.
There is no way to know if these comments had been approved by German Chancellor Angela Merkel, or Finance Minister Wolfgang Schaeuble prior to departing to their favorite respective summer retreats. Perhaps lack of communications with the vacationing Germans is why the Draghi comments are so vague.
The markets response to the Draghi comments has been euphoric. The US Dow has forged ahead 1.9%, and the markets in Spain and Italy are both up about 4.5%.
Earlier this week, Schaeuble ranted about bond traders, who he declared were wrong in running up the Spanish bond rates. Today, perhaps in a delayed reaction, Spanish ten year bonds appreciated as the yield went back under 7%.
News that Draghi had undisclosed plans to safeguard the euro's future sent the EURUSD higher, trading up to 1.2329, over 200 points higher than the early low of 1.2118. We should not be surprised this pair can rally with such vigor. The market's ability Wednesday to bounce off the yearly low and close near the high should have been a clue the market was due for a rally.
Loaded with complacent shorts, the market took off. The initial resistance looks to be in the 1.23 area where we are now trading. From the latest COT report, we know there are massive spec shorts in the euro. Is it possible we can have a short squeeze that might take the pair back to the 1.25 area?
Earlier in the week there were rumors circulating that Greece would be leaving the euro shortly, perhaps a response to the international inspectors arrival in Athens. Now The Telegraph reports Greece will run out of money by August 20th, money that would be needed to repay maturing debt. The threat of continued financial chaos means rallies in the euro will be short lived.
The economic news released today in the US gave us mixed signals. Once again the US Initial Jobless Claims came in better than expected, at 353K, a familiar pattern. Later these numbers are revised upward when the press is no longer reporting them. The US Durable Goods number was better than expected, however the core number dropped 1.1%. Tomorrow we get the US GDP Annualized Report. It is expected to be reduced to 1.4% from the previous report of 1.9%. And next week, we get the new Non Farm Payroll Report.
It is best to stay alert.
Click to enlarge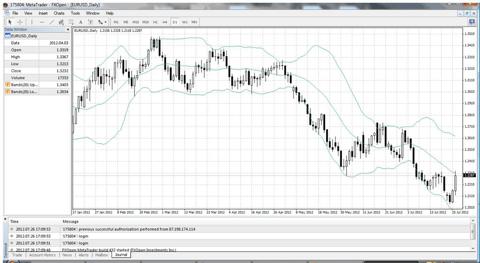 Disclosure: I have no positions in any stocks mentioned, and no plans to initiate any positions within the next 72 hours.