Sell on the news or buy on the news?
Early Thursday, iBio Inc. (NYSEMKT:IBIO) issued a news release that they had formed a new global alliance with GE Healthcare, the healthcare business unit of global giant GE (NYSE:GE). The news sparked a pre-market rally with the stock spiking at the open to $1.70/share before profit-taking and presumably short activity brought the stock price down to $1.35/share. At the time of writing, the stock price was hovering just below $1.50/share.
Since SA published my Tuesday article earlier in the week that I thought iBio would go up based on technical reasons, I'd like to represent why, without pumping, it makes even more sense to buy more or to hold as I think what has just happened represents a monumental opportunity for iBio shareholders. Of course, investors should make their own decisions as I'm only offering my opinion. Biotech stocks are very volatile and subject to wild swings.
The adage "sell on the news" doesn't really apply here unless you're a daily flipper of stocks. Why is because this news was unexpected great news. This is news that has taken the market by surprise, and it's the kind of news that could mean iBio's share price is about to go much, much higher. I'll explain ...
1. As a very small biotech, today's news means that iBio just hit a grand-slam with the major parent corporation, GE, that wants its technology for its business unit GE Healthcare. The deep pockets of GE guarantee iBio an enviable "foot in the door" since the press release stated that it was:
...a new global alliance to commercialize plant-based technologies for the manufacture of biopharmaceuticals and vaccines.
Point being, GE through GE Healthcare has every intention of moving through every step to manufacturing and sales. For a very small company based in Delaware, iBio just hit pay dirt. iBio already has a scale-up version from which the engineers at GE Healthcare will be able to build out a manufacturing facility.
2. The deal which no one was expecting validates the science and direction of iBio as a front-runner that also has the backing of the Bill and Melinda Gates Foundation among others. iBio is on the front-end of a global movement being propelled by major money. The press release stated that this was a "global alliance" which if you take into account how small iBio is, this is like finding a biotech diamond in the rough. As a biotech, finding these opportunities, especially one like this one is rare. Just a simple perusal of iBio's pipeline, now further validated by the interest of GE Healthcare, strongly suggests to me (at least) that this firm is become way, way under-valued in the eyes of a market that often foresees long-term value.
3. If chat-room talk is correct, iBio may also be on verge of receiving additional funds via DARPA (Defense Advanced Research Project Agency). iBio already has received money from the Department of Defense, so this possibility sounds like it may be more than rumor. Currently, at least one long-termer is saying that the window of this announcement is imminent. I don't know if this is true, but considering the news the company has just received, it may be better to be in the stock versus out of the stock. Of course, the downward pressure on the share price can be unsettling and I fault no one for their own good reasons for ringing the register. However, because I like the science of iBio, and I see this global partnership basically guaranteeing iBio's economic future in the vaccine industry, I'm willing to be patient unless of course it hits $10/share on Monday.
4. I'm back to this rather bullish chart. Yes, I'm well aware of blitz of bashers and shorts who want to drive the price down (and it could happen -- risk assumed), but news is news. This news was great news and so this is where I think the share price could be heading (again -- risk assumed).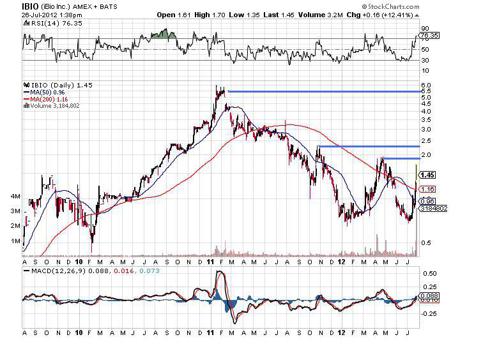 I purposely chose a longer-term chart that elucidates the direction iBio's share price may be heading. A shorter-term view (days) may have it going over $2/share, while if there is more news coming from DARPA, it may break above $2.40/share in the near-term. There is still ample RSI and MACD room for the stock to go higher. Longer-term, I notice that the price peaked to about $5.50/share and that was only a year and half ago. Since then, iBio has made remarkable progress testified by today's news with GE Healthcare. When I may sell, buy more, or even reload should I sell, will largely be dictated by my private investment goals; individual investors need to take responsibility for their own investment decisions. Nevertheless, despite the steep climb on the chart, I think with more bullish buying, iBio has much more near-term room to run. Of course, investors should never buy more than they're willing to lose as biotech investing is very risky.
Disclosure: I am long IBIO.
Additional disclosure: Investors buy and/or sell at their risk. This article is not intended to offer individual investment advice and upon publication is solely owned by SA. For me 'long' is until sell. I do not 'short' stocks. I declare that I may day-trade any stock at any time mentioned in this article as I have my own private investment goals. My only compensation for writing this article comes from SA at one penny per view; other than my own private stock account, I have zero connection to Wall Street other than having my articles published on SA.