Our EquityAnalytics department is always updating price targets and ratings on companies that we cover based on new information. Our price targets and ratings are thoroughly researched and use financial analysis tools to determine stock prices. Today we are updating the following companies from our coverage: Apple (NASDAQ:AAPL), Akamai (NASDAQ:AKAM), Dell (NASDAQ:DELL), Equinix (NASDAQ:EQIX), Hewlett-Packard (NYSE:HPQ), IBM, Linkedin (NYSE:LNKD), Teradata (NYSE:TDC), Tech Data (NASDAQ:TECD), and Yahoo (NASDAQ:YHOO).
The chart below shows new ratings, price targets, and buy/sell ranges vs. old ones: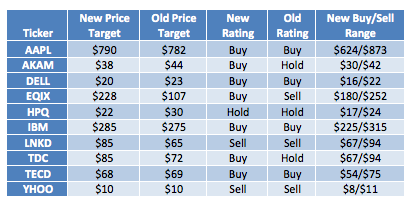 Apple: Maintain at Buy, Increase PT from $782 to $790
Apple continues to be a great value and growth stock. And now, the stock also has a dividend for long-term investors. The company is so cheap right now, and even our PT at $790 is extremely conservative with an estimate that we see only a 40% increase in operating income in the next five years. The likelihood that Apple will not be able to grow at a much more significant rate is high, and our more aggressive growth rates show targets nearing on $900. The company is a great Buy right now, and we believe the stock should be acquired now as it will not be long before it starts to make another high on the iPhone 5 announcement and release. The iPad, additionally, continues to be a very strong growth device, and we believe that 2013 could bring us the release of Apple TV, which was not priced into our model at all at this point.
Akamai Technologies: Upgrade from Hold to Buy, Decrease PT from $44 to $36
Our upgrade was done pre-earnings, and on our first glance at the most recent earnings, AKAM looks like it has finally priced itself appropriately. The company is probably not a Buy any longer, but it should be acquired on weakness.
Dell: Maintain at Buy, Decrease PT from $23 to $20
The PC market has really shrunk, and they continue to lose market share to other companies. The company has a sub-par line of products, and their tablet has not filled the gap in technology. Yet, we believe that Dell will continue to serve the PC market effectively, but that landscape is not the same as it used to be. The company should start to grow again in 2013 as natural growth occurs in economies, and we believe their will be large PC growth in emerging markets in 2013 that laptops and tablets cannot replace. Their tablet was a waste of R&D, and we would like to see the company try to improve their PCs to introduce some very exciting new features there to separate themselves. At a value of under 6 future PE, we believe they are a steal at these prices. Further, they are also potentially a buyout candidate at these levels as well for an Apple or IBM .
Equinix: Upgrade from Sell to Buy, Increase PT from $107 to $228
We drastically increased our targets on EQIX, and our previous model incorrectly identified the business potential for EQIX. The company operates in the high-growth area in data center services. One of the best aspects of these companies is their high margins, but at the same time, the company lacks a very strong economic moat. We believe they have nice upside still from here, but at some point, their growth will slow as more players enter this market and crowd it. For now, we see nearly 100% growth for operating income through 2016. The company's latest results drastically outpaced what we thought was possible. Further, their growth rate increase made us decrease our discount rate as individuals will be willing to pay more for higher growth. Overall, we believe this is one of the best names in tech right now, and it is still a nice pickup. Value is high, so at the first sign of growth weakness, it will suffer. We see the stock being able to make its way to $230 through next summer.
Hewlett-Packard: Maintain at Hold, Decrease PT from $30 to $22
Of the tech companies we cover at The Oxen Group, HPQ is one of the least interesting ones to us. HPQ is even behind DELL in our opinion as far as technology and understand what the general public wants. The Slate is another throw-away item, and much like DELL, we believe HPQ is just continuing to play catch-up with the leaders of different new technologies. The company would be much more suited bringing one of their product lines to the forefront. Until we see some drastic changes as far as their technology, we believe that they should not be acquired.
IBM: Maintain at Buy, Increase PT from $275 to $285
IBM continues to be one of our favorite long-term plays in technology. The company has good value right now, solid growth, and dividends. The company plays a solid yield at nearly 2%, and that comes with very nice growth and value. We see IBM's operating income growing between 15-20% in this model, and that estimate is very conservative. Even with conservative growth, the stock is undervalued with its future PE near 11. The company has a ton of value right now, and we believe that they should continued to be acquired. Their last report was solid in our opinion, and we upped income expectations. The company's cloud business is solid and continues to grow. Further, the company's margin growth only adds to the value.
Linkedin: Maintain at Sell, Increase PT from $85 to $65
Our skepticism of LNKD has dropped as the company has developed well since their IPO, but we still believe the market expects too much. Along with overly ambitious expectations, we are seeing the competition rise and the company really has no economic moat. Facebook is launching a competitive aspect of their website, and we would not be surprised to see others participate. At these valuations, the company is not a buyout candidate as well. Our model accounts for 600% growth in operating income in the next five years, which we believe is a very solid level of growth. Even with those expectations, we still only can get up to an $85 price target. We believe the company is looking better fundamentally, but this stock is well over-priced.
Teradata: Upgrade from Hold to Buy, Increase PT from $72 to $85
The latest round of earnings for TDC were very strong and made us increase our expectations. The company is another name in the cloud network, and we believe they offer better value than many of the other names in the industry like F5 (NASDAQ:FFIV) and Salesforce (NYSE:CRM). The company has high growth right now, and we see that continuing moving forward. We like their value in comparison to competition, and we believe as they continue to provide solid reports, their value will continue to increase.
Tech Data: Maintain at Buy, Decrease PT from $69 to $68
No major changes here. Slight drop in expectations due to change in tax rate.
Yahoo: Maintain at Sell, Maintain at $10
No major changes here. Only value in this company comes from acquisition potential. Their other value was due to Alibaba. They are not looking to be bought out, and they are unwinding their stake. We do not see any reason to own this company. Management is a mess, and there are many, many other higher growth, better value, and better future companies than this one.
Disclosure:
I have no positions in any stocks mentioned, and no plans to initiate any positions within the next 72 hours.