The market appears to be pricing in the chance that Argentina could default on its sovereign debt (hat tip Mish).
Defaults are not everyday occurrences but they do come along every now and then. Venezuela seems to threaten to default every so often and Argentina did default earlier in the decade.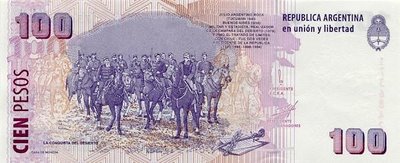 I took a look at a few funds to see which ones would be impacted. PowerShares Emerging Market Bond ETF (NYSEARCA:PCY) has no exposure. iShares JP Morgan Emerging Market Bond ETF (NYSEARCA:EMB) has a 1.66% in an Argentine issue that goes out to 2033 (an unrelated note: EMB has a small weight in a Gabonese Republic bond, wow, Gabon). The SPDR International TIP Fund (NYSEARCA:WIP) has no exposure--I own that one personally and for quite a few clients.
For closed end funds; the Templeton Emerging Markets Income Fund (NYSE:TEI) had a 9.68% weight in some Argentine paper due in 2012 as of 11/30/2007. Morgan Stanley Emerging Market (NYSE:MSD) has a little under 2% in Argentina as of March 31, 2008. Morgan Stanley Emerging Market (NYSE:EDD) has closer to 5% in Argentina as of March 31, 2008.
As an FYI, I could not get the info for MSD and EDD until I got to the tenth page of stuff. I nominate Morgan Stanley for the worst web site of the week. I would suggest to anyone owning any fund that might have exposure - call and find out where the fund is right now. The info I was able to find on the Internet is obviously old.
I have written about quite a few of these funds for TSCM and I always note the extent to which they tend to swing for the fence in terms of yield with exposure to not only Argentina but also Turkey and Hungary. From where I sit I would want to know what is under the hood of a fund like this if I owned it, especially with the actively managed funds, in order to minimize the chance of getting blindsided.
Notice I'm saying minimize as opposed to avoid. Every so often you are going to get blindsided by something but the extent to which knowing some details about what you own and paying attention to the news might spare you a little.