James Dinan founded his investment management firm, York Capital Management, in 1991. The company currently has $15 billion in assets under management. The firm applies focused research to investment selection and disciplined risk management. Its funds follow event-driven investing.
According to Forbes, Dinan's investment firm "produced net returns of 40% in 2009 and 7.5% in 2010." Last year, York's "flagship fund was down 5.93% net of fees," posting "a negative return for just the third time in the firm's 20-year history."
With net worth of some $1.6 billion, Dinan ranks 804th richest person in the world and 286th richest man in the United States.
Here are the four largest positions in Dinan's portfolio that pay dividends: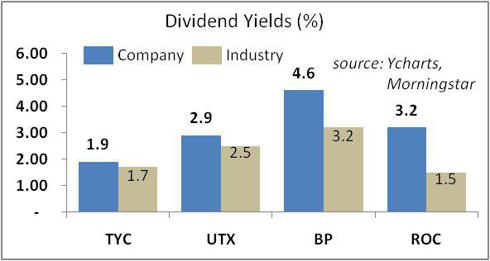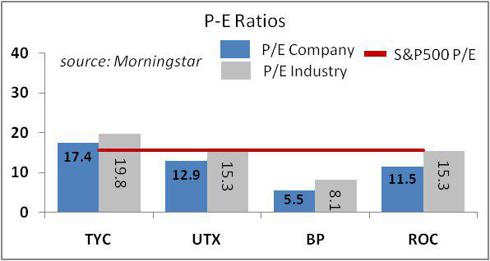 Tyco International Ltd. (NYSE:TYC) is one of the top dividend-paying picks in Dinan's latest 13F SEC filing. The position is currently valued at $204 million, based on the number of shares reported in the first quarter. Tyco International is a $24 billion manufacturing and industrial services conglomerate providing fire protection services, safety products, flow control, and electrical and metal products. The company pays a dividend yield of 1.9% on a payout ratio of 33%. Its peers, United Technologies Corp. (NYSE:UTX) and 3M Co. (NYSE:MMM), pay dividend yields of 2.9% and 2.6%, respectively. The company is expected to grow its EPS 11.6% a year for the next five years. However, the expected growth rate could moderate, given the increasingly difficult operating environment, especially in Europe. Still, it should be noted that a large portion of Tyco's sales are recurring. The company is expected to split into three parts on September 30, 2012, which could create a catalyst for further upside. The stock is changing hands at $51.76 a share, up 9.3% over the past year. On a forward P/E basis, the stock is trading at a premium to its industry. The stock has been the hedge funds' favorite industrial stock. Among notable fund managers, Lee Ainslie at Maverick Capital and David Cohen/Harold Levy at Iridian Asset Management are big fans of the stock.
United Technologies Corporation (UTX) is another company in Dinan's equity portfolio. The stake is currently valued at $104 million. United Technologies is a $67 billion industrial conglomerate that produces high-tech products, ranging from aircraft engines, elevators, fire and security products, to missile systems and military helicopters. The company pays a dividend yield of 2.9% on a payout ratio of 45%. Its competitors General Electric (NYSE:GE), Boeing (NYSE:BA), and Honeywell (NYSE:HON) pay dividend yields of 3.4%, 2.4%, and 2.6%, respectively. Analysts forecast that the company's EPS growth will accelerate to 12.3% per year for the next five years. Still, defense spending cuts, including those under the process of sequestration, could take a toll on this defense industry player. The company is selling several units, including its engine division Rocketdyne to GenCorp Inc., a wind-power company, and industrial businesses of its aerospace parts manufacturer Hamilton Sundstrand. It is planning to raise as much as $3 billion in order to finance the acquisition of aerospace part maker Goodrich Corp. (NYSE:GR). UTX has appealing valuation, boasting a forward P/E below that of its peers on average. The stock is currently trading at $73.29 a share, down 16.4% from last year's levels. Billionaires Ken Fisher and Dan Loeb hold large positions in the stock.
BP Plc. (NYSE:BP) is also one of Dinan's equity holdings. His position in BP Plc. is currently valued at $86 million. The company is a UK-based integrated oil and natural gas giant with a market cap of some $128 billion. It pays a dividend yield of 4.6% on a payout ratio of 25%. BP Plc.'s peers Royal Dutch Shell (NYSE:RDS.A)(NYSE:RDS.B), Chevron Corporation (NYSE:CVX), and Exxon Mobil (NYSE:XOM) pay dividend yields of 4.7%, 5.3%, 3.3%, and 2.7%, respectively. The company is expected to grow its EPS at an average rate of 5% per year for the next half decade. The company has just requested a $1 billion total special dividend payout from its Russian joint venture TNK-BP (50% co-owned with a Russian consortium Alfa-Access-Renova). TNK-BP is Russia's third largest oil company. The TNK-BP Board of Directors will decide about the special dividend during the course of next week. BP's shares are changing hands at $40.40 a share, down almost 13% over the past 12 months. The company's stock is trading at eight times its forward earnings, below the multiple for its industry. BP is the second most commonly-owned energy stock by hedge funds. Fund manager Kenneth Mario Garschina (Mason Capital Management-see its top holdings) and billionaire Seth Klarman hold large positions in the stock.
Rockwood Holdings Inc. (NYSE:ROC) is another of Dinan's stock holdings paying dividends. Rockwood Holdings is currently valued at $58 million. The company is a $3.3 billion producer of specialty chemicals and materials for industrial and commercial uses. It pays a dividend yield of 3.2% on a payout ratio of 36%. The company's rivals PolyOne Corporation (NYSE:POL) and Huntsman Corporation (NYSE:HUN) pay yields of 1.4% and 3.2%, respectively. Competitor Arch Chemicals Inc. is now part of Swiss Lonza Group Ltd. The company has seen robust EPS growth, which averaged 35.4% per year over the past five years. Its EPS growth is forecast to average 26% per year for the next half decade. Rockwood's revenues and free cash flow have risen at a strong pace over the past couple of years. As the company is the largest producer of lithium compounds and chemicals, strong demand for its lithium products, including lithium-based battery compounds, will sustain strong growth in the future. Strong sales growth is also expected from the company's surface treatment business. The company's stock is trading at $42.02 a share, down 31.3% over the past year. Its forward P/E is well below the company's historical averages. Fund managers David Cohen and Harold Levy hold the largest reported stake in the company among fund managers.
Disclosure: I have no positions in any stocks mentioned, and no plans to initiate any positions within the next 72 hours.