Market Recap: The market had a very solid day as a combination of good earnings, moves by the ECB, and stronger data all allowed the markets to make back most of the losses that had accrued since the end of last week. First, Mario Draghi, ECB president, gave the markets a lift when he said he would do "whatever it takes" to keep the euro strong. That news lifted the euro, dropped the dollar, and put eurobonds back on the table. The move was looked at as a confidence builder, but without action, it will be a short-lived pump. Additionally, we got a nice round of earnings with good results from 3M (NYSE:MMM), Crocs (NASDAQ:CROX), and Steven Madden (NASDAQ:SHOO). Data also was important as initial jobless claims dipped strongly past expectations and Durable Orders grew by 1.6% vs. the 0.3% expectations.
It was a very solid day in the market, and we should most likely see a follow through tomorrow. We have some important earnings on the way, but the general feeling will be lifted by what Draghi has said at least for one more day. If we cannot get any follow through, it will definitely be time to take profits and get out of this market as an August slowdown would be on the way.

2 Trades
Two trades we like right now are going long on Southern (NYSE:SO) as well as looking at a bear call spread in UPS. Southern looks solid right now. The utilities company had a strong day today after some very solid earnings that saw the company beat estimates and talk fairly bullish on the future. What we also like about SO is that it's not going to fall apart if we do get a flat day or lack of follow through. This is the best day for the company in the past eight months, and other big days like this have been followed by strong movement. The company broke out from a previous high point, and we should see it retest $48.50. If that breaks, we should see it move above $49.00. Utilities are also attractive as they offer nice income during tough times as well. UPS, on the other hand, had very weak earnings, and we believe it will stay in check for some time. The company reported weak earnings and guided poorly. We believe the $77.50 line will hold and like that as a place to sell calls on any strength.
Trade #1: SO, Long
Trade #2: UPS, 77.50/80 Bear Call Spread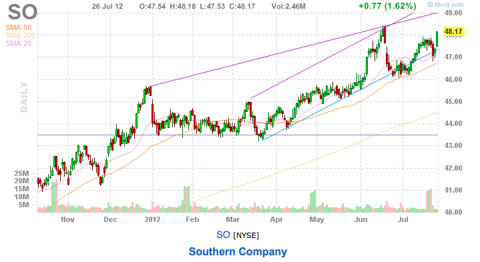 Tomorrow's Outlook
Tomorrow, we are looking for the market to do some follow through. We have a lighter day of data and earnings, and we may be able to just keep this rolling through the end of the week. Some profit-taking will occur, but it may not happen until we move at least a bit higher. We have GDP to be released tomorrow, but for the most part, we see that number as already priced in for a miss. We also have the Michigan Consumer Sentiment Index. Both are important reports, but we do not believe the market is expecting too much. Further, any miss may just fuel more expectations of Fed intervention. Earnings are big from Amazon (NASDAQ:AMZN) tonight as well as Facebook (NASDAQ:FB), but both companies are very independent in their business models from most others. Tomorrow morning, we have big reports from Aon (NYSE:AON), Chevron (NYSE:CVX), DR Horton (NYSE:DHI), and Merck (NYSE:MRK), but nothing is too drastically overbearing on the market. So, we believe a "risk-on" mood will be there and based on GDP and earnings it will make a difference in how much green we see tomorrow.
Oxen Group Moves
We had a fantastic day in the market as we got some nice moves in a number of our holdings. We locked in a 34% gain on Facebook puts we were holding in Options Portfolio as well as hit target #1 in Home Depot (NYSE:HD) bull put spread for a 20% gain. We also took 1/2 off Wolverine (NYSE:WWW) long and Mosaic (NYSE:MOS) short for a 2%+ gain. We took 1/2 off Dominos (NYSE:DPZ) for a 1% gain as well. We hit our first target in our long-term play in Dr. Pepper Snapple (NYSE:DPS) for a 10% gain as well as took off the remaining position in Sociedad y Quimica (NYSE:SQM) for an 8% gain in our long-term equity portfolio. We added a reverse iron condor in Facebook as well as Coinstar (NASDAQ:CSTR) to our Earnings Alpha portfolio. Finally, we went long on Southern in our Equity Portfolio. We also added three new positions to our Goldman Sachs portfolio with longs in Canon (NYSE:CAJ), Basic Services (NYSE:BAS), and Noble (NYSE:NE).
We have the following positions:
In our Short-Term Equity Portfolio we are long Southern , Dominos Pizza , Dollar Tree (NASDAQ:DLTR), Wolverine Worldwide (WWW). We are short Pall (NYSE:PLL), Mosaic (MOS).
In our Options Portfolio, we are long Monsanto (NYSE:MON), Dollar General (NYSE:DG), Home Depot (HD). We are short Tiffany (NYSE:TIF).
In our Earnings Alpha Portfolio, we are long VeriSign (NASDAQ:VRSN), Seagate Tech (NASDAQ:STX), Apple , Disney (NYSE:DIS), and American Eagle Outfitters (NYSE:AEO). We have a reverse iron butterfly in F5 (NASDAQ:FFIV). We have reverse iron condors in Coinstar and Facebook .
In our Goldman Sachs Up/Down Paper Portfolio, we are long MDC (NYSE:MDC), Canon , Basic Services , and Noble . We are short AptarGroup (NYSE:ATR).
Chart courtesy of finviz.com
Disclosure:
I have no positions in any stocks mentioned, and no plans to initiate any positions within the next 72 hours.