The recent release of quarterly earnings by some steelmaking companies like AK Steel (NYSE:AKS), Nucor Corp (NYSE:NUE), and Steel Dynamics Inc. (NASDAQ:STLD), was in line with the prevailing dynamics of the Steel Industry, which are suffering from high steel supply from China, weak steel prices due to domestic overcapacity, falling scrap prices, and a gloomy global economy. Although there has been some improvement in the automotive demand (as is reflected in a recent increase in the Seasonally-Adjusted Annual Rate or SAAR, of auto sales) and Chinese fixed asset investment, construction activity remains depressed despite a slight surge in the Architecture Billings Index from 45.8 in May to 45.9 in June. Consequently, we reiterate our previous recommendation for short-term investors to wait for a possible rebound in the Steel Industry, which we expect will bottom during 3Q2012. Long-term investors can find potential buying opportunities in NUE and STLD due to their high dividend yields, less beta, and lucrative growth potentials. We are neutral on AKS and X due to their poor financial performance, and high beta.
Recent Development - Steel Shipments from China at two-year highs
A significant problem is the surge in imports from Chinese steel mills, which have shifted their focus to exports as a result of a weak domestic market, where steel prices are currently floating near their two-year lows. Consequently, the monthly steel shipments to international markets from China climbed to 8.7% of the domestic output, which is the highest proportion since July 2010.
Earnings Review - Major Steelmaking Companies
Let us analyze the latest quarterly results of each of the companies in detail.
AK Steel
AKS has reported a per-diluted share loss of $6.55 in 2Q2012, as against a gain of 30 cents per diluted share in 2Q2011. The huge loss is primarily attributable to a non-cash charge of $6.65 per diluted share regarding a valuation allowance for AKS' deferred tax assets. Excluding this one-time expense, earnings per diluted share were 10 cents, exceeding analyst expectations of 6 cents.
The company's revenue dropped by 14% from last year's levels, from $1791.9 million in 2Q2011 to $1538.4 million in 2Q2012, as its shipments fell by almost 11% during the same time horizon.
James L. Wainscott, President, Chairman, and CEO of AK Steel, said:
"During the second quarter (pdf), sluggish domestic and global economic conditions impacted shipment volumes and selling prices for our steel products."
The company's liquidity position at the end of the second quarter was not bad considering its $37.4 million cash and cash equivalents and $671.7 million of available revolving credit. However, the company plans to suspend its dividend to "help enhance financial flexibility and further support capital needs for business".
AK Steel did not provide a detailed guidance for its next quarter results, but expects a net loss "due to continued uncertainty and volatility" of the global economic environment. Furthermore, the company is anticipating a $28 million expense related to planned maintenance outage costs in 3Q2012, relative to almost $1 million in 2Q2012, which will further squeeze its profits.
Nucor Corp
For a detailed earnings review of Nucor, please read our previous article.
Steel Dynamics Inc.
Steel Dynamics' earnings per diluted share decreased by almost 54% on a YoY basis to 20c in 2Q2012. According to the management, the main reason attributable for this significant drop is the general decline in sheet steel prices amidst "increased imports and increased domestic capacity." In addition, the company's metal recycling operations suffered this quarter in terms of both margins and volume. As according to the company's CEO, Mark Millett, "The ferrous scrap market was oversupplied as the export market weakened and demand decreased as U.S. Steel mill utilization declined." Consequently, its gross margins reduced from 13.3% a year ago to the current level of 9.5%.
Millett said that order rates could be "somewhat uneven" throughout the next quarter. Moreover, the continual decline in ferrous scrap prices could hamper STLD's metal recycling operations further. However, he proclaimed that the company is "uniquely equipped to capitalize on the opportunities ahead" due to its favorable cost structure, diversified product mix, vertical integration and strong employee team.
The following graphs shows cold rolled steel prices along with ferrous scrap prices.

Sources: MetalPrices.com and SteelontheNet.com
United States Steel Corp (NYSE:X)
X will report its 2Q earnings on Tuesday, July 31. For a detailed analysis on the company, read our previous article.
Valuations
The following table highlights the important things to look at regarding the valuation of these stocks:
| | | | | |
| --- | --- | --- | --- | --- |
| | NUE | STLD | AKS | X |
| Forward P/E (1 year) | 11.09 | 7.94 | 6.76 | 6.31 |
| PEG Ratio (5-year expected) | 2.24 | 1.4 | -1.48 | 2.03 |
| Dividend Yield | 3.90% | 3.30% | 4.10%* | 1.10% |
| Share price performance (YTD) | -6.95% | -11.93% | -42.74% | -32.24% |
* Please note that the high dividend yield of AK Steel is not reflecting the company's plans to suspend its dividend in the near future.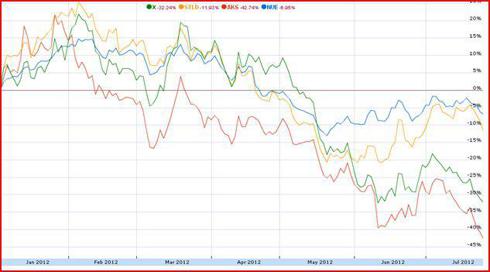 Source: Google Finance
Disclosure: I have no positions in any stocks mentioned, and no plans to initiate any positions within the next 72 hours.