The financial crisis in Europe is leading the global slowdown putting renewed pressure on the sovereigns around the world, many of them facing high debt-to-GDP ratio. Searching for a way to stimulate their economies many are running their mints at full capacity. But, every currency cannot depreciate against every other currency. This is throwing up some interesting trading opportunities. Here is a panoramic view of the major currencies.
Dollar Basket
Futures: DX; Long ET: UUP; Short ET: UDN
PIMCO's Bill Gross and El-Erian are fond of saying that the US is the cleanest dirty shirt in the world, which means that in times of uncertainty and high risk, money will gravitate towards it. So it is no wonder that in the continuing global financial crisis, the dollar basket is appreciating.
Two of the major constituents of the basket - euro and British pound - are weakening due to their region's worsening economy. Another major constituent - Japanese yen - is strengthening against the dollar, but the overall impact on the basket is still positive.
The US dollar has been on an uptrend after bottoming between May and August in 2011. Since then it has retraced a couple of times - once in October 2011 and then again in the first quarter of 2012. As of now, it has already retraced 61.8% (82.92) of the drop from June 2010 high to May 2011 low and is challenging the 78.6% Fib level (85.64).
On the daily charts, DX is showing some fatigue. For the last few days it has been struggling to get over the congestion level that it created in August 2010. Presently it is still hair above that level but Wednesday's price action breached the lows of Tuesday and Monday after making a 52 week high on Tuesday. If it closes in 83.60 area then it may retrace a bit more. However, since May it has been making higher lows and the 50-D SMA is acting as a good support. So unless a compelling solution emerges in Europe, the short-term trend may still hold.
Click to enlarge.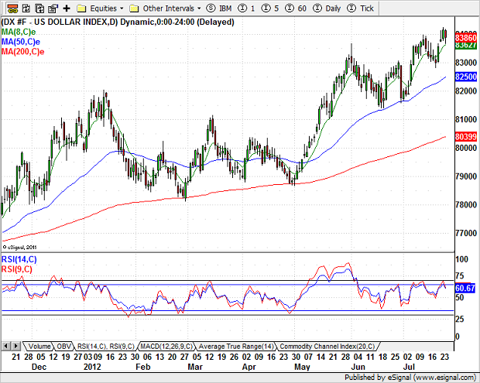 EUR/USD
FX Pair: EUR/USD; Long ETF: FXE; Ultra Short ETF: EUO
Europe is in a big mess and it is no surprise that the strain in showing up in euro. It is weakening against most major currencies.
EUR/USD has been in a sustained downturn since May 2011. Since then any upward bounce has been finding resistance at a lower Fib level. The bounce in October 2011 turned back at around 61.2% level. The bounce in first quarter of 2012 found resistance at around 50% level and the bounce in May 2012 was good for only 38.2%. The pair is very close to June 2010 low of 1.1877. If the psychological level of 1.2000 is broken then it may race down to 2010 low.
The economic news from Europe is still not good. On Tuesday, German Flash Manufacturing PMI and Service PMI came below expectations. The French Flash Manufacturing PMI also came below estimates, though the French Flash Services PMI beat forecasts. On Wednesday, German Ifo business climate readings were also worse than expectations. Together, the economic picture in Europe looks to be worsening and that is not going to help the euro.
The troubled countries of Europe - Greece, Spain, Italy, and Portugal - are not showing any improvement. Neither are the ECB and EU coming out with any confidence building solution to the euro zone's problem. So the downward pressure on the pair is not going to let up any time soon.
The 9-D RSI is coming off the oversold region and is showing a divergence. A similar divergence occurred in early June, and at that time the pair retraced around one third of its fall. The latest news from ECB is that it may be getting ready to do something to address the worsening financial situation. All in all the pair may be ripe for a bounce. However, any bounce is going to face some technical resistances at 1.2325, 1.2450, 1.2580, 1.2700 and 1.2750 - all previous highs or support-turned-resistance levels.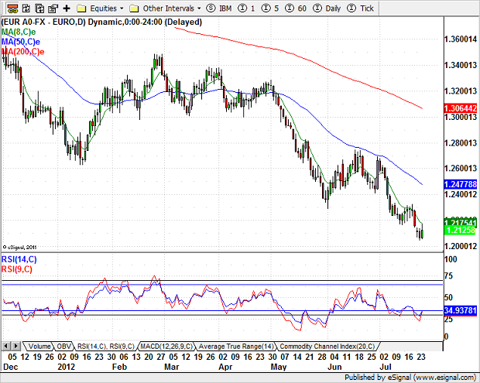 USD/JPY
FX Pair: USD/JPY; Long ETF: FXY
It seems that the Japanese yen has been appreciating against the US dollar forever (down trend for the pair), but the current trend is persisting since June 2007. During this time each retracement reached only lower highs. In October 2011, USD/JPY made an all-time low, prompting an intervention by the BOJ.
In the first quarter of 2012, USD/JPY tried to mount an ascent but it could not clear the previous high of 85.52 made in April 2011. The pair then retraced 78.6% of that move up. In June USD/JPY broke above the downtrend line of this retracement only to turn back at the resistance made by the May high of 80.55. It is again very close the to the low of June 2012 of 77.66 If this support is broken then the next support is at the 2012 low of 76.00 followed by the all-time low.
There is nothing on the horizon that could reverse this trend barring central banks actions. This pair also reacts well to the risk-averse sentiments. At the moment the market is risk-averse but if that changes then USD may rally against JPY. Also, the 9-D RSI is in the oversold territories like it was in June, which saw a weak bounce. Like EUR/USD, any rally will face many resistances zones at previous highs.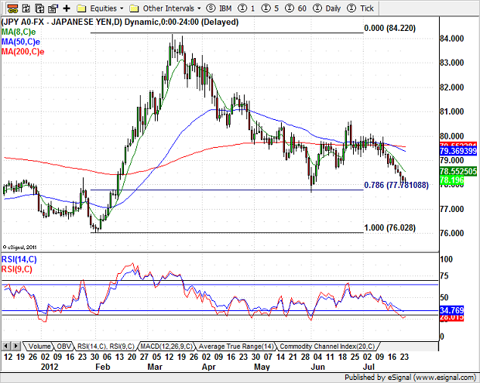 GBP/USD
FX Pair: GBP/USD; Long ETF: FXB
The British economy is in troubled waters too - not only that it has been affected by problems in the eurozone, which is its major trading partner. The currency would have been in a worse situation but is being saved by the flight-to-safety trade as corporations are moving money out of the euro and into the pound.
Since September 2010, the British pound has been trading within a horizontal channel with respect to US dollar. The lower limit of the channel is around 1.500, which the pair visited in September 2010, December 2010, October 2011, and May 2012. The lower limit is mostly 1.6300 level, though the pair breached it a couple of times - once in May 2011 and then in July 2011. Presently, the pair is near its lower bound.
Since June 2012, GBP/USD is trading within an even smaller channel of 300 PIPs - between 1.5725 and 1.5425. Wednesday's preliminary GDP reading pushed it closer to the lower limit. The reading showed that the economy shrank the most in three years. It was also below expectations, confirming that the UK economy is facing serious headwinds.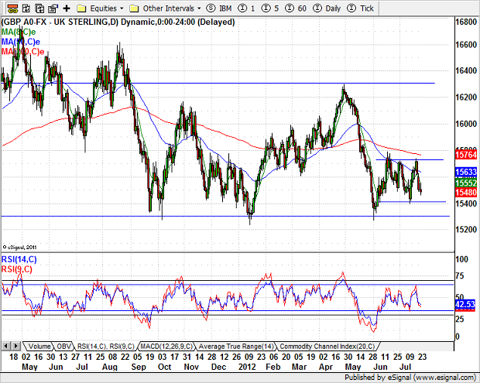 AUD/USD
FX Pair: AUD/USD; Long ETF: FXA
The Aussie dollar is a resource currency, and its value appreciates along with the global demand. So it is not surprising that it has been on an uptrend with respect to the US dollar after bottoming in late 2008 and early 2009. It had a brief retracement in May 2010, which was preceded by a horizontal channel range from October 2009 to April 2010. For the past one year, the pair has been in choppy waters, forming a symmetrical triangle, reflecting the global uncertainty.
From March 2012 to late May 2012, AUD/USD was in a downtrend. Since then, it has been in an uptrend and is making higher highs and higher lows. The uptrend in Aussie is coinciding with the summer rally in US equities. Since Friday June 20, it is retracing and today, the pair has a chance of making a reversal candle. If it succeeds and closes above yesterday's high, then it may again challenge the resistance of 1.0475.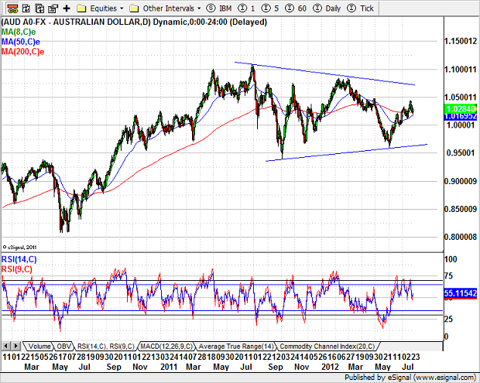 USD/CAD
FX Pair: USD/CAD; Long ETF: FXC
The Canadian dollar usually takes up-and-down ride along with crude oil. After peaking in late 2008 and early 2009, the pair has been in a general downward trend - the Canadian dollar appreciating against the US dollar. After making a three year low in July 2011, it bounced up but did not go above any significant previous high. Crude's rise from October 2011 to March 2012 also saw CAD/USD fall from 1.0650 in October 2011 to 0.9800 in early May 2012.
Since then crude oil collapsed from a high of $106.5 in early May to $77.25 in late June. USD/CAD followed crude's move, but not completely. The pair rose from late April lows to early June highs, but since then it has been drifting lower, forming a downward sloping flag. This could turn out to be a bullish pattern if the pair breaks above the down trend line.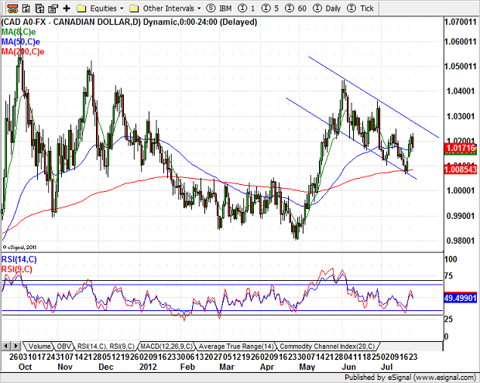 USD/CHF
FX Pair: USD/CHF; Long ETF: FXF
The Swiss franc is another currency that is appreciating against the US dollar forever. For most of the last decade, the pair has been in a downward trend, making lower highs and lower lows. From June 2010 to August 2011, it was in a steep down move. Since then, the pair has been gradually trending up. Around that time SNB effectively pegged its currency to euro announcing a floor of 1.2000 for EUR/CHF. This is having unintended consequences for other majors.
USD/CHF is nearing another resistance level of 1.0066 - this high made in November 2010. But after making a 52-week high on Tuesday, Wednesday's price action took the pair below Tuesday's low. If the price closes below 0.9900, then it may go down lower. However, just like DX, since May 2012, the Swissy is making high highs and higher lows. It is also finding support at the 50-d SMA, and probability of that trend remaining intact is high.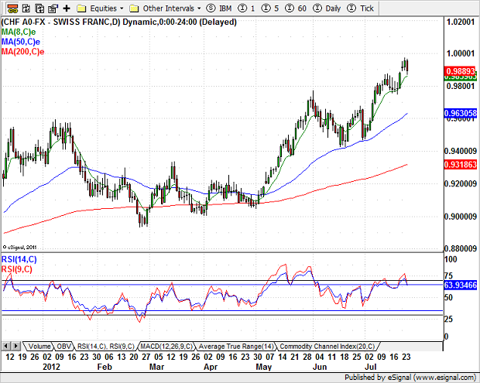 Disclosure: I have no positions in any stocks mentioned, and no plans to initiate any positions within the next 72 hours. I am trading FX pairs EUR/USD, USD/JPY, GBP/USD.