On Friday, investors in Dolby Laboratories, Inc. (NYSE:DLB) were treated with a 10% gain as the stock rose in response to the firm's earnings announcement. The company reported numbers for its fiscal second quarter (ending March 31) and the results were quite impressive. Revenue came in at $172.6 million which was up 34% compared to last year. Net income was 56.8 million or 49 cents per share, good for a 44% gain over the same quarter last year. Management cited broad strength across many global markets including PC, gaming and its broadcast business.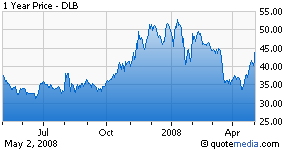 Listening to management's commentary, its easy to see why revenues were so strong. The company has its hands in a broad assortment of digital media which attractively diversifies the company's offerings. In fact, it is nearly impossible to buy a consumer electronic device that does not feature at least one license held by Dolby. Of particular note, the company receives royalties for every version of Vista Home Premium or Ultimate Edition.
Also, Blu-ray has been dubbed the standard of choice for high definition home film medium and Dolby receives royalties from each of these players as well. The company notes that notepads are just now beginning to be shipped with blue ray players and as this trend picks up, it will likely have a strong impact on 2009 revenues. The company received the vast majority of its revenue from the license segment instead of products and service. Since the license business carries higher margins, the profitability of the firm is very strong.
Some of the weakness on the product and service side stems from the company's digital cinema business. Currently there is $20 million worth of deferred revenue that was originally expected to be realized in the second half. (Deferred revenue usually occurs when a company receives payment up front for a service or a product that has not yet been delivered. Once the product is completed - or gradually as it is in the process of being completed - the company is able to book the revenue on the books as it has now been "earned.")
It now appears that the revenue will not be able to be booked until the first half of fiscal 2009 as the equipment has yet to be completed and then must be certified by a third party in order to be deemed complete. Management appears to be explaining the change as an issue with the timing regarding the third party. While it should be any investor's nature to be skeptical, management appears to be very conservative on other metrics which helps them hold credibility in this metric that is difficult to verify.
One such example of a conservative approach involves the company's handling of a cash alternative held on the books. A position of roughly $80 million in auction rate securities came to the forefront during the conference call. The auction rate debt market has essentially "locked up" in recent months as liquidity has dried up and trading has come to a virtual halt.
While very little has changed as to the creditworthiness of underlying issuers, there is basically no way to get out of some of these securities. Management took the prudent step of 1) disclosing the issue, 2) writing down the value by $3.5 million, and 3) reclassifying the position as a long-term investment from a short-term security. While this particular instance should not be a major concern to investors, it is important to understand how connected different markets are, and how disconnects in one are of the financial world can bleed over into seemingly unrelated securities.
On the call, management was asked to comment on the current state of the consumer. It was surprising to hear how upbeat their perspective was as literally no mention was made of any softness. While management committed to governing conservatively and keeping close tabs on future changes, they were optimistic that notebook shipments would grow 10% over the next year and the guidance issued was relatively strong. While this optimism doesn't quite match what has been seen in other consumer discretionary sectors, technology is one of the stronger areas of the market and that may reflect similar underlying views by a broad cut of equity investors.
While there are considerable concerns regarding the state of the overall economy, Dolby appears to operate as one of the "best of breed" in the consumer discretionary category. The stock is not immune from rises in the unemployment rate, or declines in consumer confidence, but at the same time it may receive more than its share of revenue from the economic stimulus package. Since the company has revenue coming in from all corners of the world, they are less likely to get severely hurt by US weakness. A global recession would certainly cause more of a struggle, but at this point there still appears to be solid if not a bit slower growth.
Disclosure: Author does not have a position in DLB.