The stock price of Newpark Resources (NYSE:NR), which recently announced strong 1st quarter 2008 earnings, has fallen more than 30% over the last 12 months. The reasons for this underperformance might be debatable but, in our opinion, they do not seem to include a dissatisfied customer base.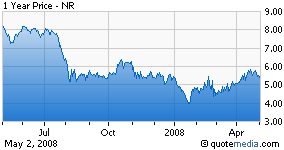 In what might prove surprising to would-be skeptics of the company, NR enjoyed relatively high levels of appeal with participants in our surveys. In fact, overall satisfaction ratings place NR in the top quartile (seventh out of 32 suppliers) in EnergyPoint's latest Drilling / Wellsite Equipment & Materials Survey.
More importantly, in the more focal category of Muds, Fluids, Chemicals & Proppants, the company ranked second out of seven, just behind segment leader M-I.The driver behind NR's success with customers appears to be a simple ability to perform in the specific categories and markets in which it chooses to complete. No attempts to be all things to all people here. One survey participant observed that the company "does a better job than many of its competitors", while another noted that NR's "jobs come in as planned".
In a world where providing an edge can mean substantial revenue and / or cost savings to customers, these kinds of affirmative testimonials should bode well for NR's prospects. In addition, with the recent announcement of a new agreement to sell its non-core environmental services business, NR looks poised to jettison a unit we suspect has been a significant drag on managements' time and resources.
Granted, NR's ratings do somewhat trail those of major competitors in rated areas having to do with the size of its organization and the scope of its offerings. With FY 2007 revenues of just over $600 million, NR pales in comparison to segment juggernaut M-I, the Smith International (SII) - Schlumberger (NYSE:SLB) JV with revenues of more than $4 billion in 2007.
Analysis we've performed does seem to indicate that size of a supplier has played a slightly more prominent role in driving customers' sense of satisfaction as of late. However, a job well done is a job well done regardless of the size of the supplier, and NR appears to have something to offer customers looking for value from their drilling fluids provider.
Disclosure: none