Following a dramatic recovery in the stock price of Canadian Imperial Bank of Commerce (NYSE:CM), TD Newcrest analyst Jason Bilodeau is switching his recommendation on the bank's shares from "Buy" to "Hold."
There's nothing ominous about the rating change, however. It's just that the rapid rise of CIBC's stock — up 35% from its recent lows, and a 15%-plus return in the past three months — has already captured "a good deal of our expected outperformance," says the TD analyst.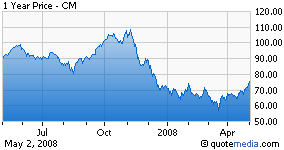 Total returns over the coming year will be about 10%, which puts CIBC on a par with the average for Canadian bank stocks and is not enough to warrant a top rating, Mr. Bilodeau says.
TD has a C$80.00 target price for CIBC's stock — a higher target price, Mr. Bilodeau said, "would require a more aggressive outlook on earnings power, and/or valuation; not something we are comfortable forecasting at this point."