Air Canada (AIDIF.PK) is not expected to deliver the same sort of knock out earnings Thursday that WestJet Airlines Ltd. reported earlier this week, according to Jacques Kavafian, Research Capital analyst.
In fact, while Mr. Kavafian said he now expects a slightly better first quarter, with improved yields stemming from strong domestic demand, he drastically cut his earnings forecast for the remainder of the year for the airline on Friday, principally due to higher fuel prices.
Mr. Kavafian said he now expects Air Canada to report a slightly better first quarter loss of C$0.71, up from his previous estimate of an C$0.88 loss, and C$0.50 a share last year.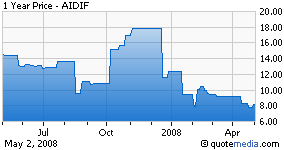 For the year as a whole, however, he slashed his forecast to C$0.80 a share, from his previous estimate of C$2.28, and reduced his price target from C$14.50 to C$6 accordingly. He also downgraded the stock from a "buy" to a "sell."
The drastically reduced outlook is a result of higher fuel price estimates, and the fact that Air Canada is less able to increase fares to compensate.
In a note to clients he said:
Although we believe that airlines can increase fares to offset higher fuel expense, Air Canada may have difficulty raising fares on approximately half of its business that is generated from international markets. Its main competitor, WestJet, generates 100% of its revenue from North America where it is easier to raise fares.
He added that Air Canada's eroding cash position, increased debt, pending labor negotiations, and the overhang of ACE Aviation Holdings Inc.'s [ACE.B/TSX] 75% ownership stake will also weigh down the stock in the coming year.