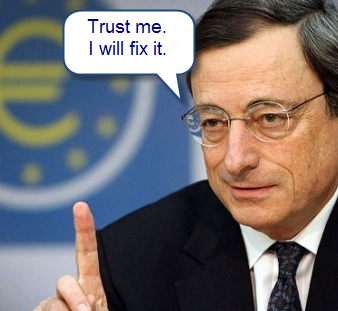 "Words, words, words, I'm so sick of words
I get words all day through
First from him, now from you
Is that all you blighters can do

Sing me no song, read me no rhyme
Don't waste my time, show me
Don't talk of June, don't talk of fall
Don't talk at all, show me
Never do I ever want to hear another word
There isn't one I haven't heard"

Alan Lerner: My Fair Lady
The ECB's head Mario Draghi stated Thursday that the bank would use all tools at its disposal to maintain the euro but…"within our mandate". The mandate is an unsettled political issue for the ESM (European Stability Mechanism) which is also stuck in the German courts where its constitutionality is in question. Moreover the Germans have fiercely maintained they wouldn't be in favor of more bond buying. The bottom line is this is more jawboning that algos seized on to rally stocks Thursday. After all Draghi knows how to pump markets having been vice chairman and managing director at…wait for it, Goldman Sachs International.
In real news, Jobless Claims fell (353K vs 380K expected & prior revised to 386K). With cumulative non-stop revisions claims are actually now 149K higher 2012 year to date. Pending Home Sales fell (-1.4% vs .9% expected & prior 5.9%) and the NAR tried to explain this as a reduction in inventory--seriously. The Bloomberg Consumer Comfort Index fell (-38.5 vs -37.9) and Durable Goods Orders rose (1.6% vs .6% expected & prior 1.6%) however ex-transportation (mostly aircraft) orders fell (-1.1% vs .2% expected & prior .8%).
Earnings are still coming out but already we're seeing reports of lowered third quarter results for the S&P 500 which is now expected to fall .1% from a year ago. It sounds like a modest amount but it does affect PE expansion negatively.
China stated it wouldn't be interested in easing real estate buying restrictions which took mainland Chinese indexes to lows not seen since 2009. These are the things not many are paying attention as they're distracted by another round of "the eurozone is fixed" again.
Leading markets higher, particularly on the DJIA once again, were the priciest shares in the price-weighted index. Financial sector rallied on hopes that Draghi will do some bond buying where they can unload their toxic waste.
Underperforming within the major sectors were small caps higher but still not catching much of a bid. Lagging were materials as Dow Chemical (NYSE:DOW) had a poor report. Lower were most social media sectors which include Zynga (NASDAQ:ZNGA) and even Facebook (NASDAQ:FB). And, despite crummy housing data the past few days, homebuilders rallied.
The dollar was sharply lower on the Draghi move and gold was higher. Oil was somewhat higher helped by the weaker dollar. Most commodity markets reacted modestly Thursday while bonds were relatively unchanged.
As this is written many companies reporting earnings are missing estimates and their share prices are much lower.
Volume was average on the melt-up while breadth per the WSJ was positive for the second day running relieving oversold conditions.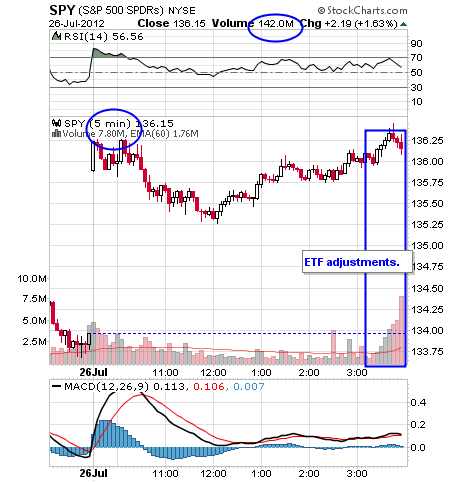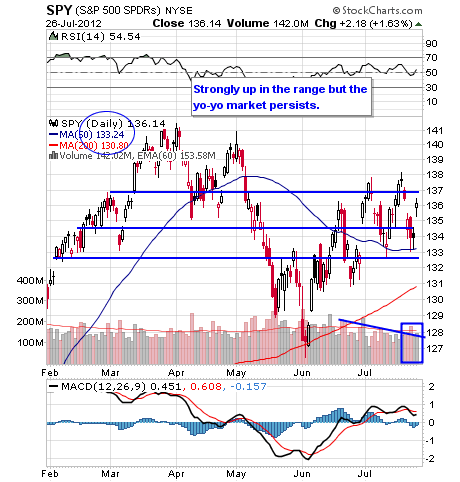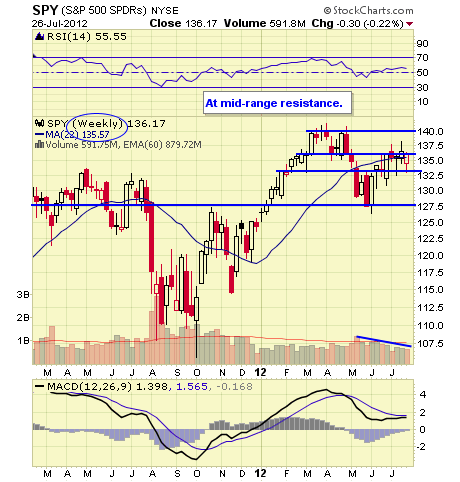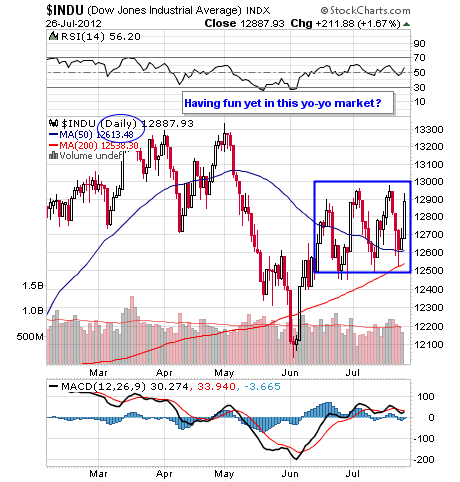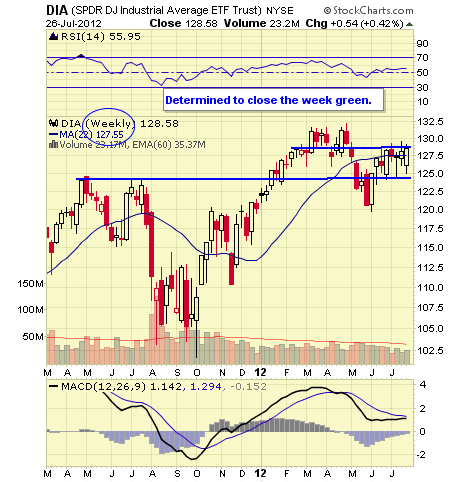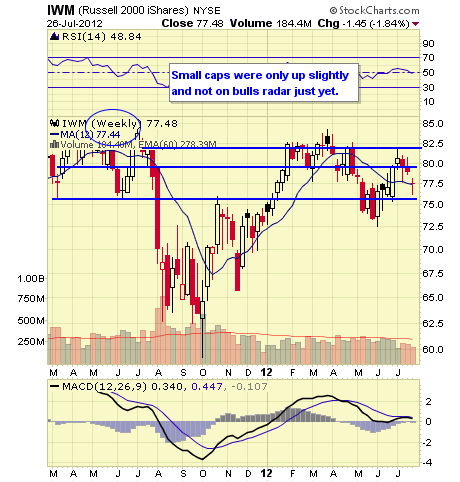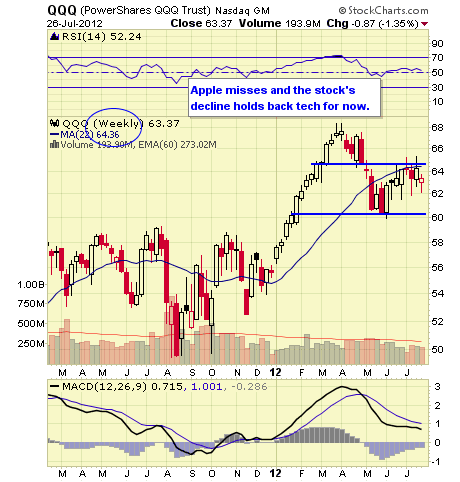 Continue to U.S. Sector, Stocks & Bond ETFs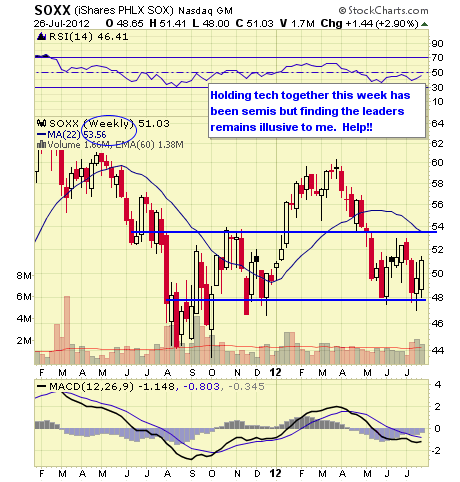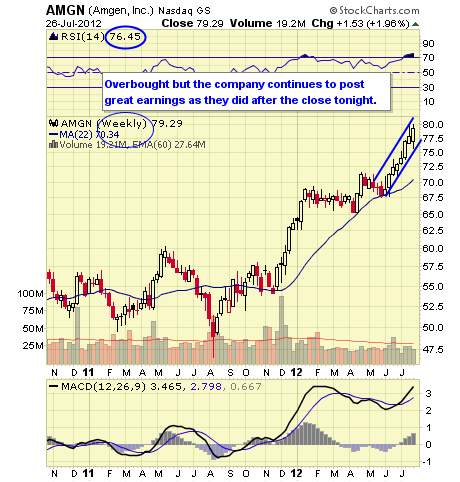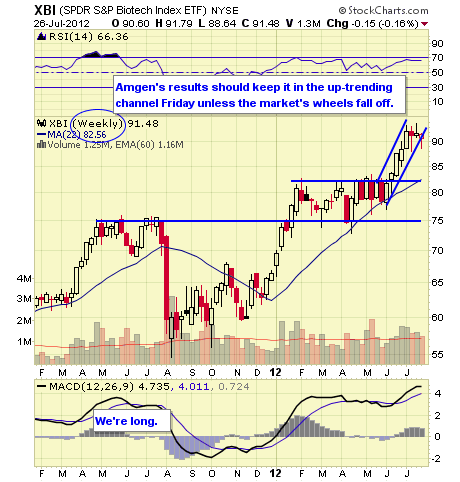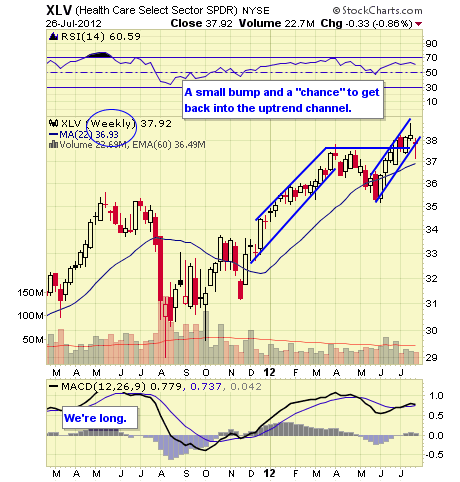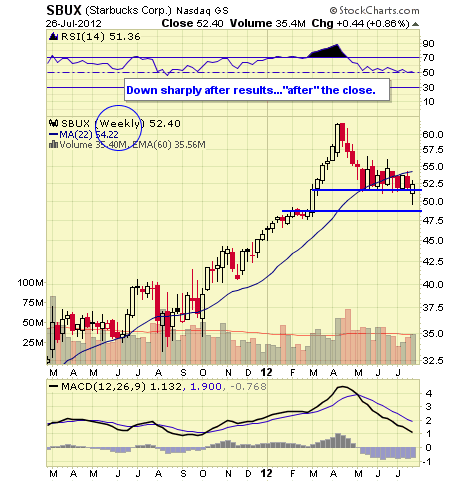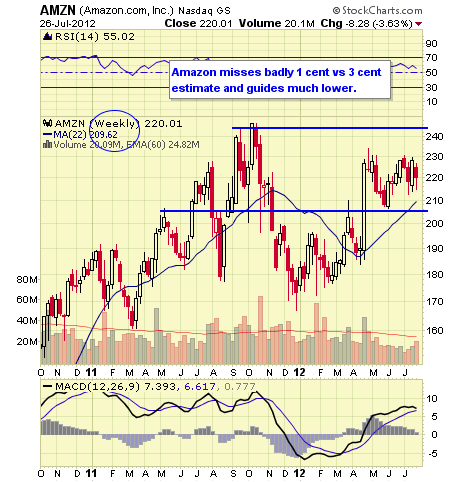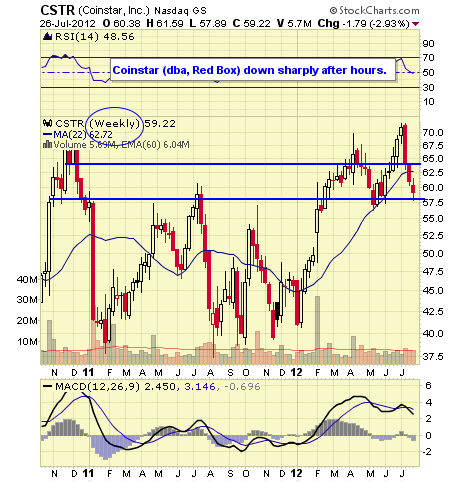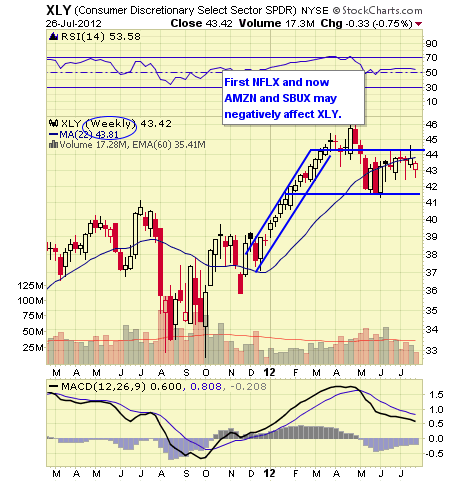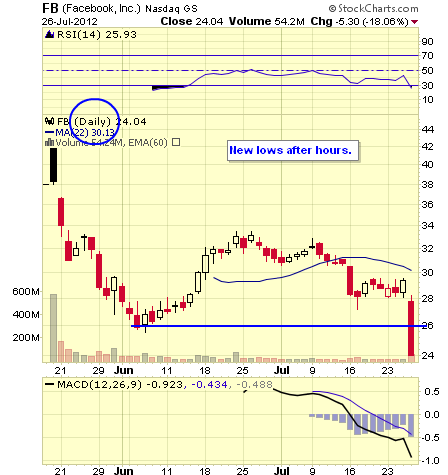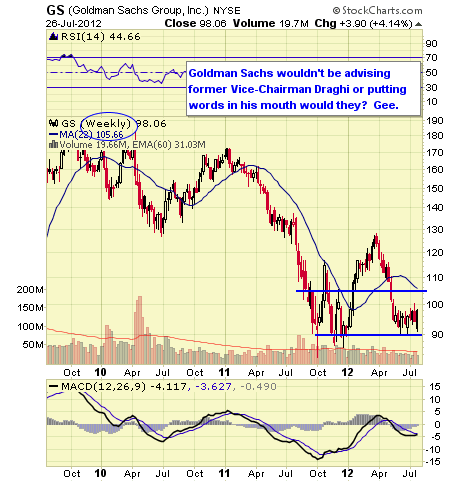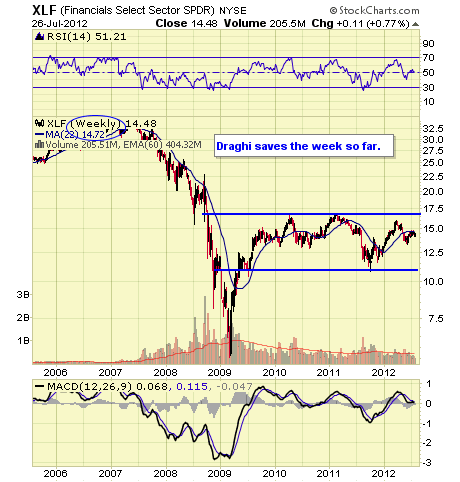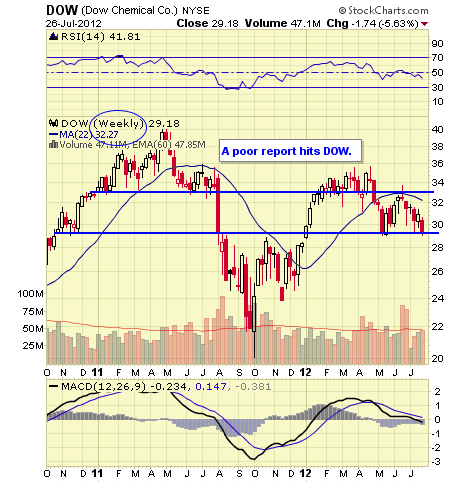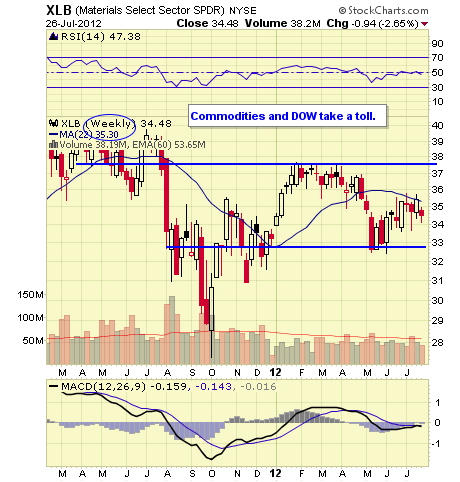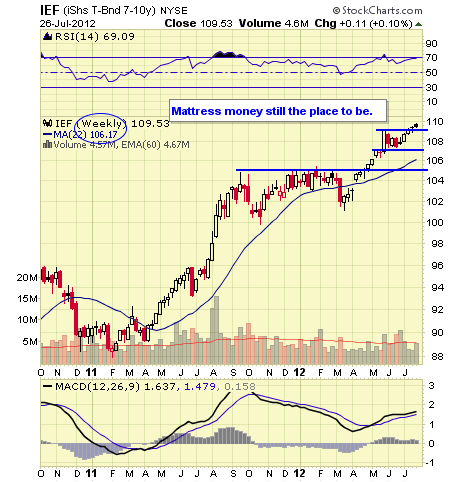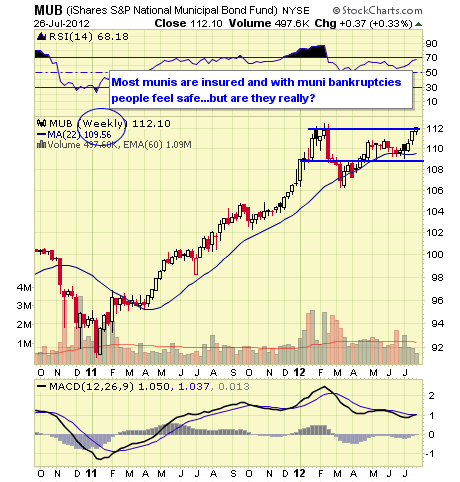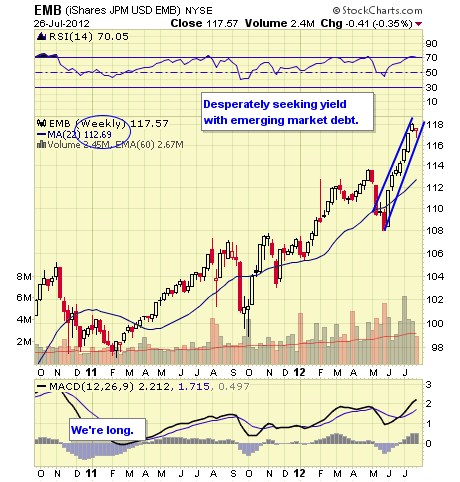 Continue to Currency & Commodity Market ETFs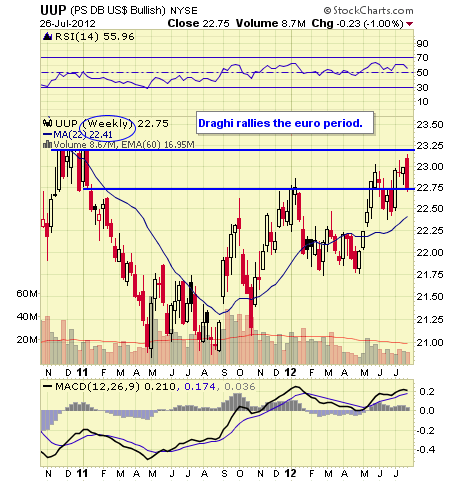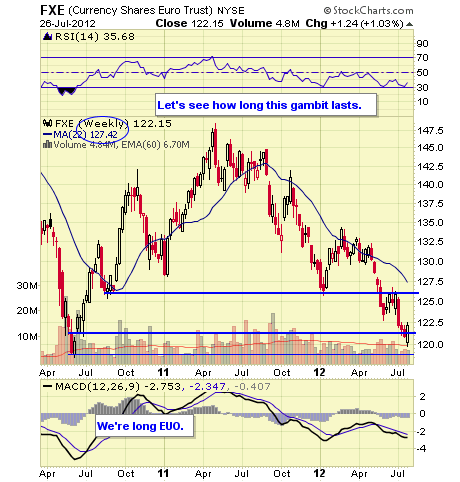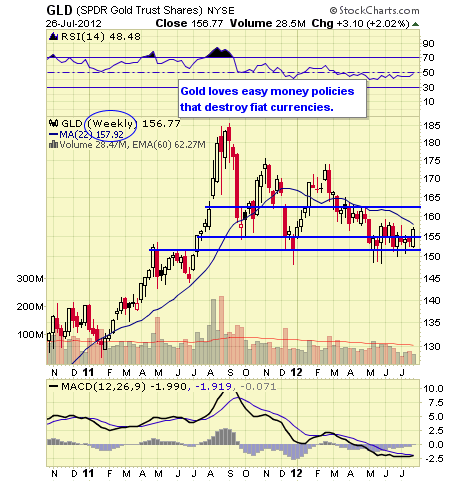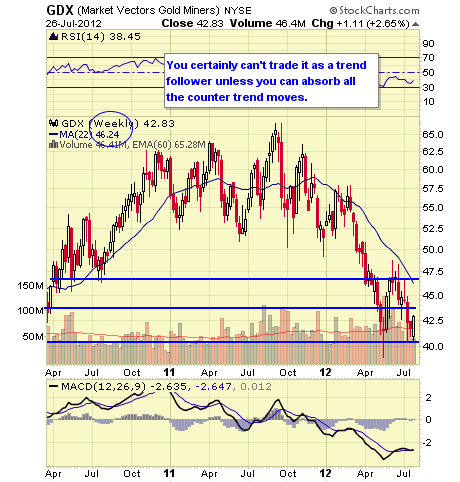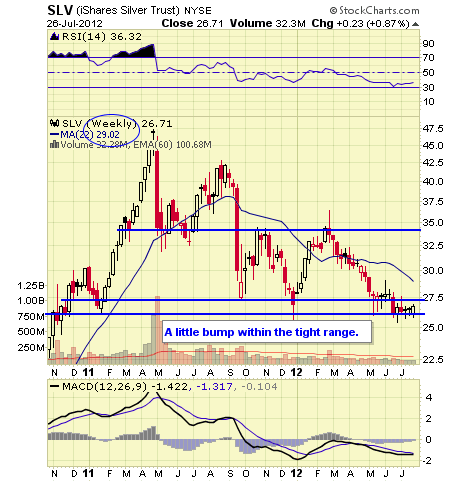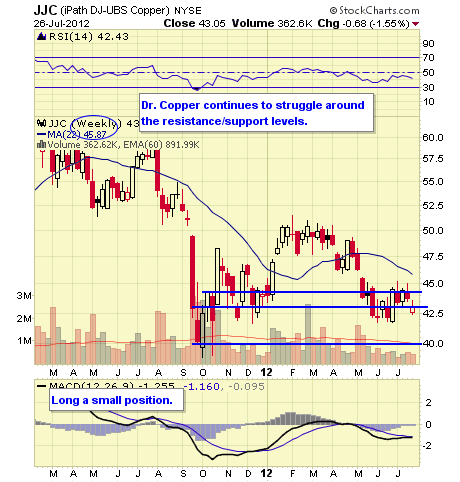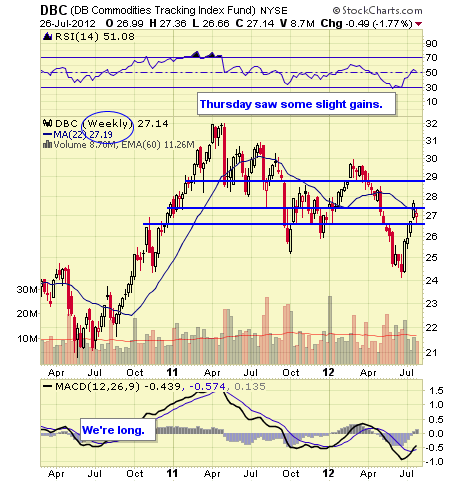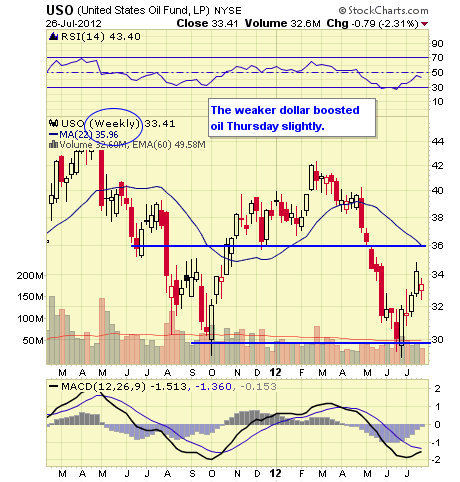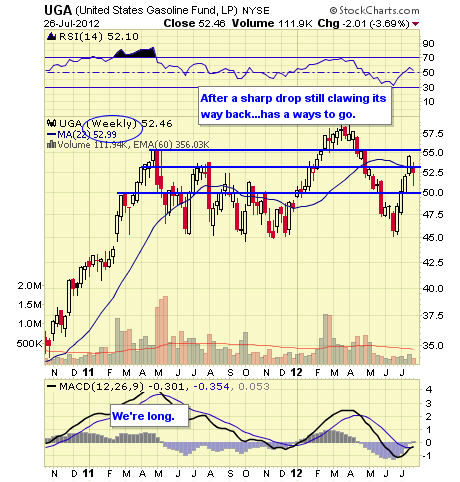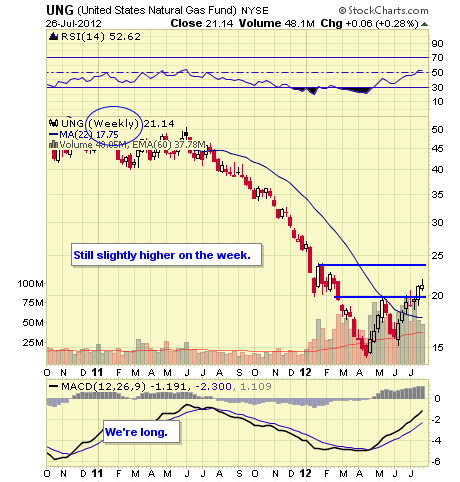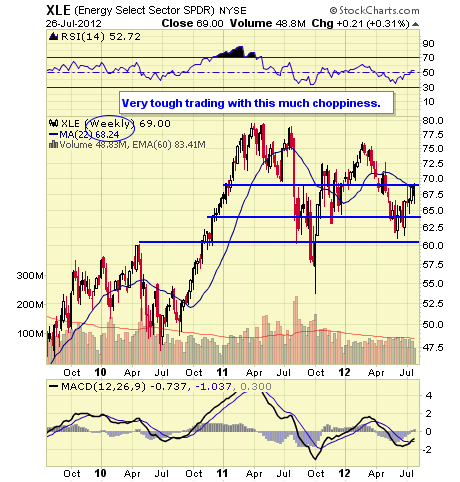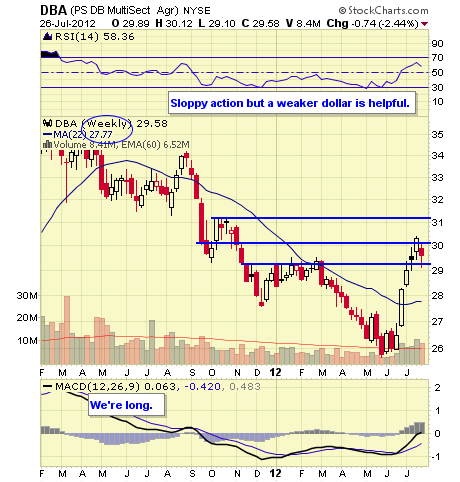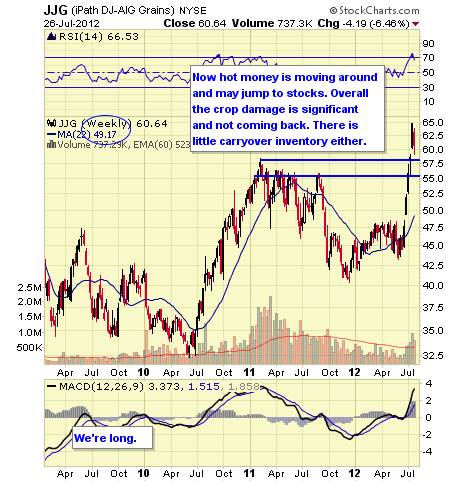 Continue to Overseas Sectors & ETFs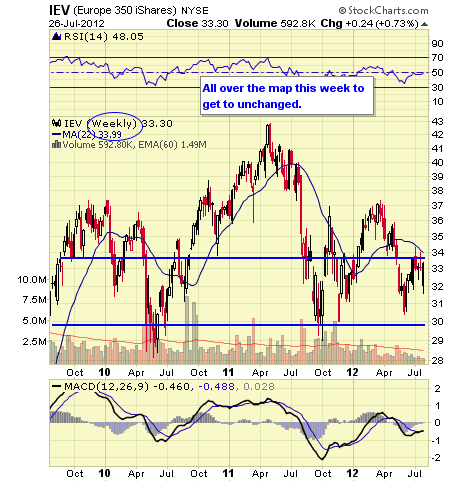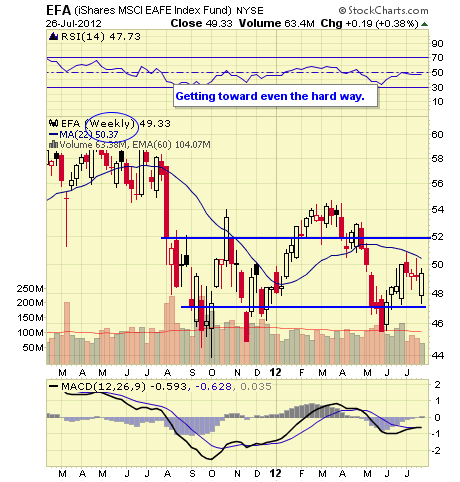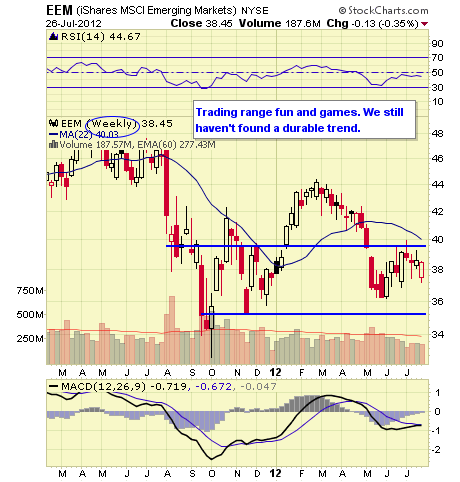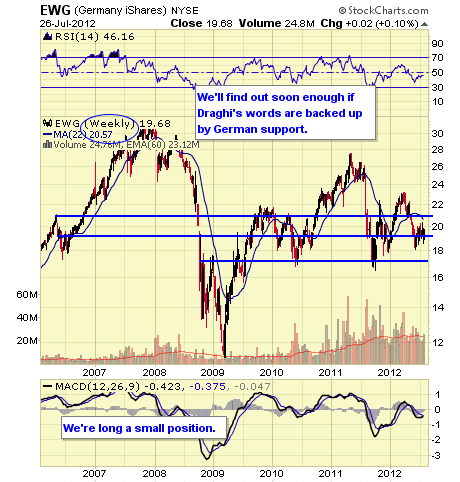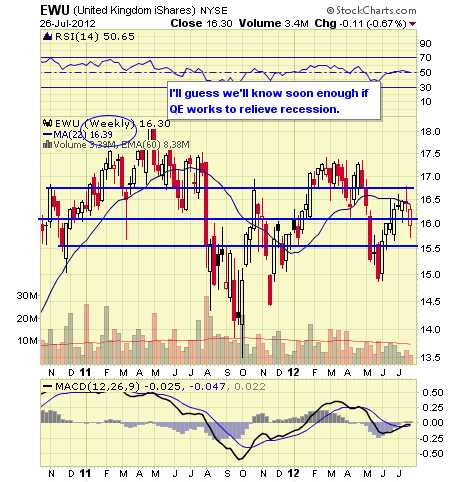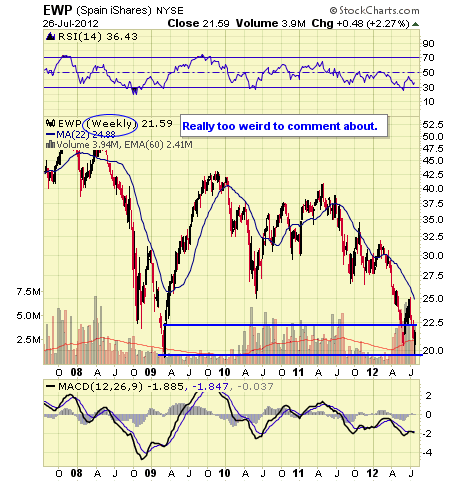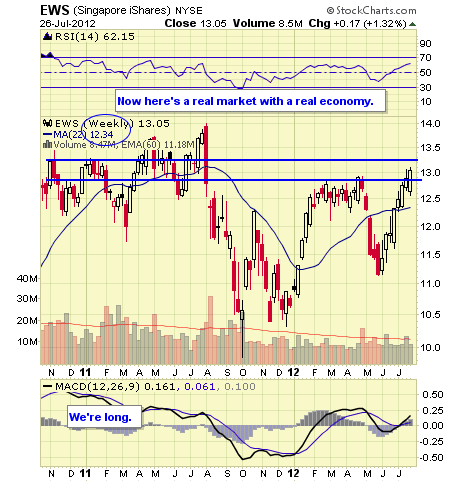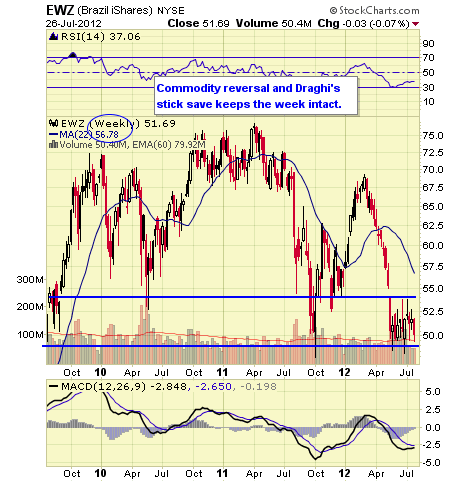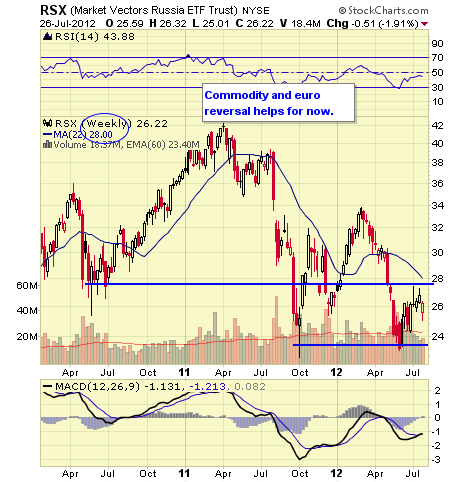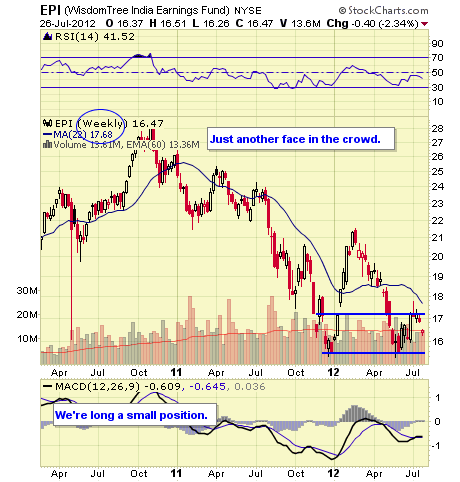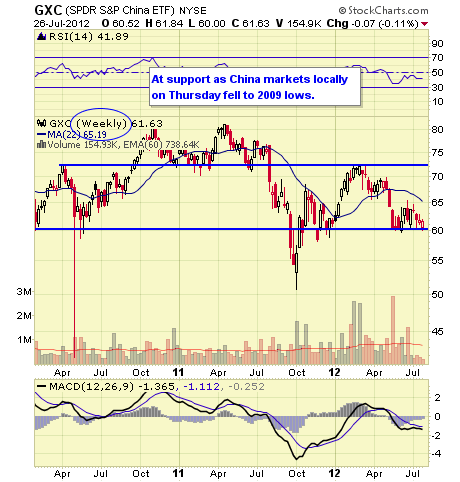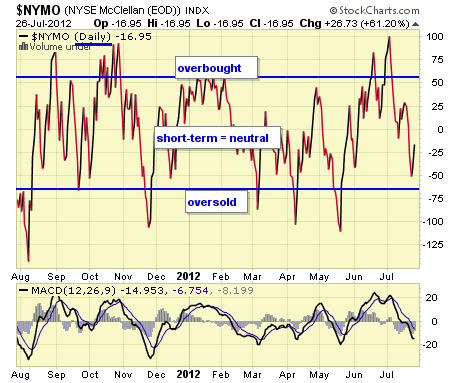 The NYMO is a market breadth indicator that is based on the difference between the number of advancing and declining issues on the NYSE. When readings are +60/-60 markets are extended short-term.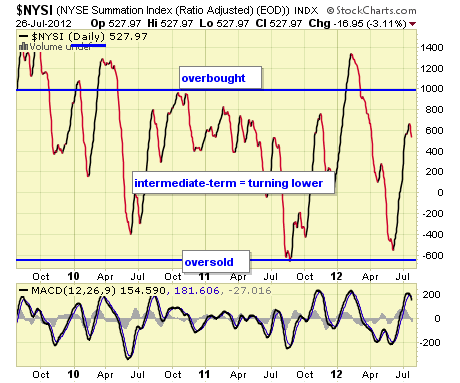 The McClellan Summation Index is a long-term version of the McClellan Oscillator. It is a market breadth indicator, and interpretation is similar to that of the McClellan Oscillator, except that it is more suited to major trends. I believe readings of +1000/-1000 reveal markets as much extended.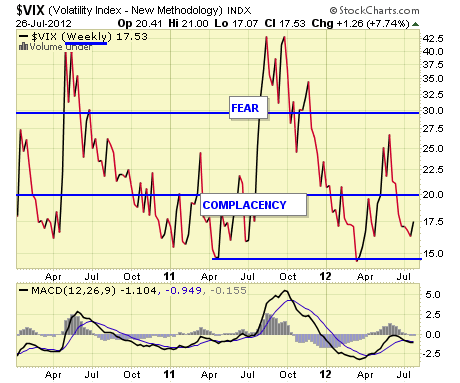 The VIX is a widely used measure of market risk and is often referred to as the "investor fear gauge". Our own interpretation is highlighted in the chart above. The VIX measures the level of put option activity over a 30-day period. Greater buying of put options (protection) causes the index to rise.
Draghi, a Goldman Sachs man, understands how to please markets. Let's just leave it at that.
Friday's economic data will feature GDP (1.2% expected vs prior 1.9%) and Consumer Sentiment (72 expected vs 72 prior)…and, no, they're not working hard on the last number.
Disclaimer: The ETF Digest maintains active ETF trading portfolio and a wide selection of ETFs away from portfolios in an independent listing. Current "trading" positions in active portfolios if any are embedded within charts: Lazy & Hedged Lazy Portfolios maintain the follow positions: VT, MGV, BND, BSV, VGT, VWO, VNO, IAU, DJCI, DJP, VMBS, VIG, ILF, EWA, IEV, EWC, EWJ, EWG, & EWU.
The charts and comments are only the author's view of market activity and aren't recommendations to buy or sell any security. Market sectors and related ETFs are selected based on his opinion as to their importance in providing the viewer a comprehensive summary of market conditions for the featured period. Chart annotations aren't predictive of any future market action rather they only demonstrate the author's opinion as to a range of possibilities going forward. More detailed information, including actionable alerts, are available to subscribers at www.etfdigest.com.
Disclosure: I have no positions in any stocks mentioned, and no plans to initiate any positions within the next 72 hours.