Realty Income (NYSE:O) released its results for the second quarter of 2012. Key datapoints from the release are:
Revenue increased 13.8% to $115.6 million,
FFO increased 7.1% to $65.2 million,
FFO per share increased 2.1% to $0.49,
Portfolio occupancy was 97.3% (up 70bps sequentially),
Dividend paid per common share increased 0.9% year-to-date; the dividend was increased for the 59th consecutive quarter to an annualized amount of $1.7535 per share.
For the six months ended June 30, 2012, same store rents decreased 1.1% to $184.46 million, compared with $186.43 million for the same period in 2011. The primary reason for the decrease was the reduction on rents due to Friendly's and Buffet's reorganization.
FFO payout was 89% versus 90.4% Q2 2011
FFO came in $0.02 light, as on average, 12 analysts polled by Thomson Reuters expected the company to earn $0.51 per share for the quarter.
For the six months ended June 30, 2012, FFO increased 7.0% to $125.9 million, compared with $117.7 million for the same period in 2011. FFO per share, for the six months ended June 30, 2012, decreased 1.0% to $0.95, compared with $0.96 for the same period in 2011. The decrease in FFO per share was due to a one-time, $3.7 million non-cash, redemption charge on the Class D preferred shares. Excluding this $3.7 million charge, FFO per share is $0.98 for the first six months of 2012.
During the quarter, the company deployed $210MM into 145 new properties. 140 of the 145 properties acquired are leased to investment-grade tenants—evidencing the company's focus on increasing the quality of its tenants.
Guidance:
The company estimates that 2012 FFO per share should range from $2.00 to $2.04 per share, an increase of 1.0% to 3.0% over 2011 FFO per share of $1.98. The FFO per share estimates for 2012 are based on an estimated net income per share range of $0.97 to $1.01, plus estimated real estate depreciation of $1.12, and reduced by potential gains on sales of investment properties of $0.09 per share (in accordance with NAREIT's definition of FFO).
The company estimates that 2012 adjusted funds from operations (AFFO) should range from $2.06 to $2.11 per share, an increase of 2.5% to 5.0% over 2011 AFFO per share of $2.01. The AFFO per share estimates for 2012 are based on adding back items to FFO totaling $0.12 to $0.13 that reduce net income, and deducting capitalized expenditures and straight-line rent revenue items totaling approximately $0.06, for a net increase of $0.06 to $0.07 over FFO.
Earnings Impact:
Realty Income traded down on the release, despite the 2012 guidance.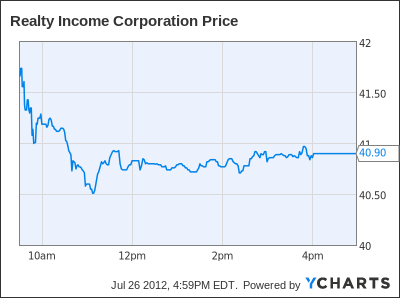 Metrics: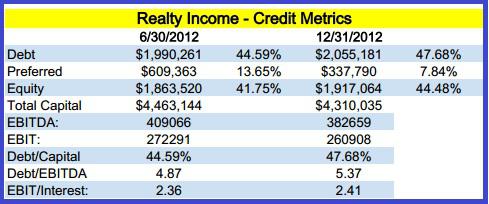 Realty Income's credit metrics have improved since year end. The REIT has reduced debt and increased its preferred stock slice of the capital structure. Both of these factors, when combined, reinforce the company's balance sheet and financial flexibility.
Click to enlarge

Compared to peers National Retail Properties (NYSE:NNN), Caplease (NYSE:LSE), Lexington Realty Trust (NYSE:LXP) and American Realty Capital Trust (NASDAQ:ARCT), Realty Income's valuation is somewhat stretched at 19.7x FFO (REIT universe is approximately 17.6x and peers average 13x). The dividend yield at 4.26% is below the peer average of 5.40%.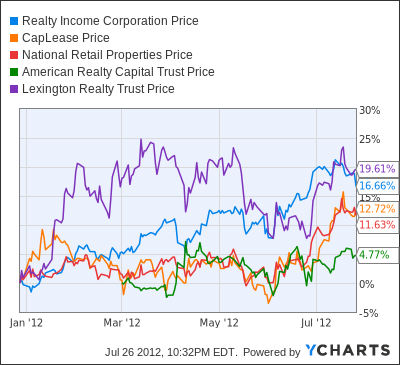 Bottom Line: While Realty Income continues to be the best in breed in the triple net space, the valuation is somewhat stretched (as are a great many REITs currently) and there is better value elsewhere among the peer group or in other sectors (industrial being among them). While the preferreds are somewhat attractive relative to recent new issue REIT preferred, I think there are better values elsewhere. Again, I like the company but not the valuation.
Disclosure: I am long O.
Additional disclosure: Long OPrF as well as equity.This article is for informational purposes only, it is not a recommendation to buy or sell any security and is strictly the opinion of Rubicon Associates LLC. Every investor is strongly encouraged to do their own research prior to investing.