Following comments from ECB President Mario Draghi, the euro moved sharply higher.
Click to enlarge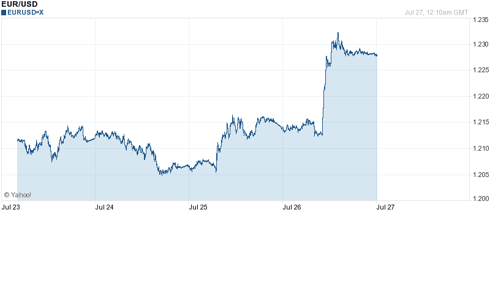 Yahoo finance
Draghi Comments
The comment that sparked the move in the euro was when Mario Draghi said that the ECB stands ready to do whatever is necessary to save the euro.
Other Market Moves
Following the comments, many other markets also experienced major moves. Equities moved sharply higher in both Europe and the U.S., commodities moved higher, risk on currencies such as NZD, AUD, and CAD all advanced against the dollar, and Spanish and Italian bond yields fell sharply. In my opinion, all of these moves make sense as they would all benefit from any accommodation from the ECB.
Why I Am Skeptical About Euro Rally
In the past, all ECB actions have been negative for the euro. These actions have included interest rate cuts, bond purchases, LTRO 1 & 2, and the elimination of interest on deposits at the ECB. However, these actions did help many other markets, including commodities and equities. In my opinion, Draghi's comments ensure more action from the ECB, which will end up being a negative for the euro itself.
How To Trade It
My favorite way to bet against the euro is to sell either EUR/CAD or EUR/AUD. Selling the euro against risk currencies such as AUD and CAD allows investors to benefit from any "risk on" lift from ECB action while at the same time expressing a short position in the euro. Selling the EUR/USD is also an option, but with more Fed easing on the horizon, the dollar might not be the best currency to go long.
Investors who use ETFs could express a short EUR/AUD or EUR/CAD position by going short the euro ETF, CurrencyShares Euro Trust (NYSEARCA:FXE) and going long an equal amount of either CurrencyShares Australian Dollar Trust (NYSEARCA:FXA) or CurrencyShares Canadian Dollar Trust (NYSEARCA:FXC). Another trade to consider is going short the euro via ProShares UltraShort Euro (NYSEARCA:EUO) and long the S&P 500 (NYSEARCA:SPY). This trade is positioned to benefit from more ECB action, which should help equities but hurt the euro itself.
Disclosure: I have no positions in any stocks mentioned, and no plans to initiate any positions within the next 72 hours.
Additional disclosure: I am short EUR/AUD, EUR/CAD, and EUR/USD