Boeing (NYSE:BA) just reported the second best quarterly revenue growth of the twenty Dow component stocks that have reported thus far. In addition, BA ranks among the top 25% Dow stocks for revenue growth rate over the last 4 quarters. BA reported EPS of $1.27 for its second quarter, which easily beat analysts' $1.14 EPS consensus.
For the first 6 months of 2012, BA achieved 22% EPS growth. Looking ahead, BA is undervalued on a price/earnings growth, PEG, basis for its estimated 2013 earnings:
BA's share price had gotten hammered in the spring pullback, but since the June 4th lows, it has outperformed the market. But even with this summer's price gains, it's still lagging the market year-to-date: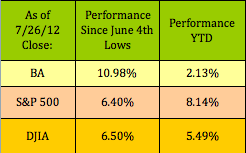 Dividends: Boeing increased its quarterly dividend from $.42 to $.44 in the first quarter of 2012. Although BA's 5-year dividend growth rate isn't huge, it did manage to maintain its dividends during the recession, and actually increased them in 2008 and 2009.

Options: The covered call trade below offers you an option premium that's close to 4 times the dividend payouts over the next 2 quarters. The risk here is that your shares get sold/assigned before you collect both dividends, if BA rises above $75.00.
The maximum potential profit is comprised of 3 income streams: $3.35 in call option premiums, plus $.88 in dividend income, plus $.09 in price appreciation, for a total of $4.32/share, or $432.00 per call option sold. (Each option contract corresponds to 100 shares of the underlying stock.) The way to avoid having your shares sold/assigned, but to still collect some call option income, would be to sell covered calls at a higher strike price. However, you'll receive a lower premium for selling at a higher strike price.
You can see more details on this and over 30 other high yield options trades in our free Covered calls Table:

As BA is now only about 3% below its 52-week high, you might consider selling Cash Secured Puts instead of buying the stock outright. This strategy also offers you a quick cash option payout, as opposed to waiting for quarterly dividends and price appreciation. By selling puts below BA's stock price, you'll also achieve a break-even that's over 7% below the current $74.91 share price.
There are more details on this and over 30 other high yield options trades in our free Cash Secured Puts Table:

Financials: BA has a whopper of an ROE ratio, as it finances more with debt than equity. However, its strong earnings give it a secure interest coverage ratio is also impressive, even with the higher debt load:

Disclosure: I am long BA.
Additional disclosure: I'm long Boeing via being short BA put options.