Parents with newborns often wonder if it is worth investing in Kimberly-Clark Corporation (KMB) since they spend so much money on the company's Huggies brand diapers and other products. Well, those parents may not sleep easily with their newborns, but they can rest easily knowing that an investment in Kimberly-Clark will be worth it for the long-term.
The current shakiness of the economy and low interest rate environment is conducive for a reliable dividend paying company like KMB. The company pays a handsome dividend of 3.5%. KMB has raised its dividend every year for 40 years. That is the consistency that investors need in the fragile state of the world economy. Knowing that the company raised its dividends without interruption for that amount of time instills confidence in the hearts of investors.
The consistency of the business is found in its products. KMB sells the products that consumers need on a regular basis. There aren't too many surprises on the negative side. Products such as diapers, Pull-Ups, feminine products, bathroom tissue, paper towels, napkins, soaps, and sanitizers are staples that cannot be easily substituted. The company's healthcare segment is also conducive for regular purchases. Products such as exam gloves, medical devices, pain management products, digestive health and infection preventatives are continually needed and consumed in the health field regardless of how weak the economy is.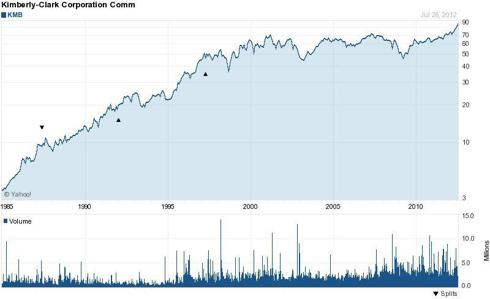 Click to enlarge
Here are some highlights from the company's Q2 2012 earnings report:
Earnings per share rose 10% ($1.30 vs. $1.18 last year)
Personal Care sales increased 7%
Consumer Tissue sales increased 1%
K-C Professional sales increased 3%
Healthcare sales increased 7%
Diaper volume rose 45% in China and 20% in Russia
The company raised its earnings per share estimates for the year from $5.00 - $5.15 to $5.05 - $5.20. The company is expected to grow earnings annually at 8.30% for the next five years. The combination of the 3.5% dividend and expected earnings growth should allow the company to continue outperforming the market for the long-term.
With so many fears in the current market, investors need a piece-of-mind company that can be relied upon for steady dividends and growth. Kimberly-Clark is one company to consider to provide that investment assuredness.
Disclosure: I have no positions in any stocks mentioned, and no plans to initiate any positions within the next 72 hours.