As the father of five kids I am always trying to find the best potential college fund ideas. In August, my oldest daughter will be a rising senior in high school and my youngest daughter will be starting kindergarten. This means that I need to find an investment platform that promises sustainable income and the potential for durable capital appreciation.
Since the historical rate of college inflation is close to 6 percent, I must find an alternative that promises safety but also delivers a higher rate of return than a prepaid (Section 529) tuition plan. Alternatively, bonds earn less than most prepaid tuition plans and most are subject to taxation on any interest earned above a certain amount.
To further frustrate my quest for yield-enhanced alternatives, college tuition has been skyrocketing for decades - with growth outpacing the Consumer Price Index, gasoline and even the out-of-control health care costs. Here's a chart showing price changes in these categories. The lines represent the price in a given year, as a percent of the price in 1985. For example, if a line reaches 200, that means prices in that year were 200 percent of those in 1985, or twice as high.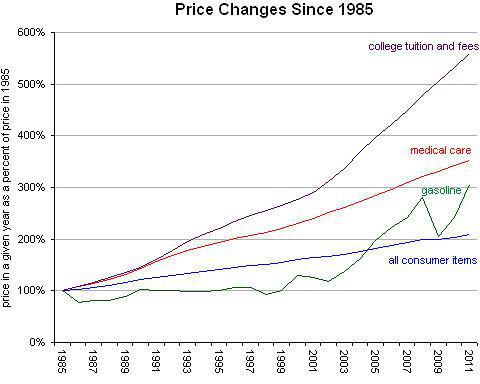 College tuition and fees today are 559 percent of their cost in 1985. In other words, they have nearly sextupled (while consumer prices have roughly doubled). There's a lot of debate about why college costs have risen so much. Many people assume that schools are spending too much money on frivolous things like climbing walls and Jacuzzis (my daughter and I actually visited one of these "Disneyland Universities" and we were humored by the arcade, movie theatre, and yes - a steakhouse….OMG). That's true for a handful of elite schools, but not for a vast majority.
But at least for public colleges and universities - which enroll three out of every four American college students - the main cause of tuition growth has been huge state funding cuts. Every recession, states face a budget squeeze as their tax revenue falls and demand for their services rises. They have to cut something, and higher education is often a prime target.
So what about campus housing? How does that impact cash strapped universities?
American Campus Communities - A "Best in Class" REIT Brand
American Campus Communities, Inc. (ACC), based in Austin, is the largest campus housing REIT (since 2008) in the United States. American Campus owns 124 student housing properties containing approximately 76,100 beds. Including its owned and third-party managed properties, ACC's total managed portfolio consists of 153 properties with approximately 99,900 beds.
Since 1996 American Campus has developed more than $3.4 billion in properties (for the company and others) and the company has acquired in excess of $2.8 billion in student housing assets. The growth in the specialty campus housing sector is driven by strong demographic trends - primarily college enrollment trends. Between 2009 and 2020 college enrollment is projected to increase by 13 percent to approximately 23 million students.
The strong demand for campus housing is driven by an increase in the number of students attending college and the fact that many college students take longer than four years to finish college (hopefully my kids finish in three years). As illustrated below, college enrollment has actually increased during recession periods and demand for student housing has little impact during macro-economic conditions.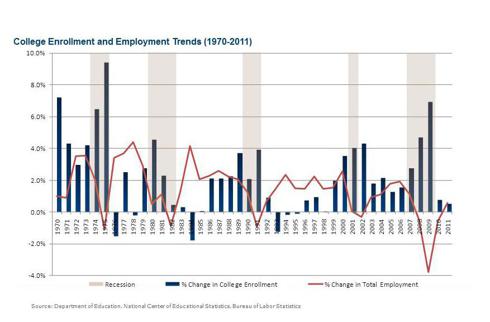 Click to enlarge
Since the company's IPO, American Campus has grown its portfolio from around 16 properties to 124 today (includes owned properties) and American Campus has generated average annual same store NOI growth of 5.3 percent during the seven years since the IPO.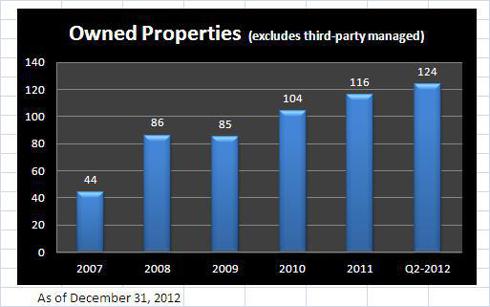 Click to enlarge
American Campus has a well-balanced portfolio that includes around 76,000 beds (owned) and the uniquely positioned properties are located in over 33 states and Canada. The largest concentration of properties are in Texas, Florida, and Arizona where many of the top FBS (football bowl subdivision) Division 1 schools are located.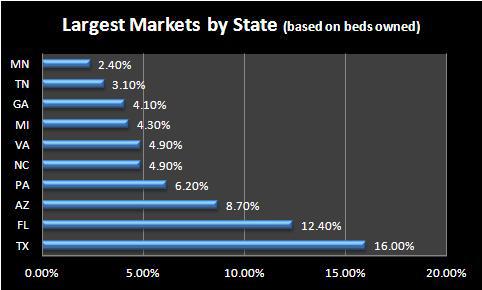 The demand for campus housing is driven not only by strong demand but also by shrinking supply. Many on-campus residence halls are in need of updating (due to obsolescence) facilities and American Campus has positioned its unique campus housing platform to serve obsolete campus housing needs.
Accordingly, assets have grown considerably as the most recent (Q2-12) asset total is $3.241 billion. During 2011, American Campus developed four projects totaling around $110 million and acquired five new properties totaling around $261 million. So far during 2012 American Campus has announced an acquisition of an estimated $627 million portfolio (to close in September) and the specialty REIT has announced eleven development projects estimated to cost around $385 million.
The combined estimated development and acquisition costs for American Campus during 2012 should be in excess of $1.3 billion. Many of the development projects are yielding (all cash) around 7 to 8 percent and that provides plenty of yield-enhanced revenue for reinvestment and growth.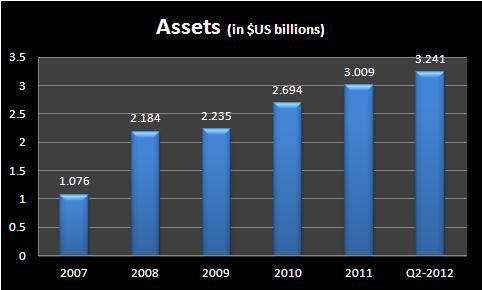 Revenue for the 2012 second quarter totaled $107 million, up 20.1 percent from $89.1 million in the second quarter 2011. Operating income for the quarter increased $5.6 million or 27.0 percent over the prior year second quarter, while income from continuing operations increased by $5.6 million or 76.6 percent over the prior year second quarter.
The increase in both operating income and income from continuing operations was primarily due to growth resulting from property acquisitions, recently completed development properties, and increased rental rates for the 2011-2012 academic year, as well as the closing and commencement of construction of two third-party development projects during the quarter.
Revenue should top $450 million during 2012 and the recently announced $627 million portfolio should provide accretive revenue going forward (nominal cap rate on this portfolio is around 5.96 percent).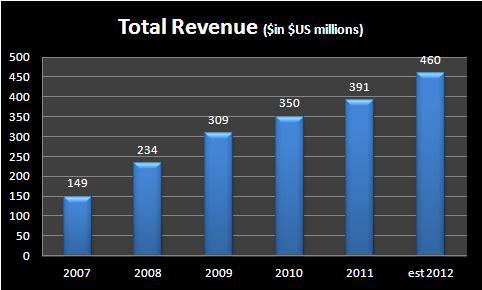 FFO for the 2012 second quarter totaled $36.6 million, or $0.48 per fully diluted share, as compared to $29.4 million, or $0.42 per fully diluted share for the same quarter in 2011. FFOM for the 2012 second quarter was $37.2 million, or $0.49 per fully diluted share as compared to $30.2 million, or $0.43 per fully diluted share for the same quarter in 2011.Here is a snapshot of FFO per share (including midpoint 2012 data).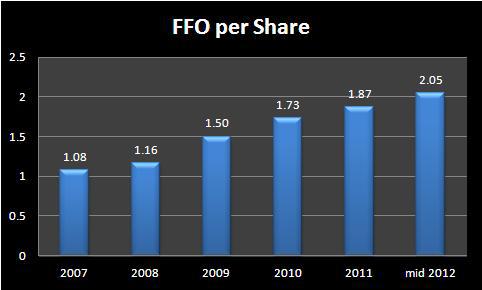 Exceptional occupancy has been a significant part of the American Campus value proposition. This demand is evident with the following occupancy illustration: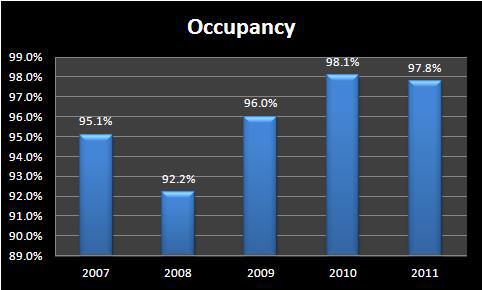 American Campus has a simple and conservative balance sheet that consist of secured fixed-rate debt of around $743 million, construction loan debt of around $91 million, a credit facility of around $116 million and a revolving credit line of around $450 million.
Last week American Campus closed on a common stock add-on of 17.3 million shares at $44.25 per share. Gross proceeds are around $780 million and net proceeds of around $732 million. The revolving credit line will likely be paid down to zero.
The conservative debt metrics include 20 percent secure debt to gross assets and current debt to total capitalization of around 31 percent (Q2-12). Here is a snapshot of the company's historic debt to total capitalization.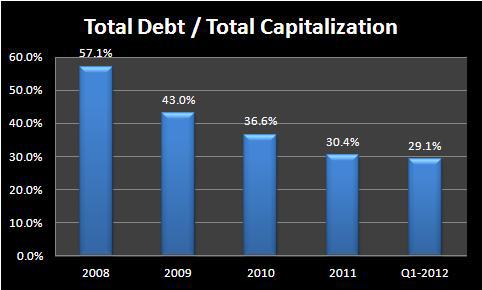 What are the competitive advantages?
The campus housing sector is highly fragmented. American Campus has two (2) peer REITs and many other regional and local owners. The REIT peers include Educational Realty Trust (EDR) and Campus Crest Communities (CCG). Here is snapshot of the peer group:

Click to enlarge
American Campus is the only investment grade rated peer REIT (American Campus has a BBB- S&P rating). Other notable competitive advantages include:
Grass Roots Management - Senior management has unparalleled experience in campus housing. Throughout their collective careers, the senior staff has been involved in the development, acquisition or management of more than 214 student housing properties, consisting of more than 127,700 beds at over 173 colleges and universities.
Disciplined & Diversified Investment Strategy - Many of the American Campus properties are located in very close (walking or biking) distance to a college or university. By focusing on sites in close proximity to campuses, American Campus is able to achieve higher price points that command lower cap rates. By investing (and developing) within this "pedestrian ring" American Campus is able to create risk-aligned barriers to entry that many other less experienced operators cannot.
Also, American Campus provides unique product differentiation in that each property has its own unique identity that is customized for every individual market. In other words, American Campus does not develop "cookie cutter" properties that look the same in every town.
Proprietary Operating Platform - American Campus is based in Austin - a town known for product innovation and highly-skilled second-level thinkers. American Campus has utilized its hometown resources to build a powerful operating system that is unlike any other software application and also provides a differentiated investment proposition to support the company's growing campus network.
A Frozen Angel REIT Providing Steady Dividends
Back in April of this year I wrote about Taubman Centers (TCO), a mall REIT that was able to freeze its dividend payout (during the great recession), without cutting it, and maintain its consistency of paying durable income. This type of performance was recognized as a "frozen angel" alternative.
American Campus pays a current dividend yield of 2.88 percent and like Taubman, American Campus has never cut its dividend. The current stock price is $47.01 and it posted its all-time high today of $47.45. The market capitalization is $4.324 billion.
As noted, American Campus has been very active growing its pipeline and for that reason the company has been recycling its cash and reinvesting into new development deals. American Campus has returned around 30 percent during that last year (stock price of 25.36 percent and dividend yield of around 2.88 percent).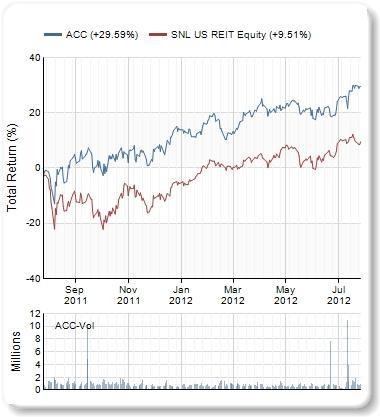 My Kids Should Be Able to Sleep Well at Night
Bill Bayless, American Campus CEO, recently explained the company's second quarter results:
As we move toward the 2012-2013 academic year, our leasing performance coupled with the execution of our strategic growth plan to expand our high-quality portfolio has set the stage for continued value creation. Additionally, with the success of our recent stock offering, we believe we have further fortified our balance sheet and continue to be opportunistic in consolidating the sector.
American Campus Communities is a perfect SWAN (sleep well at night) REIT for my kids. I intend to purchase shares for my kids this year and start to build a portfolio for college tuition. By my definition, American Campus is an intelligent choice and the sound investment platform should provide valuable income and growth for future educational needs.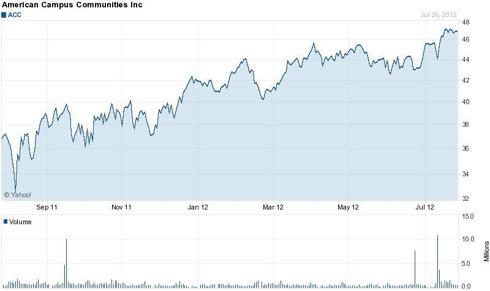 Click to enlarge
Source: SNL Financial
Disclosure: I have no positions in any stocks mentioned, and no plans to initiate any positions within the next 72 hours.