Microsoft (NASDAQ:MSFT) is walking away from the Yahoo (NASDAQ:YHOO) bid due to Yahoo's high requested price. Yahoo, on its own, cannot justify a price tag of $37-38 per share in the near term, especially with a pending consumer recession. The macro conditions of the Ad market and Yahoo's stand alone growth simply do not justify it. Ballmer knows this, and offered the reasonable $31 per share.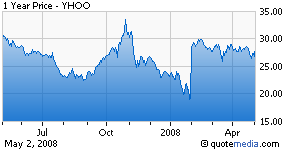 With Yahoo's rejection, their stock will decline fairly nicely, probably to the low/mid 20s. If Yahoo's management cannot improve operations and increase the value of their business, the stock will not go up past $31. I am guessing that the shareholders are just fed up with management and will only give them a quarter or two to turn things around.
Operational improvement will probably do nothing at Yahoo due to the macro economic back drop, and Microsoft will come back with an offer in the high 20s.
So looking forward, Yahoo management is putting a lot of faith in themselves to do the best, when they have only been failing. If they can not improve the biz, add these negotiations to the long list of failures by Yahoo management.