With the market finally getting into the zone that I have been expecting since early March (Get Ready for the Last Rally), I have to confess that I am quite nervous about my prediction that this thrust out of the trading range will prove to be temporary. I do still believe that the market will stall and retreat before moving past 1455 on the S&P 500 (and thus not ever going "green" on the YTD), though I am quickly losing confidence in my prediction for a new low later this year. I guess I am admitting that I am not as confident in my calls as I have been over the past several months.
No matter what direction the market takes, I do believe that there are some seriously undervalued retailers that would seemingly have limited downside but the potential to double over the next two to three years. I mentioned a few leading home furnishings related companies (Three Potential Retail "Home" Runs) at the end of March. At this time, I would like to focus on clothing retailers. Investing is always about knowing what's in the price and what's not, and the $600 stimulus checks present an analytical dilemma. On the one hand, many of the stocks have run up in front of the checks being mailed. On the other hand, a reasonable person would conclude that the checks are not likely to prove to be that significant of a long-term driver (and perhaps not even have much of a short-term impact). So, that leaves me feeling like I might be a sucker for buying now as opposed to waiting. The bull case for retailers, though, is really based upon next year, not this year. The road might be a little bumpy, but the following group of retailers appears very attractive to me based upon where I think that they could trade a year from now.
click to enlarge images

I formed this list using StockVal, restricting the universe with the following parameters:
Market Cap: $50mm to $7.5 billion
YTD Price Change: -10% to +10%
1-year Price Change: <0%
PE: <25
Cash/Capital: >10%
Total Debt/Cap: <30%
Price/Sales: <80% of 5-year median
This screen eliminated many other companies within retail and within other segments of Consumer Discretionary probably worthy of consideration, but it narrowed the list to a manageable number. The intriguing aspect of this group is that margins are depressed but the PE ratios are as well. Typically, one would expect a cyclical stock to see its PE rise when earnings are depressed (like in early 2002). If one were to create a synthetic security consisting of 1/13 of each of these stocks, it would have a 15PE, which is pretty much median over the past 10 years for this group of stocks. In the chart below, you can see how much the margins have declined. Looking at P/S, it is clear that the valuations are depressed. Over time, margins will ultimately improve, and valuations will probably regress towards a mean as well.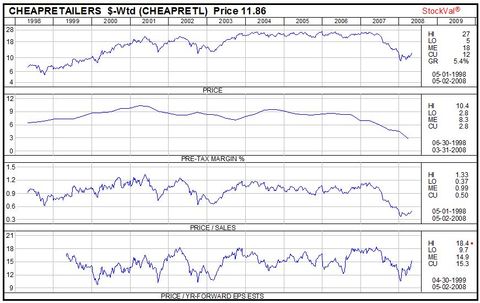 If margins double over the next two years and the P/E stays at this level, the stocks should approximately double as well. These companies have excessive inventories currently in many cases and aren't necessarily likely to report great numbers anytime in 2008, but the environment should get better in 2009, with easier comps and reduced inventories. The survivors will be stronger, as many smaller, undercapitalized competitors will not keep their doors open during the downturn. I own MW and really like TBL. COLM looks attractive as well. While the short-term potential boost from the stimulus check could add some volatility, I suspect that the rally is more about next year than this summer.
Disclosure: Long MW