Sirius XM (SIRI) may very well be close to a break out northward as it presses on resistance levels around $2.10. The share price has orbited and settled in a range around this price point, which is where the only remaining downward sloping technical indicator, the 100 day SMA, sits.
Of course, basing one's call on a single technical indicator really isn't prudent. Investors can better arm themselves for predicting price behavior by examining many technical aspects, and of equal importance, the fundamental aspects of a stock. Heading into battle with knowledge of both can increase your chances over heading in with just one or the other.
From a technical standpoint, one can consider the following two charts.
The first shows three moving averages. The 10 day (blue), 20 day (red), and 200 day (green) simple moving averages.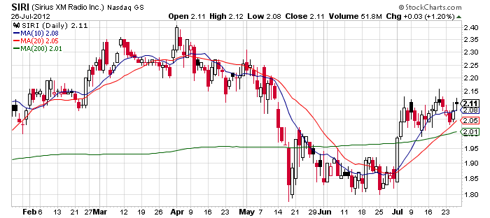 Of importance with these you will notice that in a bear trend, the 10 day moving average has typically acted as resistance, and in a bull trend the 10 day moving average has typically acted as support. Currently this line sits at $2.08 and is in an upward trend serving as support for the share price. The 20 day moving average is also on a sharp incline, and this typically serves as a strong secondary support point. Finally, the 200 day moving average, having been nearly flat for a year now, has turned up sharply. All of these are in bullish territory.
The second chart shows the 100 day moving average (blue) and the 50 day moving average (red) as well as bollinger bands (green).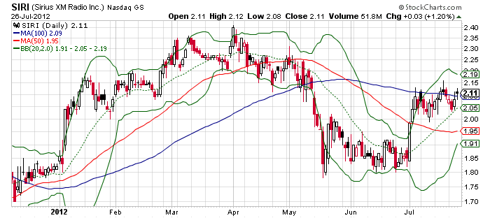 It appears that finally there has been a close above the 100 day moving average on respectable volume. While this line is still heading south, and will be doing so for some time unless Sirius XM shares can move to the $2.20's, a break through beyond this line can be significant. It's the last indicator that is left to turn up, now that the 50 day moving average has bottomed and begun to rise again, and a move to the $2.20's will do just that.
It's certainly not unreasonable to expect the next move for Sirius XM to be into the $2.20 range. Unless one subscribes to the mentality that $2.15 is going to be the cap for Sirius XM because "well, that's what Liberty (LMCA) paid" then it may be prudent to watch for the next move to be a rapid advance with little to no warning, as Sirius XM is known to do. If one does not bother with technical analysis, it is at least important to know this: there are people that 'do' trade on technical analysis and their activity can steer movements in share price, so it pays to educate oneself in the basics at the very least.
Fundamentally there are so many things going on that currently look great for Sirius XM. Consider all of the following:
Addition of over 622,000 subscribers in Q2, far exceeding estimates, and early increased guidance.
Announcement that Sirius XM will pay off $186 million in high interest debt in September, reducing interest payments and driving cash to the bottom line.
July auto sales strong, continuing with the 14 million SAAR trend.
A stock buyback as one if Liberty Media's first orders of business after obtaining control can be assumed.
A forthcoming resolution between Liberty Media and Sirius XM on how a reverse Morris trust will be structured is likely in the works.
A usual run up on hopeful expectations of earnings due out on August 7th before market open. With 622,000 subscriber additions pre-announced, hopes are high for better than expected numbers in many areas of the report, and for increased guidance for the full year.
In a nutshell, assuming the macro situation holds out, Sirius XM is due to move, and due to move soon. If I were looking for an entry point for a play on the short term, I'd say now is a good time to buy with everything looking up. For those who are in for the longer haul of a year or more, I still say any price has looked good this year. I still hold strong on my $2.75 target.