Infogrames Entertainment S.A. and Atari (PINK:ATAR) announced that they have reached a definitive agreement to merge. Infogrames will acquire all remaining shares of Atari for $1.68/share or approximately $11 million total. Atari would then become a wholly-owned subsidiary of Infogrames, who will provide Atari with a loan of up to $20 million to cover any expected capital requirements.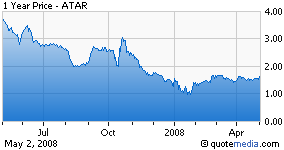 Infogrames is betting on its new management team, including Phil Harrison, who is overseeing Infogrames' studios and development. Harrison joined Infogrames in March after 16 years at Sony (NYSE:SNE), where he last held the title of Head of Worldwide Studios. He was largely seen as responsible for Sony's push into casual gaming with the SingStar and Buzz! franchises.
Infogrames, which held 51.4% of Atari stock before the merger, made the offer on March 7th when Atari's stock closed at $1.68. This was a 32.2% improvement over Atari's January 1st 2008 closing price of $1.27 but the stock is nonetheless down 56% in the past year and 96% over the past five years.
Disclosure: none