Rarely has a stock endured a more volatile trading day to basically end up about even than Glu Mobile (GLUU) did yesterday (see chart). After falling 15% during the trading day because of the fallout from Zynga's (ZNGA) earnings debacle as well as worries about Facebook (FB) who was to report earnings after the bell (Concerns that turned out to be correct). The company took the rare action of preannouncing earnings and the stock traded back after the news to around even for the day. Glu Mobile's pushed up earnings announcement should calm nervous investors as it shows the company is in a different boat than Zynga or Facebook, its outlook is positive and its growth prospects are compelling.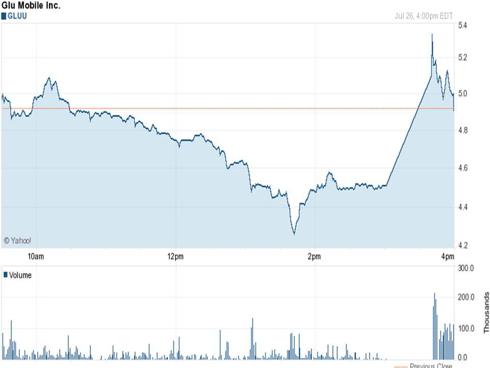 Click to enlarge
(Click to enlarge)
Key highlights from the preannounced earnings report:
Q2 results will exceed the upper end of company's guidance for the tenth consecutive quarter.
The company will breakeven for the quarter, compared with the 4 cent loss than analysts expected.
Revenue for the quarter will come in at approximately $24.2 million, up 35% year-over-year. This is above the company's guidance of $20.5 million to $21.5 million.
Smartphone revenue will be approximately $20.4 million, up 111% year-over-year. This is above the company's guidance of $17.5 million to $18.5 million.
Glu Mobile also is increasing revenue guidance for second half and full year 2012.
Cash balance on June 30, 2012 was $24.5 million, which was above guidance.
Four additional reasons GLUU is a good pick up for growth investors at $5 a share:
Analysts were expecting over 25% revenue growth in FY2012 and north of a 35% sales increase in FY2013. Based on this company guidance, look for these estimates to be raised.
The company is expected to be in the black to the tune of 14 cents a share in FY2013. I would look for this estimate to be revised sharply up in the coming weeks.
The company has its own mobile gaming platform and is no way dependent on the Facebook platform like Zynga. Something I think some investors are missing.
The six analysts that cover the stock have price targets of between $6 and $8 a share on GLUU. I would be surprised if at least a few of these targets don't go up in response to guidance.
Disclosure: I am long GLUU.