Internet business models can be extremely rewarding and they can be tricky. For the fast, there often is a first-mover advantage, like Amazon.com (NASDAQ:AMZN). On top of that, one can enjoy network effects, like eBay (NASDAQ:EBAY), making it extremely difficult for the competition to catch up.
On the other hand, if there hasn't been a strong first mover establishing a dominant position (with or without network effects), entry barriers are often relatively low, especially for well-capitalized competition. This is often the tricky part of Internet businesses.
At first sight, Chinese online travel agency Ctrip.com International, Ltd. (NASDAQ:CTRP) should be a no-brainer. Internet and tourism are sectors with enormous potential in China. There is little doubt about that. What's more? The company has established a large, perhaps dominant position with a market share of over 40%.
Internet bookings comprise just 10% of travel industry sales, but that percentage is likely to rise significantly, as it has done in richer economies. On that move alone Ctrip should see significant and continued revenue growth, although Ctrip is by no means exclusively an online travel agency. Online bookings account for 45% of total bookings, but that is growing.
Such a position should confer considerable advantages. It enables Ctrip to negotiate better deals for its customers simply because it aggregates the most, not unlike Wal-Mart (NYSE:WMT). There might be network effects in stuff like booking software, hotel information software and online customer reviews.
The problem with Ctrip is that it is dominant, but not quite dominant enough. That is, there is significant competition, and the competition is intensifying, from players like eLong (NASDAQ:LONG), which is part of Expedia (NASDAQ:EXPE), and Taobao.
Indeed, this has been the problem, and last quarter's figures (July 24) were no exception:
Net revenues were up 17% year-on-year (YOY)
Net income was down 55% YOY (or 35% excluding share based compensation)
Nevertheless, the 13 cents per share net income beat analysts by 4 cents
Click to enlarge

From the conference call, we got to know that the decline in net earnings was caused by:
A provision of the 5% withholding tax on the $300M share buyback program announced in June.
Heavy investment in product development (like the "Smart Choice Hotels, new international air ticketing platform, luxury travel sites, HH Travel, Tujia vacation rentals and Sungko hostel booking"). Product development expenses were up 52% (YOY).
Heavy marketing expenditure. Sales and marketing expenses were up 64% YOY.
So Ctrip is using its earnings (and cash) to grow the business. Considering the growing market opportunities, that seems a wise strategy. But there definitely is margin pressure:
For the full year the OP margin will be largely around 30%, which imply about 10 percentage points drop, and 4% is related to the new business development, and 4% is due to sales and marketing, largely due to this e-coupon program, and 2% is due to this labor cost. [conference call]
Valuation
Well, at $13 and change, the shares are certainly not expensive. You'll be mistaken if you just take the price/earnings ratio (18 in 2012 and 14 for 2013) as:
The company has got $200M in a share buyback program left (the total program, the third, is $300M).
It has a whopping $831M in cash and cash equivalents, together with the investments in Home Inns and China Lodging Group, as well as the book value of its office buildings, account for half the market capitalization.
The shares have been in a protracted decline from a high of $50 a year ago. That seems a little overdone to us, to be honest.
Click to enlarge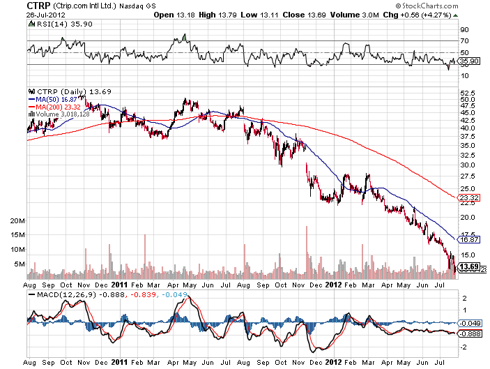 Bottom line:
Margin reduction is likely to come to an end at some point, and these are largely the result of marketing and new product development.
Growth opportunities will continue in tourism, online bookings, and new products and services.
Volume growth is likely to trump margin decline in the near future.
The company is relatively cheap and much of the margin squeeze has been priced in already.
We would say that the downside risks are limited and the shares are attractively priced. Yes, margins are under pressure, but for a reason. The marketing and new products offer new growth and a better market position. In the longer-term, these are likely to dominate the margin contraction.
Disclosure: I have no positions in any stocks mentioned, but may initiate a long position in CTRP over the next 72 hours.