Shares of Coinstar Inc (NASDAQ:CSTR) fell by more than 12% following a weaker-than-expected earnings report.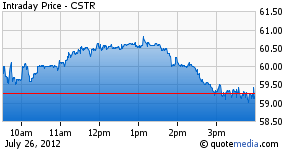 Earnings Report Highlights
Quarterly sales rose 22% to $532.2 million.
DVD rental market share increased by 8%
Net income rose to $1.11 per share from 83 cents per share a year ago.
While these numbers were impressive, the company's guidance failed to meet expectations. CSTR now expects full-year earnings within a range of $4.60-$4.90 per share. Wall Street had been expecting earnings of $4.79 per share. The negative reaction to the news may indicate that investors are less worried about the results and more worried about the prospects for the business going forward. CSTR also recently announced that it will start testing its streaming product with its partner Verizon (NYSE:VZ). However, the company is yet to explain how it will compete with the already established streaming options such as Netflix (NASDAQ:NFLX) and Hulu.
Valuation
Following the decline, CSTR is now trading at roughly 10.5 times earnings and at a PEG ratio of just 0.69. Also, the company is in strong financial shape with just $43 million in net debt. By traditional metrics, CSTR is a cheap stock.
Short Interest
Currently, short interest in CSTR stands at 9.5 million shares or just more than 30%. The high short interest indicates that wall street is skeptical about the company's prospects. However, it should be noted that the high short interest also means a short squeeze is possible given any positive news.
My Take
My view remains unchanged from my recently outlined negative outlook for CSTR. I believe, like Jim Chanos, that over time the DVD business will eventually become obsolete. Considering my long-term view of the company's primary business, I cannot say that I find CSTR much more attractive after the earnings decline. I would view any short-term bounce from oversold levels as a selling opportunity. While not completely sold on the story, I would much rather own Netflix than CSTR because I believe it is in a better position to benefit from the move from DVD to streaming.
Disclosure: I have no positions in any stocks mentioned, and no plans to initiate any positions within the next 72 hours.