This week's stock pick is Sunoco (NYSE:SUN), which comes from the energy sector. My chart work suggests that Sunoco's stock price is bottoming.
Sunoco announced a loss of $59 million, in the first quarter, because a $123 million loss in its refining and supply business. Sunoco's revenue was $12.8 billion in the Q1 2008 quarter An increase from $9.3 billion in Q1 2007.
Sunoco said the loss in its refining business to lower margins and higher expenses. SUN said the lower margins came from higher crude oil prices and lower demand, while the higher expenses came from increased costs for fuel.
All of Sunoco's other business's had increased earnings in the Q1 2008 quarter compared to a year ago. Sunoco's chemical business earned $18 million, up from $9 million. Its coke business earned $25 million, up from $11 million, and its logistics business, which consists of its 43 percent stake in Sunoco Logistics, earned $15 million, up from $9 million.
Sunoco Current Market Data & Ratios
Market Cap: 5.44B
P/E: 8.52
Forward P/E: 13.68
Dividend: 0.30
Average Daily Volume: 3.56M
EPS: 5.43
Institutionally Owned: 81%
You can review the Q1 2008 Earnings Call Transcript here. Basically, it was lower margins and higher expenses that caused Sunoco's Q1 loss.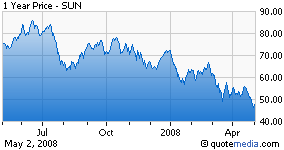 Sunoco, Inc. (Sunoco), through its subsidiaries, is principally a petroleum refiner and marketer and chemicals manufacturer with interests in logistics and cokemaking. Sunoco's petroleum refining and marketing operations include the manufacturing and marketing of a full-range of petroleum products, including fuels, lubricants and some petrochemicals. Sunoco's chemical operations comprise the manufacturing, distribution and marketing of commodity and intermediate petrochemicals. The petroleum refining and marketing, chemicals and logistics operations are conducted principally in the eastern half of the United States. Sunoco's coke making operations are conducted in Virginia, Indiana, Ohio and Vitoria, Brazil.
Sunoco, Inc. Announces Dividend Increase Feb. 7, 2008
Sunoco, Inc. announced that its Board of Directors has approved a 9% increase to the quarterly dividend to $0.30 per share. The quarterly dividend is payable on June 10, 2008, to shareholders of record at the close of business on May 9, 2008.
Click here to review the trading software we used in determining our trade position.
Disclosure: The author is long SUN.