We were pleased to get a positive reception on our previous reports about Philip Morris International (NYSE:PM). We have held a long position in Philip Morris International since March 31, 1999, when it (and Kraft Foods (KFT)) was both part of the Philip Morris Companies (NYSE:MO) and we have been pleased with the results of the company and its spin-offs during this time. We believe that Philip Morris International is a great investment, as it one of those rare-breeds of companies that offers an above average dividend yield of 3.5% (as of July 23rd, 2012) and is a dividend growth champion (Dividends have increased at a compounded annual growth rate of 13.75% since it was spun off from Altria Group). We decided to review its recent Q2 2012 earnings report.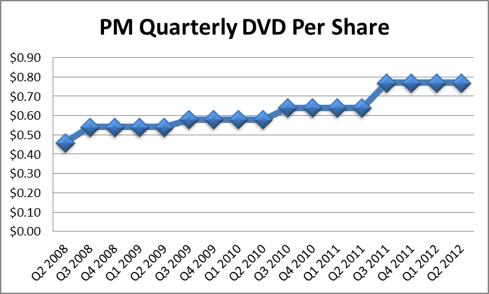 Source: Philip Morris International's Dividend Schedule and History
PM faced difficult macroeconomic headwinds as well as a challenging comparison with last year's quarter due to a one-time boost in Asian shipments because of Japan Tobacco's (OTCPK:JAPAF) struggles in the wake of the Japanese earthquake. Despite this, the company faced it down like the industry leader that it is and actually reported EPS growth for the quarter versus the prior-year period. EPS grew at 0.7%, primarily due to share repurchases. EPS saw a negative headwind of 7.4% due to the stronger U.S. dollar (reporting currency) versus the operational currencies of its global subsidiaries. EPS growth in 2012 was also impacted by a one-time boost of Asian sales last year in the wake of the Japanese earthquake/tsunami. PM would have grown its EPS by 16.8% excluding these two items. In reviewing the quarterly earnings release for Q2 2012, we noticed that PM made note of this temporary increase in market share. PM repurchased 17.8M shares of its common stock during the quarter for $1.5B under its current repurchase program ($12B over a 3-year period). Because PM has completed 95% of this repurchase program, it announced a new three-year share repurchase program of $18B beginning on August 1, 2012. We are expecting the company to continue its tradition of increasing dividends in September when the board meets to declare dividends. In addition to beating consensus estimates by $.02, it reaffirmed its 2012 EPS range of $5.10-$5.20.
Philip Morris saw its strongest growth in its Eastern Europe, Middle East and Africa segment. The company grew its reported revenue by 6.9% in the quarter versus the prior-year period and 13.2% excluding the impact of the sharply stronger U.S. dollar. This market achieved 5.1% unit volume growth, which enabled it to generate 13.5% increase in operating income (23.1% excluding negative currency impacts). This market saw its operating income increase by $114M due to positive pricing initiatives and $104M due to volume and product mix changes. This was the fifth straight quarter of positive volume and product mix growth in the region. Chesterfield was the only one of its top 10 brands to see a decline in unit volumes during the quarter. Marlboro grew by 1 billion units (5%) during the period on strong growth in North Africa, Saudi Arabia and Serbia. Parliament grew by 1.1 billion units (16.3%) through Eastern Europe and also Turkey. Russia saw an 8.7% increase volume in the quarter and 5% during the first half. PM's Russian market share grew by 70 bp to 26.1% as of the end of May on the strength of Parliament, L&M, Bond Street and Next.
Philip Morris Asia registered solid performance during the quarter, excluding the impact of a 6.3 billion unit boost in Q2 2011 in the wake of the Japanese earthquake resulting in disruptions to Japan Tobacco's supply chain. On a reported basis, organic cigarette volumes declined by 0.7% and increased by 7.4% excluding the temporary unit volume boost in 2011. The strongest performing market in Asia was Indonesia. Philip Morris expanded in Indonesia when it acquired PT HM Sampoerna Tbk. The Indonesian tobacco market grew its volume by 6.9% and PM/Sampoerna grew its volumes by 17.8%. This enabled Philip Morris to grow its market share by 3.1% in the quarter and it now stands at 33.5%. Management sees this market growing its volumes by 8% and continued market share growth for the company. Even though the company saw its operating income and revenue decline by 2.4% and 2.8% versus the prior quarter, Philip Morris Asia still generated strong revenue ($2.855B), operating income ($1.36B) and operating margin (47.78%).
Philip Morris Americas (Latin America and Canada) reported mixed performance. This is PM's smallest market segment and it saw flat revenue growth for the quarter and year-to-date due to the same currency headwinds that all the markets are facing. This helped operating income decline by 7.1% for the quarter and 6.4% year-to-date. PM's Europe Union segment was the weakest performing market because of the deep recession throughout the eurozone.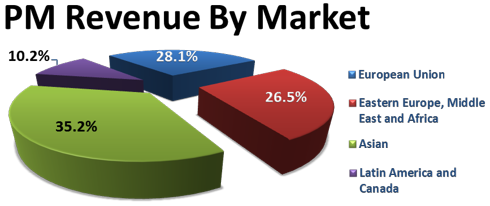 Source: Philip Morris Q2 Earnings Release
In conclusion we are pleased with the performance from Philip Morris International. We believe that for those interested in investing in a tobacco company, Philip Morris is simply indestructible. Based on our observations, we believe that not even recessions, currency headwinds nor large temporary market share boosts can keep Philip Morris from its appointed rounds of growing its EPS. Even with a $.27 per share headwind to EPS growth due to unfavorable effects of a strong U.S. dollar, the company is expected to register 5-6% EPS growth this year. Add in a dividend that is surely going to be increased in September and you have one of the best companies in the world to invest in. Considering that the company has increased its capital expenditures versus the prior year period, we believe that there is more potential for organic growth than meets the eye in this company. Philip Morris has always been a strong performing company, whether now as an independent or when it was part of The Philip Morris Companies along with Altria and Kraft. The last thing we like about Philip Morris is that it is one of the few companies that includes its transcript along with its 8-K Earnings Release.
Disclosure: I am long MO, KFT, PM.
Additional disclosure: Saibus Research has not received compensation directly or indirectly for expressing the recommendation in this report. Under no circumstances must this report be considered an offer to buy, sell, subscribe for or trade securities or other instruments.