On July 26, Sprint Nextel's (S) shares appreciated approximately twenty percent after reporting better than expected earnings for the second quarter of 2012. Shares have no appreciated by about 73 percent since the start of the year. See a YTD performance chart for Sprint:

According to Sprint's Q2 report, sales rose 6.4 percent to $8.84 billion, while analysts estimated $8.73 billion on average. Sprint's net loss widened to 46 cents a share, which was greater than the than the predicted 40-cent loss predicted, as Sprint ramped up its infrastructure-upgrade plan and accelerated the scrapping of the Nextel network. Sprint also increased its full year 2012 operating-income forecast to $4.5 billion to $4.6 billion, excluding certain items, up from about $3.9 billion.
Sprint's contract customers spent $63.38 on average a month last quarter, up $4.31 from a year earlier. Sprint noted that this was the greatest such year-over-year increase in the history of the U.S. wireless industry, and compares to an average analyst projection of about $60.05. See the chart below, showing Sprint's average revenue per user over the last five quarters (source: Sprint's Q2 presentation).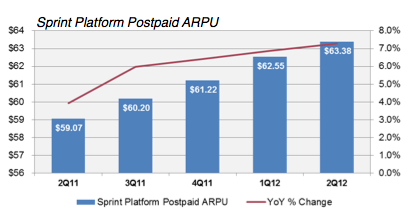 Though Sprint shares are up so much since the start of the 2012, they are still down 21.8 percent over the last 12 months. Sprint's contract subscriber base has declined for the last five years, resulting in 19 consecutive quarterly losses. Last year, Sprint signed a contact with Apple (AAPL) to add the iPhone to its network. Though the news was initially taken as a major boon for Sprint, the sentiment changed when the contract's terms became known, including requiring Sprint to purchase $15.5 billion worth of iPhones over the first four years.
This sizable obligation weighed down Sprint shares, because the company was already saddled with significant debt and the need to continuously upgrade its network, and many believed that Sprint might not be able to sell a sufficient number of iPhones to satisfy its obligations. Sprint first received the iPhone at the start of the fourth quarter of 2011, at which point the iPhone had been available though AT&T (T) for over four years and through Verizon (VZ) for three quarters.
Nonetheless, Sprint had reported selling over three million iPhones coming into the second quarter, and reported 1.5 million iPhone activations during Q2. These continued positive sales results indicate that Sprint should be capable of meeting its obligation to Apple, and that the deal to get the smartphone was not a mistake.
Moreover, subscribing these iPhone users is largely why Sprint's ARPU increased so much year over year. Further, Sprint indicated that iPhone users are making fewer calls to care, service, or repair their phones than are users of other smartphones, and that fewer iPhone users are returning their purchase compared to other smartphones. All this means that recent and continuing iPhone integration should eventually reduce Sprint's costs per user while simultaneously continuing to increase its revenue per user.
Further, starting June 29, Sprint began selling the iPhone through the Virgin Mobile USA branded prepaid service. Sprint acquired Virgin Mobile USA in 2009 from billionaire Richard Branson's Virgin Group. Virgin Mobile USA was already running its on Sprint's network, and is one of Sprint's two main pre-paid brands, along with Boost Mobile. The move should help Sprint sell more iPhones in the coming quarters.
Since the company started selling the iPhone through Virgin Mobile USA on June 29, the market will not get any real information on such sales until Sprint reports its Q3 results in October. This addition may help Sprint sell more iPhones than it would in this seemingly off quarter for the smartphone, where many consumers are expecting and waiting out a newer model. Sprint has not yet advertised the iPhone's availability through Virgin Mobile USA, though it indicated it shall do so shortly.
Sprint has also begun launching its LTE network, which it made available in five cities in July. Adding the LTE network should make Sprint more competitive in the smartphone arms race and also allow it to service the iPad. Currently, Sprint cannot directly provide a data plan to an iPad, though a smartphone subscriber could use their phone as a hotspot for their iPad. Sprint's efforts to increase its LTE network will coincide with continued steps towards deactivating the now obsolete Nextel network it acquired in 2005. Sprint still had 4.4 million subscribers on the Nextel platform at the end of Q2.
Beyond the relationship Sprint has begun to forge with Apple, Sprint also has a good working relationship with Google (GOOG) and its Android OS, including being early adopters of Google Wallet and allowing for data only plans that integrate Google Voice, a Internet based service alternative. Sprint is also likely to benefit from the continued adoption of Android, including offering the newest Galaxy S3 Android option.
Last year, AT&T tried to buy T-Mobile USA, a subsidiary of Deutsche Telekom (OTCQX:DTEGY), for $39 billion. The U.S. Department of Justice filed suit to prevent AT&T from acquiring T-Mobile, voicing concerns that the combination of the second and fourth ranked U.S. mobile service providers might stifle competition and raise consumer prices. Sprint was also a vocal opponent to the deal.
Despite the inability of one major telecom to buy another, major competition may enter the wireless phone and data business in the coming years and dramatically change the landscape. Since the development of fiber optic networks, Verizon and AT&T have both offered home-based cable and Internet services that compete with cable companies such as Comcast (CMCSA), Cablevision (CVC), Time Warner Cable (TWC) and DirecTV (DTV).
A common bundled service offered by cable and telephone companies is known as the triple play (phone, cable TV and high-speed internet). There appears to be no real reason why AT&T and Verizon could not bundle a quadruple play by including mobile device service into the already existing package. Cable providers without satellite networks may find it essential to partner up with independent mobile service providers in order to offer the same suite of services. Sprint would be a logical third-party provider for those cable companies, or a potential acquisition.
Sprint appears poised to continue to benefit from more Apple and Android related strength. Moreover, because the company adjusted its 2012 operating income projections, several Wall Street analysts will likely revise their estimates and possibly their recommendations. All of this indicates more tailwinds should be coming for Sprint shares.
Disclosure: I am long S.