We added to our position in Sprint (S) last month based on that company's efforts to turn itself around, as well as the fact that we saw Sprint potentially picking up market share in the wake of Verizon's (VZ) new data price plan, as well as our expectation that AT&T (T) will be matching it shortly. We have no illusion that Sprint has a way to go in order to gain ground on the Verizon-AT&T duopoly and that is why we have said "Sprint isn't Verizon but at least it's not [T-Mobile USA, Nokia (NYSE:NOK), Research Immobilized (RIMM) etc.] in our previous reports on Sprint. We're impressed with Verizon Wireless's performance since its formation in 2000 with Vodafone's (VOD) U.S. wireless operations and if only Verizon had the foresight and forward thinking to acquire total control of it years ago like AT&T did with Cingular, Verizon's year to date net income applicable to Verizon Communications shareholders would be 57% higher versus actual reported levels. We previously discussed that Verizon's net income had declined from 2000 to 2011 because it was losing wireline customers which Verizon had a 100% economic interest in and gained wireless customers that Verizon only had a 55% economic interest in. Although Verizon grew its EPS by a healthy 12.3% for the quarter and 13.9% year-to-date, Verizon's minority interest tribute to Vodafone grew by 23.3% and 22.5% for the respective periods.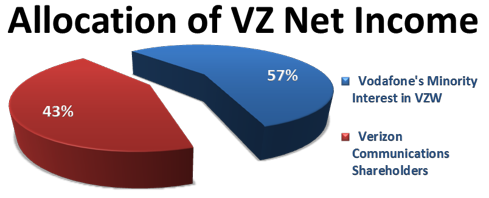 Click to enlarge
(Click to enlarge)
Source: Verizon Communication's Q2 Release
Verizon Wireless continues to be the star-performer and workhorse for Verizon shareholders. VZW grew its Q2 2012 revenues by 7.4% versus Q1 2011 levels. Retail service revenues grew by 8.6%, aided by an 18.5% growth in data revenues. At $6.9B, VZW's lucrative data revenues now represent 43.6% of all service revenues. As VZW only grew its total service revenues by $1B and total division revenues by less than $1.3B, we can see beyond a reasonable doubt that Verizon is benefitting from carrying Apple's (OTC:APPL) iPhone and the lucrative data plans that VZW can sell to customers. VZW is leading the way in retaining customers with its enviable 0.84% contract customer churn rate and its 1.11% total retail customer churn rate. Verizon activated 2.9M new Android smartphone and 2.7M new iPhones. New iPhone activations increased from 2.3M in the prior year prior and declined by 16% versus the linked quarter. 25% of iPhone sales were to new VZW customers and 40% of all new smartphone sales were to first-time smartphone customers.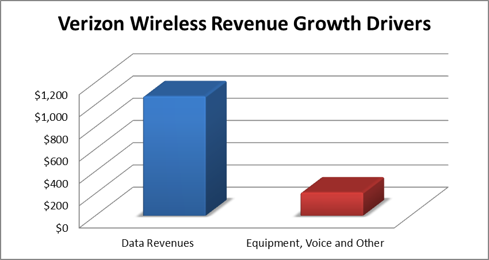 Click to enlarge
(Click to enlarge)
Source: Verizon Communication's Q2 Release
VZW benefited from strong operational execution as its operating expenses only increased by 2.1% during the quarter, which enabled it to generate a 21.8% segment operating income growth and improvement in its operating margin from 27.1% to 30.8%. Verizon was able to increase its smartphone proportion sold from less than 60% in the prior year quarter and year-to-date periods to 73% this quarter and year-to-date period. ARPU for retail postpaid customers increased by more than $2 year-over-year and reached $56.13 for the quarter. Surprisingly, that is actually less than Sprint's postpaid ARPU for Q1.
One fly in the ointment for VZW was its sharp decline in new customers added. New retail customers declined by 10.6% versus Q2 2011 levels and 13% year-to-date. Postpaid contract customers declined by 29.4% versus Q2 2011 levels and 35.8% year-to-date. VZW's new push into prepaid has resulted in a sharp increase in prepaid customers as well as new subscribers. On a year-over-year basis, retail postpaid customers have increased by 4.2% and prepaid customers have increased by 19.6%. We believe that this division is maturing as VZW's division level capital expenditures have declined by over 27% year-to-date. However, as VZW invested $3.9B year-to-date in CapEx, we see that it still sees solid growth going forward. We also noticed that VZW's revenue growth has slightly decelerated in Q2 2012 versus Q1 2012 levels (7.4% in Q2 versus 8.2% in Q1). With VZW's new data plan (and AT&T announcing plans to match it) we believe that VZW will potentially see further reductions in subscriber growth as more people are made aware of Sprint's unlimited data and texting smartphone plans for $79.99.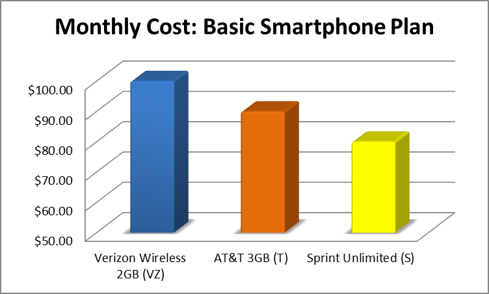 Click to enlarge
(Click to enlarge)
Source: Mobile Carrier Websites
Verizon Wireline is certainly not going to be confused for Verizon Wireless anytime soon. However, the division is making efforts to offset the decline of its traditional wireline business with strategic communications services such as its FiOS product line (digital voice, internet and video) Terremark cloud services, security and IT solutions and strategic communications network solutions. Verizon Enterprise announced plans to acquire Hughes Telematics (OTC:HUTC) for $612M. Hughes is a maker of wireless systems for vehicles and Verizon paid a 275% premium to acquire the company. We took note that Hughes has had rapid revenue growth during the period. The bad news is that Wireline operating income declined by 41% as strategic service revenue growth and new FiOS customers were not enough to offset revenue declines from people disconnecting its traditional wireline services. We can attest to that as we had recently switched our home phone service to FiOS Digital Voice, especially when we found out that there are lower telecommunications taxes associated with it.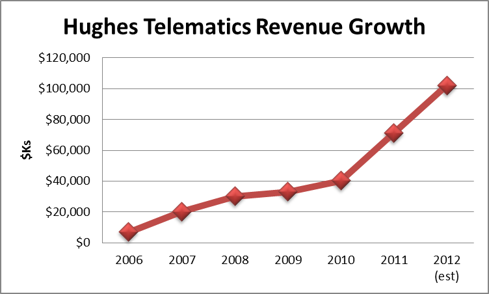 Click to enlarge
(Click to enlarge)
Source: Hughes 2006-2011 Annual Reports and Saibus Research forecast
In conclusion, we can see why Verizon is the leader in the wireless communications market. We can't argue with yield hungry investors who are interested in the company, as it sports a 4.5% dividend yield and a nearly 3-1 dividend coverage ratio based on its 2012 YTD free cash flow of $7.7B and its $2.6B in dividend payments. Dividend coverage is important because while it is not infallible, you want to be able to project that the company is generating free cash flows to cover its implicit dividend obligation to shareholders. As such, we also like Verizon Communications because its revenue and operating income growth at its Verizon Wireless unit more than offsetting operating income declines at its Wireline business, as well as its record of steady dividend growth. If Verizon Wireless ever obtained total control of Verizon Wireless, we'd be very excited about it, as it would be able to include Verizon Wireless's share of net income as part of its net income available for Verizon Communications shareholders. In our professional opinion, we expect that this would more than offset any financing costs associated with acquiring total control. We also are taking notice of headwinds to growth for Verizon Wireless due to the maturing US wireless industry and Sprint's turnaround program.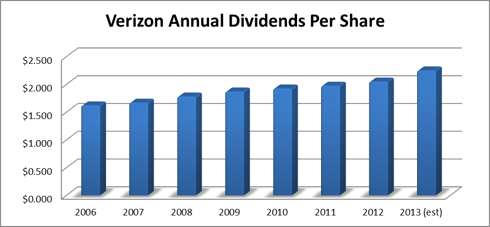 Click to enlarge
(Click to enlarge)
Source: Verizon Investor Relations Dividend History
Disclosure: I am long S. Saibus Research has not received compensation directly or indirectly for expressing the recommendation in this report. Under no circumstances must this report be considered an offer to buy, sell, subscribe for or trade securities or other instruments.