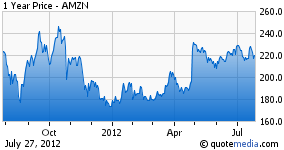 Amazon (AMZN) was up 1.36% yesterday and 0.85% in after-hours trading, while its earnings are down, according to the company's Q2 results released on July 26. This shows that Amazon is a top line growth story, rather than one of profitability. Squeezed operating margins are already priced into the stock. Based on its increasing gross margins and shifting business mix towards rising third party sales, we reiterate our buy rating for AMZN.
Q2 Results:
Q2 results missed the Street's expectations. The results are a mixture of a continued growth story for sales, and challenges for margins. Below is a summary:
EPS underperformed both analyst estimates and year ago results. The EPS came in at $0.01/share, down from $0.41/share in the same quarter last year. Analysts were expecting $0.02/share. Q2 EPS includes a loss of $65 million from the acquisition of Kiva Systems.
Revenues beat last year results, as they continue to grow, but missed analyst estimates. Revenues were up 29% (YoY) to $12.83 billion, while they were $9.91 billion last year. Amazon expected $11.9 billion-to-$13.3 billion in revenues, while the Street expected the figure to be $12.9 billion. This includes a 36% increase in U.S. sales and a 22% rise in international sales, as compared to last year's quarter.
Cash flow from operations was $3.22 billion (trailing twelve months), compared with $3.21 billion for trailing twelve months ended June 30, 2011.
Although the gross profit margin was higher (26% vs. 24% in June 2011), the drop in net income came because SG&A expenses rose to 16.6% of revenues, as compared to 14.6% in June 2011, while the provision for income tax rose from 0.49% of revenues in 2Q2011 to 0.85% of revenues in 2Q2012. Profitability was hurt because of international operations, as operating margins for the U.S. rose to 4.7% from 4% in Q22011 vs. operating margin from international business dropping to 0.3% from 3.8% in Q22011.
Amazon is expected to continue spending heavily on distribution centers, low margin hardware like Kindle tablets, content for streaming, and web services worldwide. The pressure on margins will remain during these growth initiatives, but they will benefit the company in the long run in terms of increased sales and competitive advantage over other retailers.
Future Outlook:
3Q sales are expected to be between $12.9 billion and $14.3 billion, at least 19% more than 3Q2011, while analysts expect the figure to be $14.1 billion.
The operating income guidance for 3Q is -350 million-to--50 million, while analysts expect the number to be $164 million. This includes amortization of intangible assets, and $275 million in stock-based compensation.
Gross profit can be expected to continue rising as 3P (third party) sales have been increasing (40% of total unit sales in 2Q vs. 36% last quarter). Amazon gets roughly a 12% commission on third party sales, thus boosting margins.
Pressure on operating margins will continue going into the future because of the construction of distribution centers. According to a Needham & Co. analysts estimates, Amazon can add 15-20 distribution centers by spending $50 million/center. These would be mostly built in states where the company has reached sales tax settlements. According to another Businessweek article, the company plans on adding 13 warehouses in 2012. This would help the company achieve more efficient deliveries, including same day deliveries in more areas, which can further erode the customer base of local retailers.
Amazon is working on further expansion into the games and apps market for its Kindle Fire tablet, and soon to be launched smartphone. This is a market dominated by Apple (AAPL) and Google (GOOG) at present, and AMZN will face very tough competition from both the giants. According to an article in Reuters, the recruitment of developers has accelerated, as the company eyes a third position in the burgeoning market, ahead of Microsoft (MSFT) and Facebook (FB). One feature that pleases developers and helps them increase their average revenue per user is the in-app purchasing service that lets consumers buy things while playing. The games and apps market is expected to be a $67 billion market by 2015, and Amazon will greatly benefit from being a player in it, provided the company plays its cards right.
Valuation
The stock is up 12% in the last three months. Since our last recommendation, the price is up 1.4%. P/S (trailing twelve months) is 1.9x, and EV/Sales (TTM) is 1.65x, at present.
As the main driver of the stock price is sales, therefore, we are valuing it on the Thomson Reuters' forward P/S estimate of 1.3x. The revenue expectation for 2013 is $81,138 million ($180/share at 450m shares outstanding). The target price is $234. We think there is a possibility of expansion in P/S multiple, further boosting the stock price. eBay (EBAY) trades at a price to sales ratio of 4x; however, it enjoys higher margins too.
We recommend buying Amazon based on its revenue growth and transformation from just an online retailer to a media platform and a digital marketplace, where third party sellers can interact with customers. However, investors should keep an eye on the future revenue growth trend, because that might signal a decline in the stock price. As a company, Amazon is doing fine with rising sales and gross profits in a growing e-commerce market, although the shares could benefit from reduced shipment and warehouse expansion expenses with AMZN building on its pricing advantage for larger margin products. The shares had seen a $36 rise in 2 days with a 1% increase in gross margins in 1Q2012. Gross margins increased 2% in 2Q2012.
Disclosure: I have no positions in any stocks mentioned, and no plans to initiate any positions within the next 72 hours.