I recently wrote this article on Amazon (NASDAQ:AMZN), in which I stated my case for the company still being in the growth mode. I firmly believe that by continuing its onslaught for revenue, as well as continually expanding its business model, Amazon will eventually create its own ecosystem where basic increases in margins will place enormous amounts of profits squarely on the bottom line:
As long as Bezos continues plowing the cash flow back into the company to focus on overall growth, this company will continue to grow and so will the share price.
Here is a quote from another Seeking Alpha author, Abe Garver, principal of Focus Investment Banking:
"The speed at which 'The Bezos Rainforest' (metaphor for Amazon.com's Gross Margin) is being reforested was just made clear. ... Amazon's gross margin bounced off of an inflection point in Q1, and Q2's 1.97% year-over-year expansion, further supports the thesis.
Garver's recent assessment of Amazon's earnings were clearly outlined within his Forbes article written just yesterday afternoon (7/26):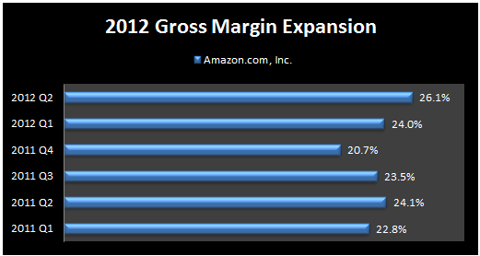 Click to enlarge
Garver's chart shows the continual expansion of Amazon's profit margins. As everyone should realize, margins are tweaked by a few factors within the control of the company;
Reducing costs
Increasing prices
Continuing development of new markets within the business model using existing resources.
Not many people can grasp the simple fact that as long as Amazon continues to grow revenues and margins, profits, no matter how they might fluctuate from one quarter to the next, will almost automatically increase. Therefore a high PE is useless at determining Amazon's growth.
With revenues of roughly $12.9 billion reported, the 26.1% increase in gross margins translated into roughly $253 million in additional profits. Nearly a 2% overall increase directly to the bottom line.
Here is Amazon's 10q just released. As you can see, sales increased by 29% quarter over quarter from $9.9 billion to the aforementioned $12.9 billion.
Earnings did miss estimates by $.01/share, so the earnings can be called a "miss" with mixed results. Much of that miss was due to a $65 million loss from the Kiva Systems acquisition and costs associated with its integration.
That being said, the earnings report was not the greatest, and Amazon is projecting a 3rd quarter loss of between $50 to $350 million on revenues of between $12.9 to $14.3 billion. The bulk of that loss could be directly related to the continual growth of all of Amazon's operations, and not reduced margins or revenues.
That suggests once again, that as Amazon's margin metric continues to grow as it has, the company will continue to grow from the inside out. The ongoing growth story continues, as has the share price.
My Opinion
Why does a company continue to reach a higher share price even in the face of "mixed" results? To me, the answer is simple. The company is growing, and growth stocks bank on the future.
Even as the global economy continues to lag, and sag, Amazon continues to increase revenues and increase margins. Some might say they are using smoke and mirrors. Wall street does not seem to think so, as the share price continues to climb: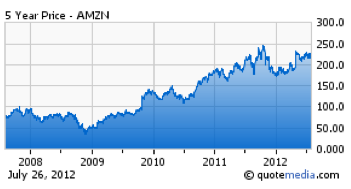 Here is the most recent Seeking Alpha Market Current:
Thursday 11:15 PM "We don't really see a way to do same-day delivery on a broad scale economically," says Amazon's CFO during his company's Q2 earnings call, addressing speculation on the subject. Same-day delivery or not, capex rose 70% Q/Q to $657M, and will reach $800M-$900M in Q3. The needs of Amazon Web Services are a big reason why. International growth fell to 22% Y/Y from Q1's 31%, but the Street is pleased gross margin rose 210 bps Q/Q to 26.1%, a 9-year high. AMZN +0.9% AH
After hours was up nearly 1%. It will be interesting to see what the stock does this morning.
Disclosure: I am long AMZN.