The Commerce Department released the advance figure for second quarter GDP this (Friday) morning. The estimate of GDP growth came in at 1.5%. Analysts had expected a reading of 1.2% for the period, following a 1.9% increase for the first quarter, indicating decelerating economic growth. For the housing market, the good news continues to pour in.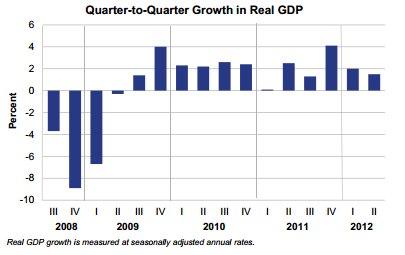 Residential fixed investment (home purchases and investment) drove a portion of the increase in GDP. Residential investment increased 9.7% in the second quarter, compared with an increase of 20.5% in the first quarter. This marks the fifth consecutive quarter of residential investment growth. In contrast, between the fourth quarter of 2008 and the first quarter of 2011, residential investment declined 7 out of 10 periods.

Yesterday, the National Association of Realtors released June pending home sales figures, showing a month-over-month decrease of 1.4% in pending sales. The group reports that lack of available inventory is actually depressing sales volumes, which are 15.1% higher than the prior year.
The five consecutive quarters of GDP expansion in residential investment correlates strongly with SPDR S&P Homebuilders (NYSEARCA:XHB) one-year chart, showing that the ETF has nearly doubled off of 52-week lows. Investors may expect this type of return to continue, as long as expansion in the housing market takes hold.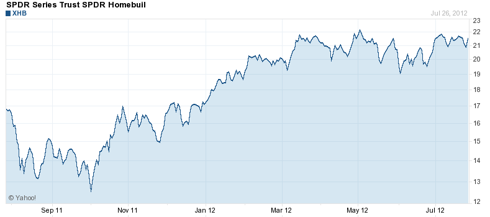 Top holdings of this ETF include Standard Pacific Corp. (SPF), MDC Holdings Inc. (NYSE:MDC), and USG Corporation (NYSE:USG).
Disclosure: I have no positions in any stocks mentioned, and no plans to initiate any positions within the next 72 hours.