SeekingAlpha contributor James Kostohryz recently wrote an article titled "Ultra-Low Interest Rates Indicate U.S. Stocks are Expensive." However, I disagree with his arguments for several reasons.
1: On Why Stocks are Cheap (compared to Treasury Bonds)
Kostohryz: Low Treasury Yields Indicate Low EPS Growth In Future: 10Y Treasury yields at unprecedented lows of 1.40% indicate that investors believe that US economic growth in the next decade is likely to be lower than it ever has been over a ten year span. [...]

Therefore, to say that ultra-low interest rates currently provide a formulaic rationale for high and rising equity valuations constitutes an elementary failure of logic.
I believe this argument is incorrect for several reasons.
First, let's look at it from a longer-term perspective. If Kostohryz's argument is indeed correct, then the market is pricing in a woeful 2.46% EPS growth over the next 30 years, which spells doom for the Dow (NYSEARCA:DIA), S&P 500 (NYSEARCA:SPY), and Nasdaq (NASDAQ:QQQ) alike.
Click to enlarge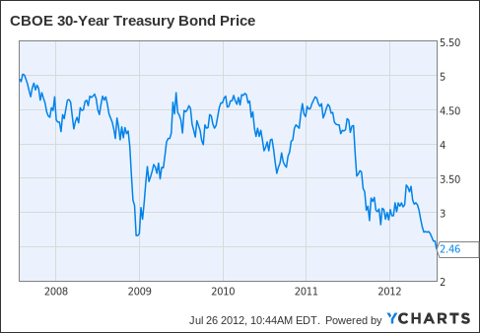 Even if this argument was correct, it wouldn't be a prima facie reason to avoid equities if you have a long-term horizon. If you had a fixed amount of capital to invest and you could invest it in one of two options, would you choose:
A 30-year bond, like those held by the iShares Barclays 20+ Year Treasury Bond Fund (NYSEARCA:TLT), which would give you fixed annual coupon payments of 2.46% and return your non-inflation-indexed principal at the end, or
Stock in a company such as Coca-Cola (NYSE:KO) which will give you an inflation-indexed dividend yield-on-cost of at least 2.59%, and will return at least your inflation-indexed capital at the end of the 30-year time period. (Most likely, after factoring in dividend reinvestment, it will do much more than returning inflation-indexed capital.)
The second is obviously the better option. In the current environment, then, dividend stocks are actually cheaper (relative to Treasury bonds) for investors with long-term horizons.
My second response, going back to the 10-year timeframe, is that it's a ludicrous stretch to assume that one single statistic (the Treasury yield) can doom returns on equity. Kostohryz goes on to say that:
Low Treasury Yields Indicate Low Return On Equity: ... As it currently stands, ultra-low Treasury yields are a clear indication that investors as a whole believe that returns on capital across the entire economy (and indeed, the entire world) will be very low and/or risky.
Kostohryz's point, it seems, is that for the next 10 years, I'll have to assume significant risk to get returns. But as it stands, I am assuming significant risk with Treasury bonds. Given the historical inflation rate, a 10-year Treasury bond actually destroys my purchasing power over the next 10 years—and the story gets worse when you factor in the taxes on the coupon payments.
While some stocks certainly may be expensive, there are others like Intel (NASDAQ:INTC) that are available at very fair valuations and have growth opportunities that essentially guarantee that my purchasing power will be preserved, if not substantially increased, over the coming decade. So yes, Treasury yields being so low does make stocks cheaper, because at yields that are negative after adjusting for inflation and taxes, I am risking losing my purchasing power over a decade—just as I am by investing in equities. This eliminates the idea of "risk premium" entirely.
2: On Why Interest Rates Aren't Accurately Predicting The Macro Environment
Everyone watches Spain's bond yields, which go up when there's bad news for the eurozone. On the other hand, get this—last summer, when U.S. government debt was downgraded, yields dropped like a rock. After Standard & Poor's determined that U.S. debt was, in fact, not worth of the highest investment grade, people wanted more of it.
This demonstrates a fundamental disconnect between the "way things were" and the current macro environment. Treasury yields aren't predicting future American growth. Rather, they've become a "safe haven" asset for global investors who are afraid of the European situation. As explained by Ben Levisohn of the Wall Street Journal:
Treasury bonds are priced for the end of the world. [...] Such ultralow yields, which move in the opposite direction of prices, are a sign that investors fear the euro zone could collapse - and are willing to pay just about any price for the safe return of their money.

Yet to justify these low yields - and high prices - the situation in Europe would have to deteriorate or the U.S. would have to sink into a recession. [...] "Market forces have pushed yield to levels that can't be justified by the economy," says Cyril Castelli, CEO of research firm Rcube in Paris. "It's hard to believe they can stay at these levels." [...] Treasury yields are about 40% lower than the historical relationship between the ISM and the 10-year yield suggests they should be, according to Rcube research.
I pasted the relevant parts of the article together; for full context, you can read the whole thing by clicking on the link. The point is that Treasury bond yields have diverged from other economic indicators. By themselves, they aren't really a useful macroeconomic indicator at all. Just as P/E is useless without knowing statistics about the company's EPS growth and free cash flow, the Treasury yield is useless without knowing the broader macro facts. As referenced by the article, interest rates are lower than they should be based on the widely followed ISM data. The comparison that is often made is that the yields are pricing in a Lehman-style event when one has not occurred. (And it should be noted that post-financial crisis, yields rebounded rather quickly, a phenomenon I analyzed in Why and How I'm Shorting Treasuries.)
3: QE3: Bad for Bonds
Some investors may argue that Treasury yields are only low because of QE and/or the expectations of QE. - Kostohryz
I am not really sure where this argument came from, because as Eric Parnell analyzed excellently in his article The Bernanke Put For Treasuries, direct stimulus via easing actually pushed down bond prices and drove up yields. Here's Eric's chart, which he hopefully won't mind me borrowing to demonstrate his point—for a full analysis of the effect of Fed actions on the bond market, I'd recommend you check out the linked article above.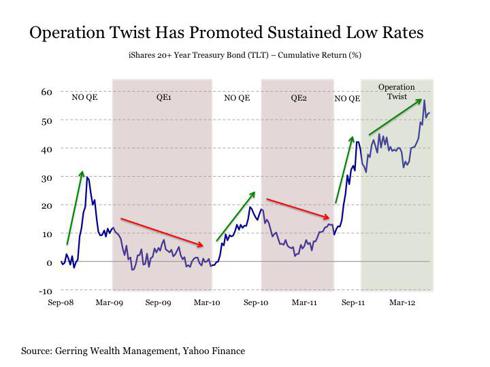 Conclusion
I believe that Treasury yields are currently being driven down by fear trade, and as such, they aren't an accurate predictor of growth expectations. Furthermore, low interest rates do in fact make stocks cheaper, because the current ultralow interest rates make bonds risky investments—they essentially guarantee that purchasing power will not be maintained.
As in any market, there's always value to be found somewhere, and many experts like Matt Fruhan, a portfolio manager at Fidelity, think there's currently a lot of value in mega-cap stocks. This point was also made by Seeking Alpha contributor and Registered Investment Advisor David Templeton in his article Mega Cap Stocks May Be Poised To Outperform. According to Fruhan, mega-cap stocks like Apple Inc. (NASDAQ:AAPL), Wells Fargo (NYSE:WFC), Exxon Mobil (NYSE:XOM), Chevron (NYSE:CVX), General Electric (NYSE:GE), Microsoft (NASDAQ:MSFT), Procter & Gamble (NYSE:PG), and Google (NASDAQ:GOOG) are poised to outperform. Many of these stocks offer dividend yields that are well above even 30-year Treasury yields, which as I established, makes them even cheaper (relative to bonds) in the current environment.
Historically speaking, major rallies tend to begin when investor sentiment is very negative. Now would be one of those times.
Disclosure: I am long INTC, KO, PG, MSFT.
Additional disclosure: I am short TLT. I may initiate a long position in XOM and/or CVX over the next 72 hours.