Recent Seeking Alpha articles on Monster Beverage (NASDAQ:MNST) have highlighted both the strengths of the company and potential weaknesses of the stock. In short, the company is a super growth story that is growing into an iconic brand that is more than simply an energy beverage producer and distributor. However, its premium valuation means that any slip up could lead to the stock getting crushed.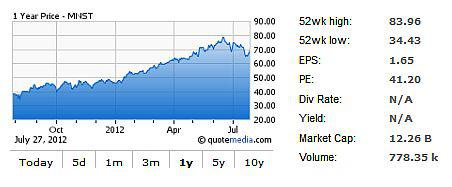 Recent analysis suggests that MNST deserves a premium multiple, but may be overvalued. However, should the company continue to deliver stellar performance, the stock could see $80 after earnings. I believe MNST is setting up to deliver an earnings beat beyond the estimated 62 cents a share, given the recent performance of other major beverage companies, Coca-Cola (NYSE:KO), PepsiCo (NYSE:PEP) and Dr. Pepper Snapple Group (NYSE:DPS).
The first to report earnings this season was the bellwether of the industry, KO. KO saw profits fall slightly to $2.79 billion, or $1.21 a share, compared with $2.8 billion, or $1.20 a share, in the period when the company reported a year earlier. At this time last year, more shares were outstanding. Excluding some items, profit totaled $1.22 a share. Analysts projected $1.19, thus KO was successful in delivering an EPS beat. Revenues grew 3%, to $13.09 billion.
The performance held up despite higher commodity ingredient costs and a 4% decline in sales in Europe. Even a casual follower of the news knows Europe has faced financial crises daily, as well as awful seasonal weather, hurting sales. But the increased expenditures relative to ingredients and tough economic situations have "become the norm" for KO, according to CEO Muhtar Kent. Europe's declines were offset by a 1% gain in North America, and sales in China rose 7%. Overall, the quarter was mixed to strong in the Street's opinion. Shares are up about 3% since the company reported. The most relevant point besides the EPS beat for this article is that KO's energy drinks saw an amazing 21% growth in the quarter.
PEP, also the world's second-biggest soft-drink company behind KO, reported that its second quarter profit excluding special items was $1.12 per share. That surpassed the $1.09 median of 15 forecasts gathered by Bloomberg. The company reported that net income in the three months period dropped 21% to $1.49 billion or 94 cents per share, from $1.89 billion or $1.17 per share in the previous year. Drink volume sales moved up 1% as snacks climbed 6% Second-quarter sales fell 2.2% to $16.5 billion after the company re-franchised bottling operations in China and Mexico. Food sales increased about 15% in Latin America and 19% in the Africa, Middle East and Asia division, showing strong growth in emerging markets
DPS reported quarterly revenues of $1.62 billion, up 2.5% from the same quarter last year and coming just shy of the analyst estimates of $1.63 billion. Profits also increased over the comparable quarter last year by $6 million. And further, year to date the company has bought back over $150 million in stock; the earnings per share has increased over 7% to $0.83. The increase in revenue and profit margin reported would have been stronger were it not for a 2% loss due to foreign currency exchange, a 10% decline in sales in Latin America, and a decline in gross margin of 0.5%, primarily due to 2% cost increases in packaging and ingredients. In terms of volume sold, carbonated drink sales were flat year over year and non-carbonated sales declined 6%. Overall, it was a solid quarter.
It should be noted that the costs of bottling commodities have decreased recently, which is a tailwind for all the beverage companies, especially on aluminum costs. At the time of this writing, KO is up approximately 3.1%, PEP up 3.7 and DPS up 2.0% since reporting their respective second quarter earnings. These earnings reports on the whole were better than expected. MNST will report earnings August 6th. After the major selloff, a Seeking Alpha article and then Goldman Sachs have stated it is a buying opportunity.
Given that many of the headwinds facing the beverage industry can be shared by peers, it is my opinion that these reports are positive for MNST's quarterly prospects. The company has been rapidly expanding, and according to UBS, is poised to keep growing given Red Bull's growth as well. Further, UBS believes the full year outlook is still too low and reiterates a buy.
I recommend the stock as a buy before earnings as a beat will send the stock much higher, and further justify its high valuation. Should the company miss however, the stock could get crushed. Investors could purchase out of the money puts as insurance against a decline in the common stock should MNST miss. Should it knock the quarter out of the park… well, does anyone ever complain if they don't cash in on their life insurance?
Disclosure: I am long MNST.
Additional disclosure: I also hold out of the money MNST put options for downside protection.