On Thursday, I published a theoretical argument for why LinkedIn (NYSE:LNKD) is likely overvalued. While, in theory, I believe it to be sound, ultimately LinkedIn's numbers will determine its valuation moving forward.
Accordingly, I think Facebook's (NASDAQ:FB) earnings results provide some additional caution regarding LinkedIn analysts' mean price target of $131.80. Specifically, I found my attention focused on one specific area: average revenue per user (ARPU).
Note from the graph below the following:
European ARPU is 45% of U.S. and Canada
Asia and the rest of the world's ARPU is 17% and 14%, respectively, of the U.S. and Canadian segment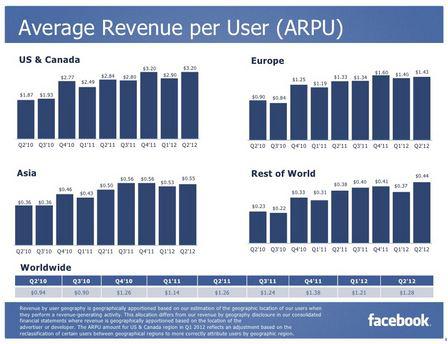 Source: The Atlantic.
Facebook derives roughly 85% of its revenue from advertising. As of its 2011 annual report, LinkedIn derived 30% of its revenue from advertising, or "marketing solutions."
What can we conclude from this? The marketing solutions segment will likely face serious pricing pressure as it continues its expansion into international markets.
And according to a recent Forbes article:
Currently 60% of LinkedIn's members are outside the U.S. but foreign revenue is only 36%. Evening that out would spell a large profit spike, so LinkedIn in the past year has opened sales offices in Germany, Japan, Brazil, India, Spain, and Hong Kong.
Can we expect LinkedIn to "even that out"? I'm not too sure. LinkedIn has told us that it charges lower prices outside of North America. Facebook's results show us just how much lower the marketing revenue is.
The "hiring solutions" segment now represents 50% of LinkedIn's revenue. This is where a lot of the rave is regarding the future value LinkedIn may experience as the recruiting industry goes social and LinkedIn enjoys its first mover position. However, note that field sales produced 55% of net revenue, and the following point again from the annual:
We expect sales and marketing expenses to increase on an absolute basis and as a percentage of revenue and to be our largest expense on an absolute basis and as a percentage or revenue. (pg. 53)
Is the analyst consensus outlook for this segment not a little too optimistic? As LinkedIn continues to try and exploit the international market, its field sales costs will continue to increase whereas the revenue realized will be derived from lower prices.
Finally, on a somewhat unrelated note, what does everyone think about all the insider selling? I know it is largely in part due to employee compensation plans, but if management is so confident, wouldn't we see the slightest bit of buying? Again, in line with my previous article, I think LinkedIn will continue to face increased pricing pressure from competition that will inevitably arrive, as well as pricing pressure already being seen in international markets.
In conclusion, I would like to disclose that this -- and yesterday's article -- is ongoing research that I am conducting. So far, I believe LinkedIn to be overvalued. But as I have not completed my research, it is possible that I may change my position. I am simply presenting my findings to date in order to derive the most accurate estimation of what LinkedIn's intrinsic value truly is. I think technically, the stock looks poised for a significant breakdown, and perhaps it has already began its move to the downside. I believe the available academic literature also suggest that LinkedIn is overvalued. However, to value it fundamentally is no easy task and requires significant research and insight, and that's what I hope to accomplish here.
Serious comments are welcomed and appreciated. Unless otherwise stated, all relevant financial information is sourced from LinkedIn's 2011 annual statement.
Disclosure: I am short LNKD, short SPY, and bearish on equities in general.