Buy-recommended Hugoton Royalty Trust (NYSE:HGT) offers high estimated distribution yield and low McDep Ratio among the 14 oil and gas income stocks in our weekly analysis.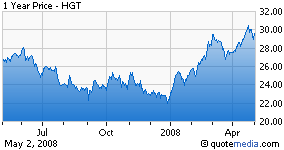 Because the distribution yield we project for HGT is after reinvestment that may sustain natural gas producing volume, it may be an indication of a sustainable yield, rather than a temporarily high yield.
Mr. Bob R. Simpson, chief executive of buy-recommended XTO Energy (XTO), the operator of HGT's properties, likes to think in terms of the proportion of cash flow that must be reinvested to keep production from declining. Reinvesting 20% of HGT cash flow in 2004-2005 was not enough, but 30% may work.
Commodity price also helps. When the Henry Hub natural gas price index on a two-month lagged basis was $6.96 a million btu in 2007, income distributions were $1.73 a unit. Futures prices a few days ago on a two-month lagged basis were $10.04 for the year ended March 31, 2009, up 44%, and our estimate of distributions for the same period is $3.04, up 75%.
Estimated Net Present Value [NPV] of $34 a unit is supported by the relationship of cash flow multiple and reserve life.
Originally published on April 18, 2008.