Buy what you know, love, and understand ~ Investors
The "power of common knowledge" is a commonly used investment tool. To put it in simple words, it means if you like the product/service, go buy the stock. This has been a successful investment strategy, even echoed by Peter Lynch, someone we refer to frequently in our articles. But, no single technique will apply in all scenarios.
This article lists a few examples of where the products are usually well liked but the stocks are not very attractive. We, as investors, need to look at a whole lot of factors and not just invest based on some of these cliches. We've tried to highlight valuation issues, business issues and macro-economic issues with these stocks, just to give an idea of what are the various things that could impact a stock's performance, no matter how much you love the product.
The article is structured as follows:
First point is about people's love for the products
Reasons why the stock suffered, even though people continued to love the products
Potential buy points, if any
Let us get started.
Chipotle Mexican Grill (NYSE:CMG):
The Product: Lets face it, Chipotle's food is almost universally loved by people. Sure, there are exceptions in everything but on a general scale, Chipotle's food is loved for its freshness, organic nature, and taste. People line up for their food and some of the busiest locations are almost always filled with happy customers. There is the catch. Happy customers need not always translate into happy investors. (And vice-versa). When the alarms were blaring about the stock, investors comforted themselves with statements like "But I still see customers lining up in stores near my home."
Issue #1: Valuation: Chipotle has always had valuation concerns, as it holds an interesting position of being a restaurant stock (usually seen as valuation based stocks) at a technology valuation (as new tech stocks usually carry high PEs in anticipation of future growth). Even after the almighty 20% fall, CMG still trades at a PE of 36, which is almost double that of the industry average. A PEG of 1.7 seals the talk of expected growth compensating for the higher valuation.
Issue #2: Growth Hiccup: Existing stores' sales grew by just 8% in the recent quarter. Though this number is impressive by itself, Chipotle's investors and analysts alike want to see it grow in double digits. Talking about existing and new stores brings us to the next point.
Issue #3: Europe: Chipotle is definitely counting Europe growth going forward. Sure, it shows eagerness to succeed but the way Europe is going, even companies that are well established there like Philip Morris (NYSE:PM) are seeing demand issues.
Issue #4: U.S. Economy: While people appreciate high quality, (mostly) organic food that Chipotle serves, they also feel the pinch in their pockets. The comment shown below from SA user "Deja Vu" in our previous article on Chipotle captures it perfectly. Check the circled points - it shows people's love for the food but also increasing cost. YUM Brands' (NYSE:YUM) Taco Bell is in the process of trying out a Cantina menu, which closely mimic's Chipotle's. While Taco Bell's quality might not match Chipotle's, its food is usually worth the money. Consumers could see this as a lower cost alternative to Chipotle.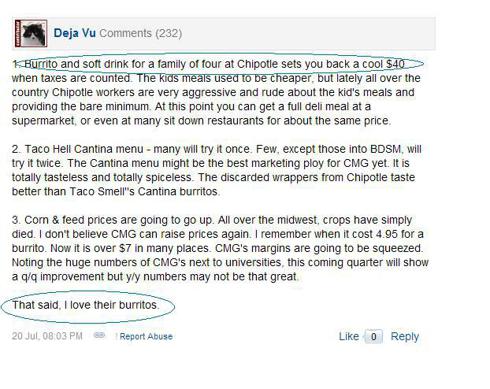 When To Buy: Like justice can be delayed but not denied, PE reversion to the mean is inevitable. CMG will begin to look enticing if it gets to about $200 to $220, which translates to a PE of 25 to 27. The expected growth rate is in the early 20s, and assuming the European expansion takes wings in due course (not immediately), CMG might deserve a slight premium on top of its growth rate.
Netflix (NASDAQ:NFLX):
The Product: The love for Netflix's product might not be as universal at that of CMG's but in spite of losing a lot of content (exclusive or otherwise), a lot of people (including quite a few in our family) love the streaming part of the business still. Agreed, the investing public in general was not all bullish about Netflix but reports of increase in subscriber growth still kept quite a few investors on the long side. "Our entire family still loves Netflix's streaming" was another popular reason why investors stuck around.
Issue #1: Management: From arrogance to almost creating the Qwikster division to shutting off Qwikster, the strategic management of the company have left a lot to be desired.
Issue #2: Growth: Three things: no growth in DVD business, slowing growth in streaming, and increasing competition and content cost. End of story.
Issue #3: Expenses: Whatever operational profits are generated, Netflix is using those to expand aggressively into international markets but when your content is not so great, expansion is not going to be of much help. Not to forget the $1.2 Billion it needs to keep paying to companies like Disney (NYSE:DIS) for streaming their content. There is just no stop to the bleeding.
Issue #4: Valuation: It's hard to believe that a stock that has fallen from $300 to $60 would still have valuation issues. But Netflix's expected earnings growth of about 15% is dwarfed by a PE reaching about 27. (TTM EPS is 2.19 after the most recent results, assuming same shares float.)
When To Buy: This might be a biased opinion here, but the business model is too broken to even think about getting on the long side. There are just too many unknowns like the international expansion and no clear "moat" to put your money here. Welcoming the bulls to state their reasons and entry points in the comments section.
Amazon (NASDAQ:AMZN): Amazon is in a slightly different boat compared to the other two stocks mentioned above: its business is more robust and it is yet to face the investor backlash the other two have. However, that doesn't mean there are no concerns brewing.
The Product: Amazon.com is one of the most popular websites ever. According to this website, Amazon.com is the 7th most popular site. People love the comfort of sitting at their home or office and ordering things online without having to break a sweat. No sales tax as well (unless you live in Kansas, Kentucky, New York, North Dakota, Texas, or Washington). Their return policy is quite friendly. All in all, makes for a great "consumer product." (Yes, that's what Amazon has become essentially). But just because millions and millions are ordering things on Amazon.com does not mean all is good with the company overall and the stock in particular.
Issue #1: Valuation: Getting the obvious out of the way, Amazon is way too overvalued, even based on its own history. The PE of 180 is the highest it has been in since 2004, though one can attribute the lower earnings to the company's expansion efforts.

Issue #2: Too many trades: While in a recent article, we called on Baidu (NASDAQ:BIDU) and Google (NASDAQ:GOOG) for being the masters of one trade and how that might impact their future. Amazon, on the other hand is on the other side of the fence. Too many new ventures too soon. Innovation is great, but successful companies always make sure the success of one product/service before venturing into the next. With doubts still lingering about its Kindle Fire, there is already talk about Amazon entering the (crowded) smartphone market.
Issue #3: Sales Tax: This issue has been brewing for quite some time, with 8 more states expected to be added to the 6 listed above. Obviously, this is going to hit Amazon's profit numbers. But if you think the buyers will not be impacted much and Amazon does not have much to worry on losing its customers, think again. The comment below from SA user Shaun Connell is an example.

When To Buy: Here again, Amazon is slightly different from CMG and NFLX. CMG, we were able to specify a price point and the reason for entering there. NFLX, we believe is just too messy to even think about going long. AMZN is neither here nor there. The buy point, in our opinion is when Amazon seems well on its way to one more hit product (or service) than the retail section. Or if the valuation returns to a more reasonable level, in line with just the retail business (its moat) in mind. Right now, the focus seems to be on too many things and if Steve Jobs were alive, he might offer the same advice to Jeff Bezos that he did to Larry Page - "Do a few things, and do them right."
Disclosure: I am long PM.