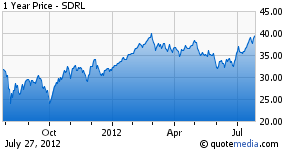 On Wednesday, July 25, SeaDrill Ltd. (SDRL) announced that it has received a $4 billion commitment for the use of three offshore rigs in the Gulf of Mexico. SeaDrill declined to say who the customer is; the company only disclosed that it is a major oil company. Two of the rigs that are included in this contract package are the West Auriga and West Vela, both of which are newbuild, ultra-deepwater drillships that are expected to be delivered in early 2013. The final rig included under this contract is one that is already in service but SeaDrill declined to specify the unit.
Alf Thorkildsen, CEO of SeaDrill Management, had this to say about the contract:
"The breadth and depth of this commitment from a major oil company is the result of our track record of delivering rigs on time, operating with a competent workforce and having the availability of a modern fleet. We are excited about the opportunity to further grow our fleet and operations in the US Gulf of Mexico, which we consider as one of the most cost effective drilling regions. In addition, the term of the contracts fits well with SeaDrill financing plans including the potential use of MLP financing."
Mr. Thorkildsen speaks of the breadth and depth of this contract and this is no mere hyperbole. This $4 billion contract is for the use of three rigs over a period of 19 rig years. That works out to approximately $576,800 per day per rig, including the mobilization fee, over a period of more than six years per rig. This contract also increases SeaDrill's contract revenue backlog by nearly a third. This is one of the largest contracts that SeaDrill has ever gotten.
I have heard and seen some concerns from investors recently about SeaDrill's ability to contract out all of the rigs that the company has ordered as speculation rigs over the past few months. Hopefully, this contract announcement can assuage some of those concerns. SeaDrill has three newbuild, ultra-deepwater drillships that are expected to be delivered in 2013. This contract covers two of them, leaving the West Tellus as SeaDrill's only ultra-deepwater rig of any type with a 2013 delivery date and no contract as of this time. I expect that SeaDrill will announce a contract for this rig shortly and, in fact, I fully suspect that SeaDrill is already engaged in contract discussions for the use of this rig.
The length of this contract also provides additional visibility in projecting SeaDrill's revenues going forward. As previously mentioned, the contract works out to approximately $576,800 per rig per day over a period of more than six years. The West Auriga and West Vela are currently under construction and are not generating any revenue. Once they leave the shipyard and begin their assignments under this contract, the two rigs will be generating approximately $421,064,000 per year in contract revenue. This is a substantial increase from $0 per year! The effect on the company's revenues from the third rig under this contract will depend on which rig will be performing this work. My suspicion is that the undisclosed rig is the 2010-built West Gemini which comes off of its current contract in September 2013. The West Gemini is currently working for Total (TOT) offshore Angola at a dayrate of $447,000. If I am correct that the West Gemini is the third rig under this contract, then this would increase SeaDrill's contract revenue by approximately $129,800 per day or $47,377,000 per year. Please note that this is total contract revenue and not the contractual dayrate. Also, the numbers provided are maximum potential contract revenue assuming an economic utilization rate of 100%. At a more realistic economic utilization rate of 97%, the West Auriga and West Vela will increase SeaDrill's contract revenue by $408,432,000 per year and the West Gemini would increase it by $45,955,690 per year under this contract.
The rigs under this contract are equipped with some of the latest equipment designed to prevent disasters such as the one that destroyed the Deepwater Horizon in 2010. SeaDrill's rigs are equipped with two seven ram blowout preventers. This should be sufficient to satisfy any and all regulations and requirements put forth by the Bureau of Ocean Energy Management in the aftermath of that disaster. It also provides protection and peace of mind to investors that have worried about the liability of a rig owner having rigs in the Gulf.
During its second quarter earnings conference call, Noble Corp (NE) stated that it believes that most of the worldwide ultra-deepwater supply of rigs available in 2013 is effectively booked. This announcement would lend support to that statement and reinforces my earlier statement that the offshore drilling industry is currently a sellers' market. There could be a good many more contract announcements in the near future for the remaining supply of rigs available in 2013, most to all of which are likely already in the contract discussion process.
Disclosure: I am long SDRL.