By Katey Stapleton, Benzinga Staff Writer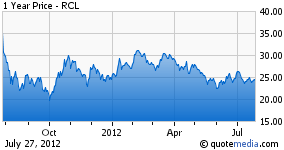 Recent cruise ship blunders have seemingly beleaguered the industry, as Royal Caribbean (RCL) reported a massive loss in its second-quarter earnings call on Thursday. The vacation-destination cruise line company experienced a net loss of $3.6 million, crediting overseas discounts for much of the defeat.
Atop the two cents per share drop, management lowered third-quarter guidance for the floundering company as well. As Royal Caribbean sails into its third-quarter, net yields are expected to decrease about five percent on an as-reported basis.
Headwinds will continue to blow strong throughout the rest of 2012 as the U.S. dollar gains strength and a market-to-market loss on options is likely to cost the company about five cents per share throughout the end of the fiscal year.
Europe's current economic and moral positions will likely not fare well for Royal Caribbean either, as much of the monetary loss overseas can be attributed to seething customers, still devastated over the Carnival (CCL) Cruise Costa Concordia crash that claimed at least 28 lives in January.
However, according to a press release, Royal Caribbean Executive Vice President and CFO Brian J. Rice thinks perhaps the Costa Concordia crash is no longer affecting his company's financial situation, despite the peak booking period being severely impacted by the news.
"It is hard to distinguish how much of the pressure in Europe is connected to the Costa Concordia incident and how much is due to the economic roller coaster," said Brian J. Rice, executive vice president and chief financial officer.
Rice continued, "Our sense is that the former is no longer having a major impact on our bookings especially amongst experienced guests. However, the timing of the incident left a big gap during our peak booking period and filling that gap is disrupting our normal booking patterns."
Yesterday, research firms reacted to the lower yield assumptions made by Royal Caribbean management. SEB Enskilda intends to cut 2012-13 earnings per share by 15 percent, while Terra noted that it is likely to lower estimates and target price for the share as well. Royal Caribbean has certainly taken undeserved heat for a crash its cruise line did not cause. As the company stays afloat during trying times, management can only hope that Carnival's next mishap will not flood the cruise company's revenues and profits.
Royal Caribbean is trading near $24.50 Friday morning, down about 1.5 percent for the day thus far. Meanwhile, Carnival is trading around $33.15, up over 1.3 percent for the day.
Disclosure: I have no positions in any stocks mentioned, and no plans to initiate any positions within the next 72 hours.
Disclaimer: Neither Benzinga nor its staff recommend that you buy, sell, or hold any security. We do not offer investment advice, personalized or otherwise. Benzinga recommends that you conduct your own due diligence and consult a certified financial professional for personalized advice about your financial situation.