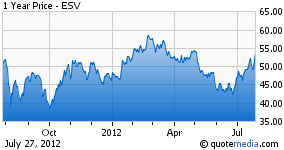 Ensco Plc (ESV), owner of the world's second-largest offshore drilling fleet behind Transocean (RIG), announced this week that its second quarter profit more than tripled, boosted by its $7.3 billion acquisition of Pride last year and strengthening demand for oil rigs.
Quarterly net profit rose to $342.7 million, $1.47 p.s, from $102 million, 59 cents p.s., the same time last year. Revenue grew to $1.072 billion from $564.2 million a year before, with analysts on average expecting earnings in the region of $1.25 p.s., with revenue estimates of $1.08 billion. Right on the money.
Ensco will take Goodrich's (GR) spot on the Standard & Poor's 500-stock index shortly, a change scheduled to take effect as of Monday 30 July, 2012 after the closing bell. The contract driller will be added following United Technologies Corp.'s (UTX) $16.5 billion acquisition of Goodrich, an aircraft-components maker. The deal, one of the largest in recent years within the aerospace industry, closed Thursday after European Union regulators granted conditional approval.
Ensco owns and operates a fleet of 77 offshore units, including jack up rigs, drill ships and semi-submersibles. These units work in all the major offshore areas including the Gulf of Mexico, Africa, Brazil and Asia. It has been upgrading its fleet over the last few years, and has spent billions in capex since 2005. The company has built and put into service 16 units since that time and currently has six units under construction.
This new build program has provided Ensco with one of the youngest fleets in the industry. The company's ultra deepwater fleet, which includes units capable of drilling in depths greater than 7,500 feet of water, has an average age of two years. The average age of Ensco's deepwater fleet is seven years, which includes units capable of drilling in depths greater than 4,500 feet of water.
The company recently leased a newly constructed deepwater drill ship to BP (BP) for a five year term. The unit will start work in the fourth quarter of 2012 at a day rate of approximately $522,000 per day. In January 2012, Ensco leased a premium jack up rig to Anadarko Petroleum (APC) for 30 months. The rig will also start work in the final quarter of 2012 and will earn a day rate of $530,000 per day.
Ensco is not stopping the company's new build program and recently ordered ultra deepwater drill ship, to be delivered in the third quarter of 2014. On Wednesday, the company announced that in light of continued growth in customer demand, it ordered two additional drillships.
Rivals Seadrill (SDRL), Noble (NE) and Diamond Offshore Drilling (DO) also gave an upbeat outlook for offshore drilling worldwide recently, as they echoed that the contract drilling industry was already close to being sold out of available deepwater rigs for next year. Ensco's large spending on new rigs and ships capable of drilling in deepwater is underpinned by a positive view on the growth of capital spending by the exploration and production industry over the rest of the decade.
The company estimates total spending of $6.57 trillion from 2011 to 2020, with $817 billion devoted to the deepwater. For this decade, the expected deepwater spending is more than double the $347 billion spent on the deepwater from 2001 to 2010.
The company expects the industry to drill approximately 7,400 offshore wells from 2011 to 2015, with the activity led by both international oil companies and national oil companies. The five most active operators in the offshore include Chevron (CVX), Royal Dutch Shell (NYSE:RDS.A) (NYSE:RDS.B), Total (TOT), Saudi Aramco and Petroleo Brasileiro aka Petrobras (PBR). As Ensco is continuing to upgrade its offshore rig fleet through new builds, it plans to offer its services to active operators anywhere in the world.
Ensco maintained a strong financial position during the second quarter, with $10 billion of contracted revenue backlog excluding bonus opportunities, long-term debt-to-capital ratio of 30%, $1.9 billion of available revolving credit facilities, and $227 million of cash and cash equivalents.
The company's Chief Financial Officer Jay Swent made the following remarks during Wednesday's earnings release, "During the second quarter, we committed an incremental $1.3 billion to build two additional ultra-deepwater drillships. These new rig orders were made following our February announcement of a 7 percent increase to our dividend that is now $1.50 per share on an annual basis. Given our positive outlook for cash flow growth in the years ahead, we believe Ensco will have the flexibility to make further investments in our fleet and grow future dividends, all while maintaining a strong financial position. Capital management decisions will continue to be made with the clear objective to maximize shareholder returns."
Ensco's common stock now trades on the NYSE as ordinary shares following the conversion from ADS, completed during the second quarter to make the company fully eligible to join the S&P 500 during the beginning of next week.
With a strong financial position, prudent debt management, impressive growth, a P/E of 8, P/B of 1.1, P/S of 3.3, and a healthy 3% dividend, Ensco is arguably the only contract driller currently ticking "all" the boxes as a solid short, medium, and long-term investment.
Disclosure: I am long ESV.