Dreamworks Animation SKG (NASDAQ:DWA) recently announced the acquisition of Classic Media and its many properties. For the $155 million price tag, Dreamworks quickly builds its stable of characters and gains thousands of hours of content.
Questions of Character: Create or Buy
Some editorialists have questioned why a studio that has brought us the likes of Shrek and Kung Fu Panda had to buy content when they can just create it. This greatly underestimates the amount of time that goes into a character's design and creation. New ones are created all the time, yet only a few manage to be memorable. Not every movie turns into a mega three-peat like Madagascar.
Creating a Where's Waldo movie could be epic for Dreamworks. Dick Tracy and Casper are two other titles that could lend themselves to big movie events. Frosty and Santa could be holiday blockbusters with a bit of DWA's magic. Do I need a new snowman? Surely not! I love Frosty, my kids love Frosty and without a doubt, if Dreamworks sprinkles some magic on his top hat and brings him back to life, we'll go see it.
With animated flicks like Fox's newest, Ice Age: Continental Drift, bringing in over $525 million, the purchase could easily pay for itself. After that, it's ongoing revenue, royalties and other potential are all an added bonus.
Bigger Claws For Katzenberg
But let's take a look at CEO Jeffrey Katzenberg's overall motivations for the purchase. In an interview on Bloomsburg TV, he talked about the acquisition and his plans to expand Dreamworks Animation's revenue base. Discussions of diversification included a cable channel, which the company would now have more content to fill in with.
Theme parks are in its future and the new characters help to broaden its ability to create rides. This is just one part of his bid to build a larger company in a model following that of Disney and Universal.
Katzenberg has a great background and good track record at producing success. Still, it's worth noting that he previously put a lot of faith in and clout behind the push to 3D which hasn't panned out so far. That aside, the studio has produced great content under his watch. With more to work with, I have confidence there's room for the company to grow.
The Kat's Got His Tongue
In the interview, Katzenberg suggested there will be more details on the company's plans in about two weeks. That somewhat defined timing presents itself as an opportunity for an options play. Taking a look at a five-year chart shows the stock hanging around its multi-year lows looking to move back up.
Click to enlarge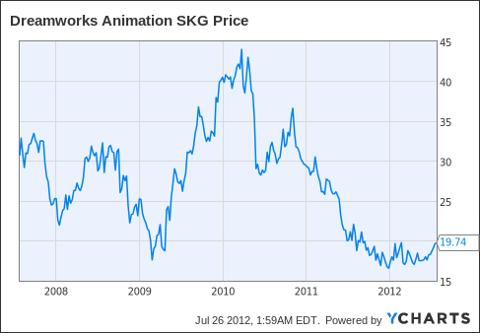 Click to enlarge
The stock closed July 25 at $19.74.
An in-the-money August $17.50 Call trades for about $2.45 as at the time of writing this article. With roughly a 21 cent premium, this option would be poised to benefit from any interesting news that may come in the next few weeks.
For a little more time, the September $17.50 trades around $2.60; a 36 cent premium to the previous closing price. For 15 cents, another 30+ days are added onto the option, which may allow more time for any positive developments to sink it.
In Conclusion
While some are criticizing the purchase of an old portfolio, I agree with Katzenberg and his goals. If he's successful at increasing the size of the company's reach, he'll move the company into newer and bigger areas of revenue. In doing so, he'll bring a lot of value to shareholders.
Anyone willing to accept a fair amount of risk might consider a near-term call in hopes of taking advantage of a bigger stock move on the news that may be coming from the company. Remember that options are highly volatile and should never be a large portion of anyone's holdings. Do your own due diligence before making any investment.
Disclosure: I have no positions in any stocks mentioned, but may initiate a long position in DWA over the next 72 hours.