Cummins Inc. (CMI) is scheduled to report its Q2 2012 results on July 31, 2012, before market opens. The street expects EPS and revenue of $2.27 and $4.47B, respectively.
In this article I will recap the historical results of the company, its latest EPS estimates vs. surprises, the latest news from CMI and the news from its closest competitors.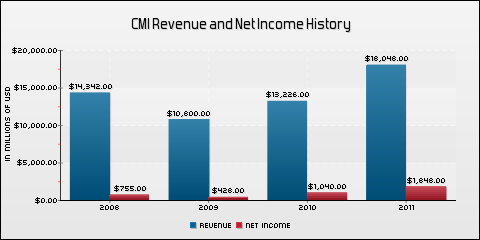 Recent EPS Actuals vs. Estimates
The company has met or beaten analysts' estimates in the last four quarters. In the last quarter it reported $2.38 EPS, beating analyst estimates of $2.22.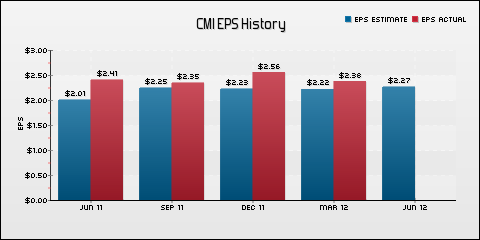 The consensus EPS estimate is $2.27 based on 17 analysts' estimates, down from $2.41 a year ago. Revenue estimates are $4.47B, down from $4.64B a year ago. The median target price by analysts for the stock is $105.00.
Average recommendation: Overweight
Source: Marketwatch
Analyst Upgrades and Downgrades
On May 17, 2012, Standpoint Research upgraded the company from Hold to Buy.
On February 3, 2012, Barclays Capital reiterated Overweight rating for the company.
Latest News
Competitors
Caterpillar (CAT), Eaton Corporation (ETN), General Electric (GE), Johnson Controls (JCI), and Navistar International Corporation (NAV) are considered competitors for Cummins and the table below provides the key metrics for these companies and the industry.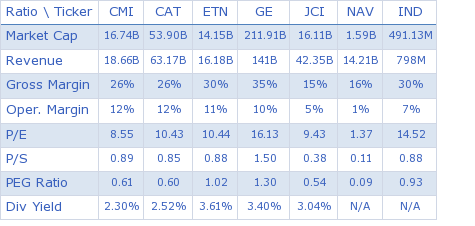 The chart below compares the stock price changes as a percentage for the selected companies for the last one year period.
CMI data by YCharts
Competitors' Latest Development
On July 25, 2012, Caterpillar Inc. narrowed fiscal 2012 outlook range for sales and revenues, raised outlook for profit. The sales and revenues outlook range for fiscal 2012 is now $68 to $70 billion with profit of about $9.60 per share (EPS) at the middle of the sales and revenues outlook range.
On July 25, 2012, Eaton Corp announced that it has declared a quarterly dividend of $.38 per common share payable on August 24, 2012, to shareholders of record at the close of business on August 6, 2012.
On July 25, 2012, Johnson Controls Inc announced that it has authorized a regular quarterly cash dividend of $0.18 per common share. The dividend is payable October 2, 2012 to shareholders of record at the close of business on September 7, 2012.
On July 23, 2012, Eaton Corp announced that it expects sales to be 4% above fiscal 2011 and operating earnings per share at the midpoint of guidance is 10% above fiscal 2011.
On July 20, 2012, General Electric Co announced it has signed a more than USD600 million, 22-year contractual services agreement (CSA) with Chevron Australia Pty LTD to maintain the compression trains, power generation and associated equipment that will be at the heart of the Chevron-operated Gorgon Project off the northwestern coast of Australia.
On July 20, 2012, General Electric Co announced that it is confident in double-digit EPS growth expectations for fiscal 2012. The Company reported EPS of $1.37 in fiscal 2011.
On July 20, 2012, General Electric Co announced that it will reorganize its Energy business into three standalone businesses effective in the fourth quarter of 2012. The Energy headquarters organizational layer will be phased out by the end of 2012.
On July 19, 2012, Johnson Controls Inc updated fourth quarter 2012 guidance and expects earnings per share to be up breakeven to 5% year over year compared to earlier expectations for double digit earnings improvements.
On July 16, 2012, General Electric Co's GE Aviation announced that they signed an agreement with The Boeing Company potentially worth up to $180 million to provide the mission control system for the U.S. Air Force's KC-46A tanker.
On July 12, 2012, Reuters reported that three big investors have increased their stakes in Navistar International Corporation, which last month surprised Wall Street with a quarterly loss and has since backed down from a new engine technology it was pushing.
On July 10, 2012, Dow Jones reported that General Electric Co plans to spend an additional $70 million to expand its advanced battery factory in upstate New York. The plant, located in Schenectady, N.Y., produces GE's Durathon battery products, which are half the size of conventional lead-acid batteries but last about 10 times longer.
On July 10, 2012, Mitsubishi Heavy Industries, Ltd. announced that the judgment of the lawsuit, which the Company filed against General Electric, for patent infringement on wind turbine technology, on May 21, 2010.
On July 9, 2012, Duro Felguera SA announced its participation in collaboration with General Electric Co and a local entity Fainser in a turn-key project to build a gas-turbine electric power plant in Vuelta de Obligado, Argentina.
On July 9, 2012, Eaton Corp announced that it has completed its acquisition of substantially all of the shares of Jeil Hydraulics Co., Ltd. The transaction was announced April 20, 2012.
On July 4, 2012, Dow Jones reported that General Electric Co is suspending construction of a thin-film solar panel factory in Colorado, Bloomberg News reported. Danielle Merfeld, general manager of solar technologies, said in an interview that work would stop for at least 18 months.
On July 3, 2012, Reuters reported that EverBank Financial Corp said it would buy General Electric Capital's Business Property Lending Inc division for $2.51 billion to boost its ability to lend to small and mid-size companies, driving up its shares more than 4%. The latest deal includes about $2.44 billion of performing commercial loans, origination and servicing platforms, and servicing rights on $3.1 billion of loans securitized by GE Capital.
On July 2, 2012, General Electric Co And OJSC Rosneft announced that it has signed a memorandum of understanding (MOU) that lays the foundation for the two companies to jointly evaluate and develop commercial opportunities in oil and gas exploration and production in the Russian Federation.
On July 2, 2012, General Electric Co announced that Swedish energy developer Triventus Wind Power AB will use GE's wind turbine technology to power a new 27.5-megawatt (MW) wind farm project being built near Falkenberg on Sweden's west coast.
On June 26, 2012, Servicesource International Inc announced that General Electric Co's GE Healthcare has expanded its partnership with ServiceSource in Asia-Pacific to drive renewal of recurring service contracts for both small and large scale medical equipment.
On June 21, 2012, NK Rosneft' OAO (Rosneft) announced that on June 21, 2012 Mr. I. Sechin, Rosneft President, and Mr. John Krenicki, General Electric Co Vice Chairman President and CEO of GE Energy, and Mr. Cristiano Tortelli, GE Energy CEO for CEE, Russia and CIS, signed a Memorandum of Understanding and a Cooperation Agreement.
On June 16, 2012, Reuters reported that General Electric Co aims to buy a medium-sized business in Germany in the next six months to expand its technological footprint, German daily Sueddeutsche Zeitung reported, citing a manager at the U.S. conglomerate.
On June 12, 2012, General Electric Co announced that it had secured an order for GBP3.25 million from General Dynamics UK for subsystems required for the Demonstration Phase for the Scout Specialist Vehicle family of platforms for the British Army for which General Dynamics UK is currently on contract.
On June 8, 2012, General Electric Co announced that it declared a $0.17 per share dividend on the outstanding common stock of the Company payable on July 25, 2012, with a record date of June 25, 2012 and ex-dividend date of June 21, 2012.
On June 7, 2012, Navistar International Corporation announced that for the second half of 2012, it expects revenue to be about $8 billion and earnings per share , somewhere between $3 and $5. For fiscal 2012, the Company expects revenue guidance in the range of $15-16 billion, with $5.00-8.00 EPS guidance.
On June 6, 2012, Johnson Controls Inc announced a planned $200 million automotive battery plant, pending final approval. The facility will supply automakers and the aftermarket in China with high quality maintenance-free lead-acid starter batteries and advanced batteries for Start-Stop vehicles.
On June 6, 2012, General Electric Co's GE Oil & Gas announced that it will supply advanced turbocompression technology for the PETRONAS LNG Train 9 project, which will add 3.6 million tons per annum (mtpa) to the existing 25.7 mtpa production capacity of the PETRONAS LNG Complex in Bintulu, Sarawak, Malaysia.
On June 5, 2012, Westport Innovations Inc. announced that it has signed agreements with Caterpillar Inc. to co-develop natural gas technology for off-road equipment, including mining trucks and locomotives.
On May 30, 2012, Caterpillar Inc. and Barloworld Limited announced that Caterpillar Global Mining LLC and Barloworld have signed an agreement for Barloworld to acquire the Bucyrus equipment distribution and support business in South Africa and Botswana.
On May 29, 2012, Marcopolo SA announced that, in complement to the information disclosed to the market on February 1, 2012, its subsidiary San Marino Onibus e Implementos Ltda (Neobus) signed, on May 28, 2012, an agreement for the sale and purchase of shares with Navistar International Corporation conditioning, among others, the signing of a shareholders agreement to be formalized by August 31, 2012.
On May 22, 2012, General Electric Co's GE Aviation has been selected by Emirates airline to provide GE's airline-based flow management system for a 16-month validation at Dubai International Airport.
On May 21, 2012, Eaton Corporation and Cooper Industries plc announced they have entered into a definitive agreement under which Eaton will acquire Cooper in a transaction.
On May 16, 2012, General Electric Co announced that it is pursuing acquisitions of two underground mining equipment manufacturers in support of the global expansion of its mining business.
On May 10, 2012, Reuters reported that Caterpillar Inc. said on May 10, 2012 it will sell a 65% stake in its third-party logistics division to Platinum Equity for $750 million, to focus on its core businesses.
On May 9, 2012, Biosense Webster Inc announced the execution of strategic collaboration agreements with two global imaging companies, General Electric Co's GE Healthcare and Siemens AG's Siemens Healthcare.
On May 7, 2012, General Electric Co And China Xd Electric Co announced the formation of a new partnership to deliver a full-line of electric transmission and distribution (T&D) and grid automation solutions to customers around the world.
Technical Overview
The stock has a market capitalization of $16.74B and is currently trading at $87.08 with a 52 week range of $79.53 - $129.51. The stock's year-to-date performance has been -0.35%. It is currently trading below 20, 50 and 200 SMA. It has been trading in a downtrend since March 2012.
Sources: Yahoo Finance, Google Finance, Marketwatch, Finviz, Reuters.
Disclosure: I have no positions in any stocks mentioned, and no plans to initiate any positions within the next 72 hours.