The market has beaten up on Cisco (NASDAQ:CSCO) lately and although CSCO doesn't look for double digit growth in the long run I think there might be a short term opportunity to take advantage of the stock's under performance. The hourly trading graph provided by Barchart clearly shows a stock that has been declining in price: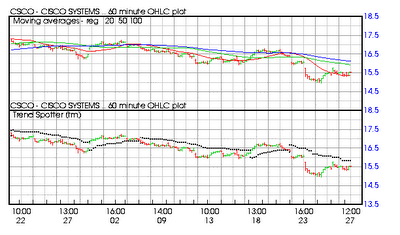 In fact even over the last 6 months the stock has declined more than the market as measured by the Value Line index. While the Index has declined by 5% Cisco is down over 24%: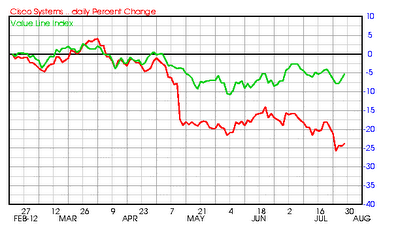 Does Cisco deserve its decline?
Cisco Systems, Inc. designs, manufactures, and sells Internet protocol (IP)-based networking and other products related to the communications and information technology industry worldwide. It offers routers that interconnects public and private IP networks for mobile, data, voice, and video applications; switching products, which provide connectivity to end users, workstations, IP phones, access points, and servers; application networking services; and home networking products, such as adapters, gateways, modems, and home network management software.
The company also offers security products comprising span firewall, intrusion prevention, remote access, virtual private network, unified client, Web, and email security and network security products; storage area networking products for data center environments that deliver connectivity between servers and storage systems; collaboration products to integrate voice, video, data, and mobile applications on fixed and mobile networks; video connected home products, including digital video distribution systems and digital interactive set-top boxes; and wireless systems.
In addition, it provides optical networking products, Cisco TelePresence systems, Cisco Unified Computing Systems, physical security and video surveillances, and digital media systems. Further, the company offers technical support services; and responsive, preventive, and consultative support services for its technologies. Cisco Systems, Inc. has strategic alliances with Accenture Ltd; AT&T Inc.; Cap Gemini S.A.; Citrix Systems, Inc.; EMC Corporation; Fujitsu Limited; Intel Corporation; International Business Machines Corporation; Italtel SpA; Johnson Controls Inc.; Microsoft Corporation; NetApp, Inc.; Nokia Corporation; Nokia Siemens Networks; Oracle Corporation; SAP AG; Sprint Nextel Corporation; Tata Consultancy Services Ltd.; VMware, Inc.; Wipro Limited; and Xerox Corporation. The company was founded in 1984 and is headquartered in San Jose, California (Yahoo Finance profile)
Factors to consider:
Barchart technical indicators:
96% Barchart technical sell signal
Trend Spotter sell signal
Trading below its 20, 50 and 100 day moving averages
Lost 7.20% last month
Lost 22.30% last quarter
Down 27.11% from its 1 year high
Relative Strength Index 37.38%
Barchart computes a technical support level at 15.07
Recently traded at 15.53 which is below its 50 day moving average of 16.53
Fundamental factors:
Widely followed by Wall Street where 35 brokerage firms have assigned 45 analysts to follow the company's numbers
Analysts project revenue will increase by 9.76% this year and another 2.08% next year
Earnings are estimated to increase by 13.00% this year, an additional 4.40% next year and continue to increase annually by a rate of 8.09% for the next 5 years
These consensus numbers resulted in the issuance of 11 strong buy, 15 buy, 16 hold and an under perform report to the brokerage clients
If the projections are true analysts think investors could see an annual total rate of return in the 17% - 21% range over the next 5 year period
The company has an A++ financial strength rating
The P/E is 9.76 well below the market P/E of 14.60
The dividend rate is 2.08%, only 18% of estimated earnings and slightly below the markets dividend rate of 2.40%
Although revenue in the US and Europe is expected to be flat to slightly higher revenue projections for Asia are for double digit increases
Investor interest:
Wall Street is positive on the stock but the individual investor is even higher
10,951 readers of Motley Fool have voted 95% that the stock will beat the market
The more experienced All Stars agree with a 95% vote for the same result
Short interest is declining - a good sign for an impending correction
Jim Cramer seems to be the lone columnist not giving positive comments on the stock
I always compare a stock's market performance to its peers and Cisco is down 5% for the year while Qualcomm (NASDAQ:QCOM) is up 4%, Ericsson (NASDAQ:ERIC) down 31% and Broadcom (BRCM) down 13%: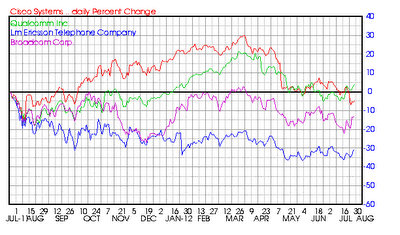 Conclusion: I think that the market has been overly harsh on Cisco and the stock might be due for a little upward correction. Although I don't see double digit projections for long term increases in revenue and earnings we don't see any projections for any losses either. I wouldn't go ahead and buy today but I'd put this stock on my watchlist and buy some shares when the turtle channel and moving averages signal that the stock's price has bottomed out. This would be a speculative position with stop losses to take advantage of a price correction but not a long term investment: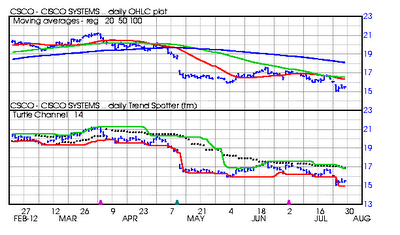 Disclosure: I have no positions in any stocks mentioned, but may initiate a long position in CSCO over the next 72 hours.